This is the review of the ZMF Caldera open-back headphone. It is selling for $3,499 USD
Disclaimer: The ZMF Caldera was sent to me on loan by ZMF Headphones directly in exchange for our honest opinion.
ZMF
It has been a very long time since we reviewed a ZMF headphone, and it was the Verite Closed back in 2021. I'm happy that we're back reviewing ZMF, and we'll be covering multiple of their headphones over the next couple of months.
ZMF Headphones stands for Zach Mehrbach Films and they are a brand that's no stranger to the world of high-end audio, at least within the realm of the headphone audiophile. The company is helmed by the dynamic husband-and-wife duo, Zach and Bevin Mehrbach. Together, they are purveyors of a host of fantastic-sounding and awesome-looking products. Simply drop by their website, and take a gander at their growing stable of headphones, and you won't, or can't, tear your eyes away from them.
When working on our designs we take our slogan very seriously; "Traditional Craft, Modern Acoustics." We strive to make every headphone show inspiration from timeless artistry, film, culture and history. When melding this with current headphone technology and Zach Mehrbach's proprietary damping systems, each headphone is made to become an instant classic.
That is, unless of course, you're not particularly a fan of wood. If so, you might want to move along, as ZMF are wood masters. If you're an audiophile, your weapons-of-choice are distinctly headphones, and you're a connoisseur of wood (is there such a thing?), then, yes, by all means, continue reading, for I will be reviewing their popular and award winning Caldera open-back headphone.
If you want to learn more about ZMF, you can do so on their website here. I've met Zach and his wife on multiple occasions at different shows, and they're always very kind and a pleasure to talk to. If you ever go to one of the sows where ZMF is present, make sure to check out their room or stand and say hello.
ZMF Caldera
The Caldera is an open-back full-sized headphone and it is ZMF's first proprietary planar magnetic headphone. With the Caldera, ZMF wanted to deliver something different than the typical ortho tuning many of his colleagues were already doing. And to me, he succeeded in doing so.
In 2011, I modded a t50rp as a gift for my brother. I never would have guessed that twelve years later I'd design my own planar magnetic headphone.  I knew I loved the punchy, ethereal and nuanced sound of planars. Through modding a couple thousand t50rp's into different models and tunings for enthusiasts,  my "schooling" had begun, and now years later – I'm proud to present the Caldera.
If you want to find out everything about the Caldera you can also watch this video:
If you prefer reading then you can stay here or head over to ZMF's dedicated Caldera's web page.
When you check out the Caldera's shop page, you will see that there is a multitude of options. We find choices for: chassis material, headband, strap & earpad material, rod & grille color, cable termination, case option and a cable Upgrade. Note that the current stock wood for the Caldera is American White Oak.  The Oak is finished in either a natural/black cup/grille combo or a coffee gold varnish and grille color. 
The version we received for review came with the aluminum black chassis, leather headband and perforated Caldera lambskin pads. The grills and rods are black and the cups have the natural oak finish (hand-wiped waxed oil). The cable supplied was the 4.4mm balanced one and the box was the waterproof hard case, which I absolutely love. Additionally ZMF added 2 other sets of pads to compare, and these are the thin cow ones and the slightly thicker lamb ones.
The Caldera isn't a new headphone, we're just very late with reviewing it, so you're probably already familiar with the Caldera's acoustical design, damping, etc. If you're not yet than you can find out all about it here or by viewing the YouTube video linked here.
As you might have read in ZMF's FAQ, they love playing with ear pads, and as such we will have a look at their effect on the Caldera's sound signature later in this article.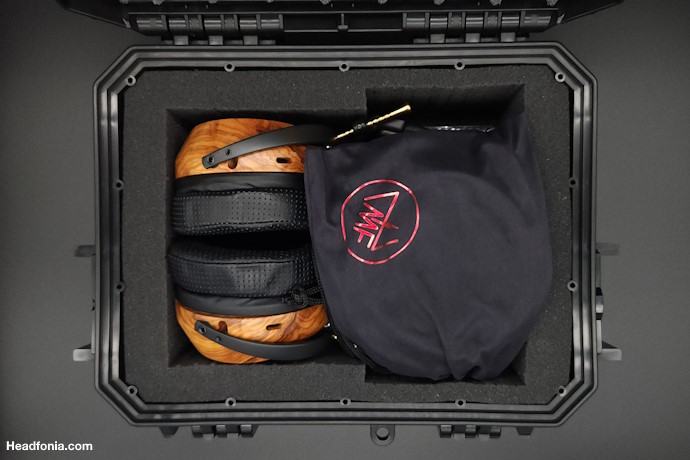 The Box, Accessories & Price
The ZMF Caldera's price starts at $3,499.99 USD and will then go up depending on the options chosen. What I appreciate from ZMF is that they don't use the same pricing when selling in a different currency. They actually charge the amount based on the conversion rate, making the Caldera available for me for 3.254,95 Euro.
The Caldera's lead time is about 2 to 4 weeks and when it arrives, you in the box you will find:
1 Caldera
1 ZMF Stock Cable
1 pad set of your choice
ZMF wooden Owner's Card (Lifetime Driver Warranty)
1 Cleaning cloth
1 soft pouch
I have had the pleasure to review a lot of headphones and I have unboxed hundreds of headphones over the years but I have to say that the whole ZMF Caldera unboxing experience was a pure pleasure. I have never seen a company putting so much effort in the unboxing experience and it for me easily is the best one ever. You don't just get the box with the gear inside, but you get well-designed, informational cards with characteristics of and instructions for your headphone. You as well get a a sort of manual for the 1st time use and maintenance. It's super impressive
The stock cable sells for only $60 USD and it has low microphonics and it with its insulated copper wire sounds perfect. This cables has a Y-split approximately 15 inches from the headphone connection to the cups. It is a bit shorter in length but I do like its performance.
The article continues on the second page with the part on Sound and more. Click here.
Page 1: ZMF, Caldera, Box & Accessories & Price
Page 2: Design & Build quality & Comfort, Specifications, Sound Pt. 1
Page 3: Sound Pt. 2
Page 4: Sound Pt. 4, Conclusion, Summary
creditSource link