When Maria Grazia Chiuri sent "We Should All Be Feminists" T-shirts down the runway in 2016 as part of her inaugural collection for Dior, she was tapping into a larger trend in the fashion industry: staging mock protests and political statements in fashion shows. Over the past decade, designers and brands have fine-tuned their political and social activism, integrating commentary on racial inequality, immigration, women's rights, and climate change into runway shows and marketing, tapping into a generation who now want the values of their favorite T-shirt brands to match their politics. 
Take Prabal Gurung's 10th-anniversary show featuring pageant queen sashes that read "Who gets to be American?" Or:  Stella McCartney's faux protest for the fall 2021 campaign. And: Christian Siriano's "People Are People" shirts, launched in 2018. Most recently — and in one of the more powerful displays of political solidarity — Balenciaga's creative director Demna put on a fall 2022 runway show meant to celebrate resistance in times of war, following Russia's invasion of Ukraine earlier this month. Meanwhile, New York-based label Khiry put on a performance that commented on the relationship between race and politics in the United States during their New York Fashion Week show in February. 
While fashion is hardly the only industry tapping into this, with brands from Ben & Jerry's to Pepsi attempting — sometimes unsuccessfully in the latter's case — to embed protest culture into their advertising, it's often one of the most vocal. Yet for all the ways designers have tried to capture the zeitgeist of protest in their work, the industry remains a popular target for activists who are troubled by fashion's contributions to animal cruelty, climate change, and mistreatment of garment workers.
"I think the fashion industry, more than anybody else, can capitalize on protest," says Oscar Berglund, a climate protest researcher at the University of Bristol, referring to fashion's history of commercialization of activism. "But disruptive protests have been proving to be much more efficient at getting results than non-disruptive protests."
French activist Marie Cohuet is one of many protesters who have disrupted fashion's business-as-usual operations to get the industry's attention. Last October, Cohuet, a member of the environmental activist group Extinction Rebellion, crashed the Louis Vuitton spring 2022 show carrying a sign that read "Overconsumption = Extinction." Later that day, Cohuet wrote on Twitter, "We marched to demand that fashion realize that the world is burning."
"Fashion is based on the consumption and the buying of the most fashionable clothing every season," Christina See, a spokesperson for the United States chapter of Extinction Rebellion, tells Refinery29. "How can that be a carbon-neutral or a sustainable industry, if the premise of the industry is to get people to buy more?"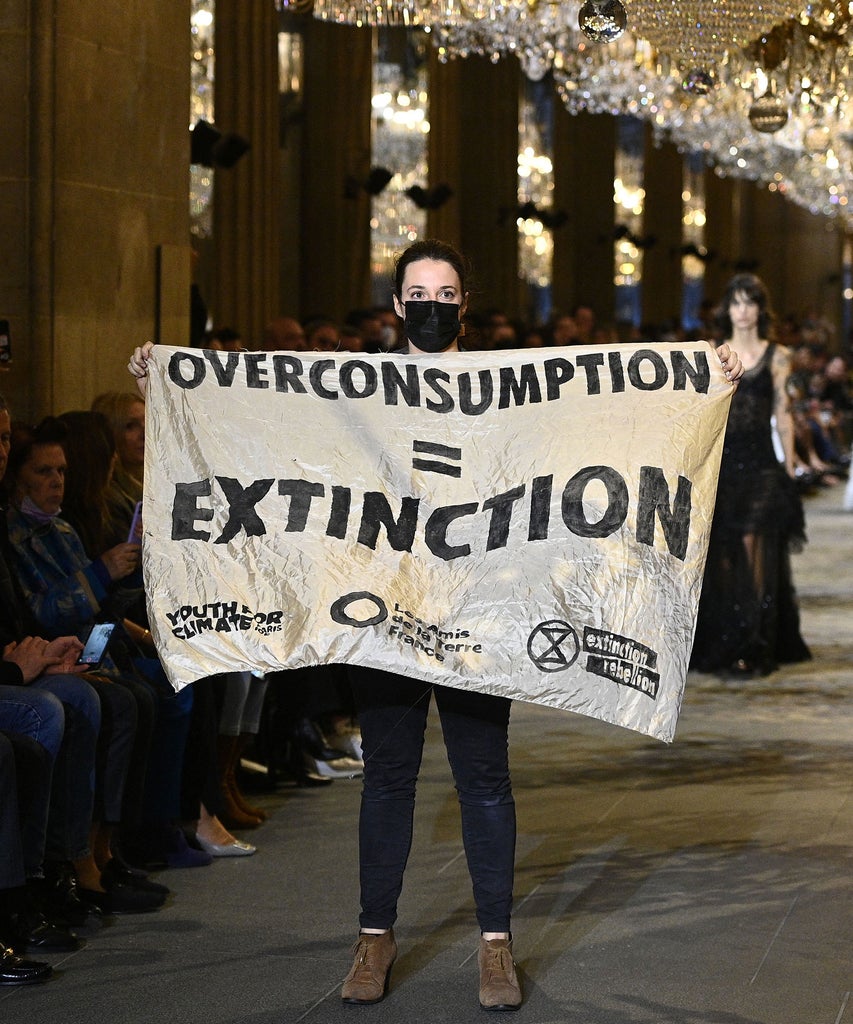 Two years earlier, Extinction Rebellion staged one of the most striking protests against the fashion industry in recent history. In September 2019, the organization performed die-ins — a form of protest in which participants simulate being dead — outside of London Fashion Week, which happened a few months after the group asked the British Fashion Council to replace the event with a gathering of activists and leaders to discuss climate change. A few months after, in February 2020, a youth division of Extinction Rebellion staged an alternative fashion show outside of New York Fashion Week filled with upcycled and secondhand clothes. Last month, Extinction Rebellion protested outside of London Fashion Week as part of a continued effort to get organizers together for "crisis talks to address the fashion industry's role in the climate and ecological emergency." 
They are just one of the many groups holding the industry, that continues to overlook harmful and unethical practices, accountable. Back in 2020, another Extinction Rebellion protester disrupted the Dior spring 2021 show, holding a sign that read, "We're all fashion victims," pointing to the deterring effects of the industry on the planet. The Ukrainian women's rights group Femen crashed Nina Ricci's show in 2014 with protesters running topless and shouting "Fashion Fascism," in response to the "patriarchal" standards of the industry. And PETA has been staging demonstrations since its founding in the 1980s, ranging from halting runways and demand designers stop using animal skins and furs to carrying purses covered in blood in response to Hèrmes' use of crocodile skin. 
According to Ashley Byrne, a campaign specialist at PETA, while common, protests are often the last resort for activists. "PETA always reaches out and gives the brand ample time and opportunity to work things out behind the scenes before it ever gets to that publicly visible point." She adds that the organization sometimes spends years sending the results of undercover investigations to brands with no response. 
Other organizations are less interested in working with individual brands than in demanding that the industry stop its current cycle of overconsumption for good. "One of the slogans that has been said is 'There's no fashion on a dead planet,'" says See. "I think that's really part of how you get people out of their everyday life to think about this bigger issue that's really affecting us now." While Extinction Rebellion has not partnered with any brands, See does commend the work that companies like Patagonia have done to support and donate to environmental and activism groups. 
As much as the fashion establishment has sought to capitalize on the activist spirit through protest-inspired runway shows and political messaging, real protesters are often not kindly received. Cohuet was removed by security at Louis Vuitton after crashing the runway, as was another Extinction Rebellion protester at Dior's spring 2021 show; PETA demonstrators have faced similar removals. Both Byrne and See say brands often don't reach out to the organizations after these protests are staged, furthering the sense that brands only want to be associated with a spirit of protest and rebellion when it doesn't threaten their own T-shirt slogan status quo. "If you're not disrupted, if you're just buying a T-shirt that says 'feminism' or 'Black Lives Matter' — that's not the kind of thing that makes a difference," says Berglund.
That's part of why organizers like Byrne and See refuse to change their methods. They say it's not enough for brands to send political messages down the runway or to try and stage protest-cum-marketing extravaganzas of their own. Instead, activists are asking designers and brands to start taking their requests seriously, beyond clothing-based statements.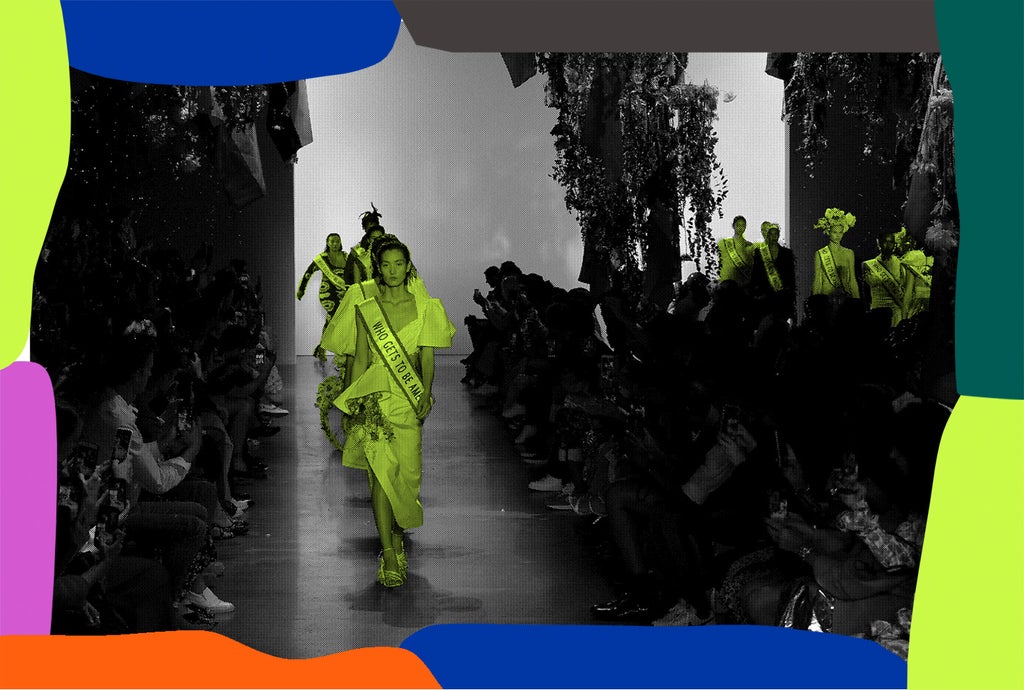 Occasionally, though, the activism seems to get through to brands, says Byrne. H&M, for example, recently partnered with PETA to release a collection of vegan products, featuring materials like "flower down" — made from dried wildflowers — instead of the usual goose down, and vegan knits to replace sheep's wool. "All of that comes from a history of communicating with them and letting them know how important it was to their consumers to be able to get these ethical, sustainable, cruelty-free options," says Byrne. 
Still, for many activists, collaborating within the status quo is hardly a success. Instead, they're looking to disrupt the industry for good. "Civil disobedience gets attention, and it draws people into looking further into the message of what the protest is about," says See. "This type of protest has been known to work throughout history and in the moment people disagree with it. But then ultimately, they realize that it actually was necessary."
Like what you see? How about some more R29 goodness, right here?
Feminist Street Art in Latin America
How Flag Fashion Can Be A Form Of Protest
The Perils Of Using Fashion For Protest
creditSource link