Today we review the Unique Melody Multiverse Mentor high-end IEM which is selling for $4,499 USD in universal version and $4,999 USD in custom version.
Disclaimer: The Unique Melody Multiverse Mentor custom monitor was sent to us free of charge in exchange for this review, directly by Unique Melody. UM is not related to Headfonia in any way.
UM – Unique Melody
According to Unique Melody, they are one of the first and longest-established manufacturer of custom in-ear monitors in China. Since 2007, with over 10 years of research and experience in the industry, they've developed a wide range of products from multi-BA, hybrid dynamic and BA, to more recent units containing Bluetooth, planar magnetic, piezoelectric, and bone conducting technologies that also contain various patents.
Fast forward to 2023 and Unique Melody is everywhere, they are more structured, have a clear product line up, better communication and an up-to-date website. They also have excellent representation and MusicTeck in the US really have made it easy for everyone to get familiar with the brand.
It's not always easy finding the right Unique Melody website via Google so here it is. If you use Facebook's search you'll also find several FB Pages for Unique Melody, but the correct and official page can be found here.
It's clearly not the first time we've reviewed Unique Melody monitors and we have full articles about the Maverick, Martian, Maestro, ME.1, Mason V3, Mason V3+, MEST, MEST MKII, MEXT and the Maven Pro. Pfew!
The reason why we're a bit late with the review of the Multiverse Mentor is that we had to wait a bit longer for the custom version as the production of the universal version (which many used for review) was given priority. And then it ended up in our very full review queue.
Time to dive in!
Unique Melody Multiverse Mentor
The Multiverse Mentor's dedicated web page can be found here. You can buy it from their distributors or via Linsoul via this link here.
The Unique Melody Multiverse Mentor is the successor to the Mentor V3+. It features an independent driver group consisting of four bass, two mids, two mid-treble, four treble, and one frequency shift bone conduction. A 5-way crossover design gives each frequency range an independent driver group, with a distinct sound and rich details. In particular, the bone conduction driver has a new Frequency Shift technology, which allows for a more immersive listening experience. The specially designed bass driver mingled with the rigorous frequency gives The Multiverse Mentor a unique sound signature. four bass drivers, two mid drivers, two mid-treble drivers, four treble drivers and one frequency shift bone conduction driver. That's 12 BA drivers and 1 brand new Piezoelectric bone conduction driver. UM implemented a 5-way crossover in the MM.
The Multiverse Mentor has a sensitivity of 114dB @1KHz and an impedance of 22Ω, so it should be easy to drive, but more on that later.
We will cover a few of the Multiverse Mentor's features in this chapter, but you can of course discover all of them on the MM's dedicated site.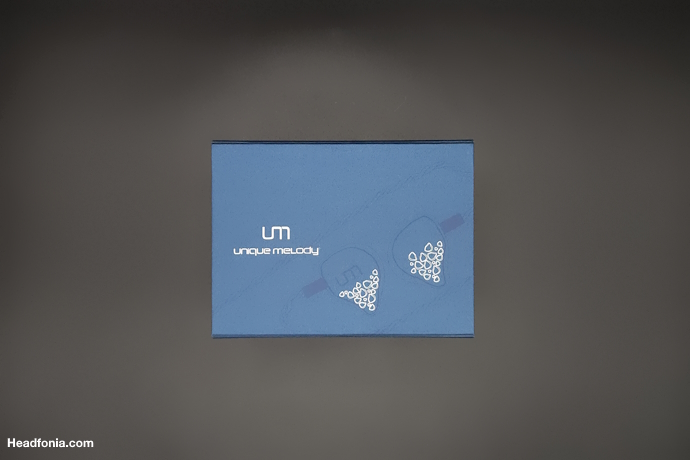 Progressive Frequency Shift Piezoelectric Bone Conduction Driver
The frequency shift piezoelectric bone conduction driver is a brand-new driver developed specifically for the hearing frequency range of human ears. To ensure the driver's performance, a conductive palladium slurry with high temperature resistance is applied to the vibrators, and a pure copper substrate is added on the top of a double-sided ceramic layer. The performance of UM's bone conduction driver was also optimized by adjusting the internal structure of the cavity. In this way, their driver is more stable and the vibration sense is more comfortable.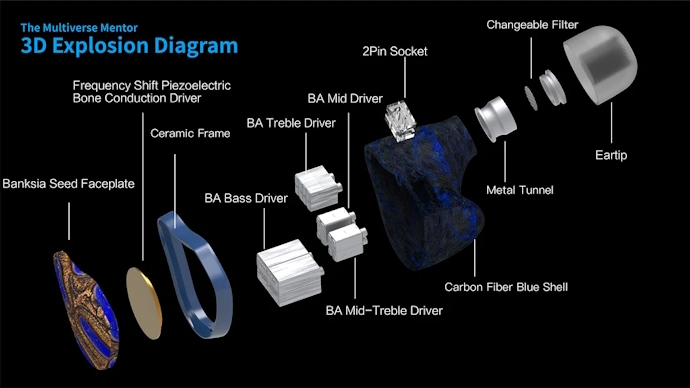 Frequency Shift Technology
The Multiverse Mentor features frequency shift technology. The hearing frequency range of the human ear is usually 20-20000Hz, with low sensitivity to sounds below 20Hz and above 20 KHz. The frequency shift technology shifts the resonance point of the device to within 2OkHz. According to UM, the overall sensitivity is significantly improved in the original application environment, and the sound within the 20 to 20000Hz range is mingled in a much more natural way.

Technical specifications
Headphone Type: BA+ Frequency Shift Bone Conduction Driver
Driver Counts: 12+1 Drivers
Socket: 2-Pin Socket
Sensitivity: @1KHz 114dB
Impedance: 22Ω
Frequency Response Range: 20Hz-40kHz
Crossover: 5-Way Crossover
Configuration: 4 Bass Drivers + 2 Mids Drivers + 2 Mid-Treble Drivers + 4Treble Drivers + 1 Frequency Shift Bone Conduction Driver
Cable: Deep of universe Custom Cable 
Design, Build quality, Comfort and Isolation
The universal UM Multiverse Mentor comes with advanced aviation-grade carbon fibre shells, with delicate 3D curved Banksia seed faceplates, which are inlaid with an ink-blue ceramic inner frame. Each of the shells is the meticulous production by master craftsmen and the crystallization of wisdom and technology. With its delicate appearance and delicate touch, the shape conforms to ergonomic design, small housing, lightweight, and comfortable to wear. According to UM, the zirconia ceramic frame with jade texture after grinding has soft vision, strong hardness, and wear resistance.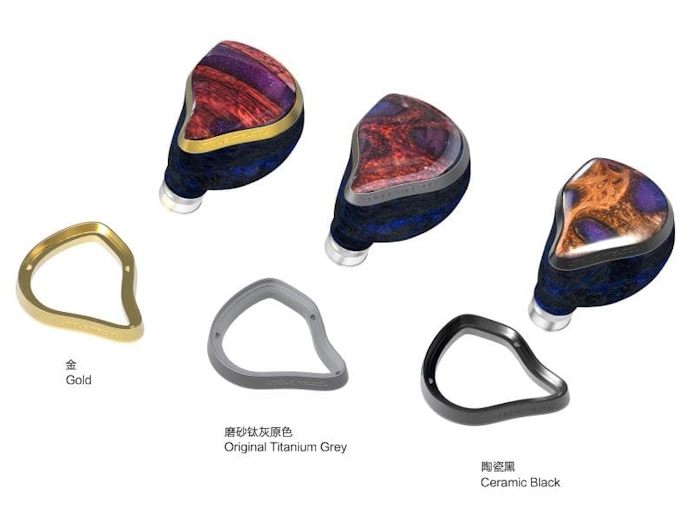 The custom version, like we are using, has a blue-ish carbon fibre shell, grey titanium frame and Banksia Seed faceplates. The inner frame is made od 3D-printed titanium alloy material, and customers can customize the lettering on the titanium frame. The frame is available in original titanium grey, ceramic black or rose gold. My custom has the titanium grey frame as you can see in the pictures.
Unique Melody has built a lot of different CIEMs for me and they all perfectly fit. They deliver optimal fit, comfort and isolation and I can easily use them multiple for hours without them ever bothering or hurting me. The build quality is nothing short of perfection, as you expect from a $5K in ear monitor. The nozzle is rather short in length (what I like) and the overall size of the monitor is small, especially knowing it features 12 drivers inside. They don't stick out of your ears as some of the monitors we've seen at the Canjam London show (think UE Premier and Elysian Annihilator) and that's always a plus.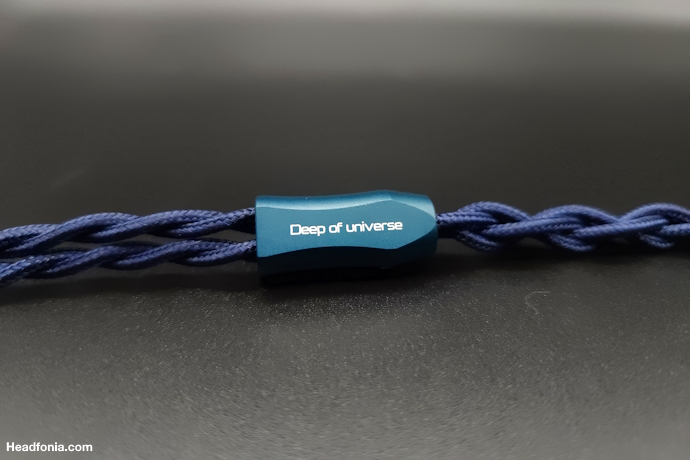 Cable
The blue sleeved Deep of Universe provided cable is a copper and silver-plated one. It is a high-quality soft polyvinyl chloride and similar nylon-coated cable. It characterizes four cores of 26AWG golden independent shielding cable from PW Audio, combined with 0.04mm outer wires to control sound through the entire response range.
I really like the 4.4 terminated balanced cable. It has a luxurious look with the sleeving and splitters and there is no sign of friction noise or microphonics. The cable, as well as the connector, are a bit bigger in size but it overall is light enough to not pull down on you. Sonically, I never felt the need to switch to a different cable.
The article continues on the second page. Click here or use the buttons below.
Page 1: Unique Melody, Multiverse Mentor, Specifications, Design, Build quality, Comfort and Isolation, Cable
Page 2: Price & Accessories, Sound Intro, Sound, Comparison Pt. 1
Page 3: Comparison Pt. 2, Source Matching, Conclusion, Summary
creditSource link