In this article we review the Ultimate Ears UE 5 PRO monitor with the UE Switch system, starting at $549.
Disclaimer: I was sent the custom Ultimate Ears UE 5 PRO free of charge in exchange for this review. Ultimate Ears is in no way related to Headfonia.
Ultimate Ears
Founded in 1995, Ultimate Ears created a new market for custom in-ear monitors. These monitors are now used by most of the world's top musicians. The first in-ear monitor was developed for Alex Van Halen. His monitor engineer tried to give him a way to protect his hearing while allowing him to perform better on stage.
In 2008, UE Pro partnered with Logitech, a company as passionate about premium audio. UE has since created over 100,000 sets of in-ear monitors in the last 20 years for musicians and music lovers. You can find out all about Ultimate Ears, here.
For 20+ years the UE team is continuously challenging itself to innovate, improve quality, and advance delivery times. UE have embraced the advantages of digital processes to advance time to customers. The custom ear shell is printed using the latest 3D printing techniques. UE has been 3D printing since 2015 to ensure they are producing a better fitting, more accurate product.
It's not the first time we look at UE custom gear on Headfonia. Previously we have reviewed the Pro Reference Remastered, the 18+PRO V2 and the UE LIVE. In 2022, Lieven reviewed the UE 11 Pro, which included the new "Switch", below:
Ultimate Ears UE 11 PRO Review
UE Switch
Not only are we looking at the UE 5 PRO today, but we are also checking out UE's newest "Switch" system. The UE switch allows you to customize your monitor with multiple face plates. You can find out all about the Switch system here.
The UE SWITCH interchangeable faceplates give you the option to customize your UE PRO and UE CSX earphones with a variety of colours, materials and decorative details, or even use your custom artwork. An innovative twist-lock mechanism makes swapping plates easy to use. The Switch system is available for new purchases and also as an upgrade for current customers.

The Switch system costs up to USD 199SD for 3 sets of face plates. Choose from clear, opaque or translucent finishes in a variety of colours. Custom artwork and gold or silver halo are also available for an additional fee. The Switch faceplates come delivered in a separate leather-like box, in which you can store up to 6 pairs of face plates. Check out the Switch system in this video:
UE 5 Pro
The UE 5 PRO features 2 proprietary balanced armatures and it comes with a 2-way crossover. According to UE, the UE 5 Pro is "a versatile workhorse that provides balanced full-range sound and excellent isolation for any application".
Again, according to UE, the UE 5 PRO is best for; "live performance, studio production, and live streaming". We'll see if it fits into listening to music as an audiophile too, very soon below.
Of course, the UE 5 PRO is still a handcrafted monitor and it is digitally modelled and 3D printed for perfect fit, comfort, and strength. It comes with the famous Linum SuperBax cable, making it water- and sweatproof, and field-replaceable in seconds. More on the SuperBax later.
You can configure your UE 5 PRO monitor right here.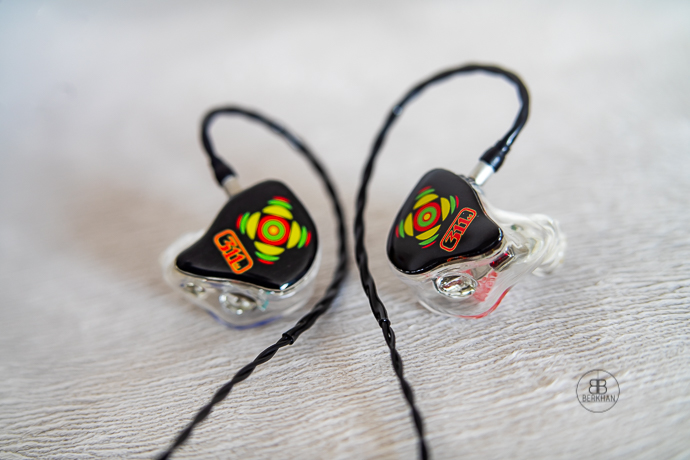 Build Quality & Comfort
This is my first set of Ultimate Ears custom monitors and the build quality is excellent. This, however, is a bit more complicated than standard CIEMs, as it has the Switch system for the faceplates. That means the closure isn't as perfect and sealed as it is with classical CIEMs. There's a minor crack or fracture near the closing plate of the switch system. Once the face plate is installed, that imperfection isn't noticeable though, and it certainly doesn't impact the sound quality of the monitors.
For the rest there are no complaints, the nozzle termination is soft and round and the cable connectors sit perfectly flush in the housing. The insides of the UE 5 PRO are also very clean, tight and symmetric. UE's craftmanship in this regard is excellent.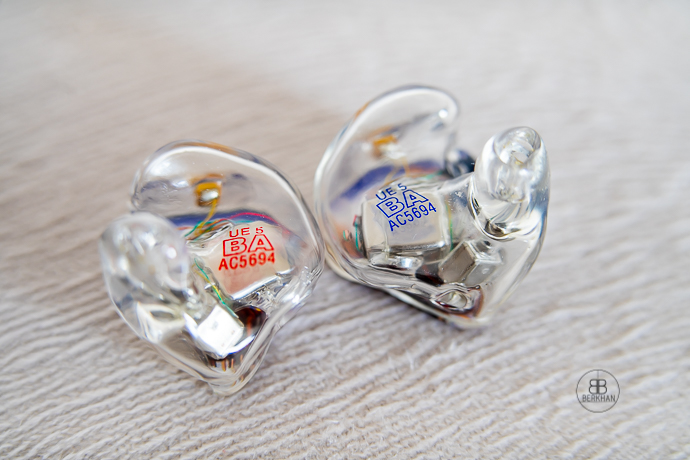 As the UE 5 PRO is only using 2 BA drivers, the earpieces size-wise are quite small and they don't stick out of your ears at all. The nozzle is average in length and diameter (2-bore design), and that makes the insertion depth pretty good I have CIEMs with both longer nozzles though, but they're not this comfortable.
Speaking of comfort, this UE 5 Pro is one of my most comfortable custom monitors, with perfect fit andThTheze, the UE 5 PRO isn't the smallest in total size in total size, but it's not big either. It provides an excellent fitting experience.
I sent in my ear impressions in 3D files. With UE's knowledge and experience, they build the earpieces to perfectly fit your ear. That means you get superb comfort and an excellent seal with a good level of isolation.
Page 2: Personalization, Cable, Price & Accessories, Sound
Page 3: Sound Pt2, Comparisons, Conclusion
Page 4: Technical Performance, Comparisons, Conclusion
creditSource link