Today we're looking at the new $549 USD ThieAudio Wraith Planar Headphones.
Disclaimer: Linsoul sent us the ThieAudio Wraith for this review, free of charge. As always, I'm here to give you my honest opinion on the product.
ThieAudio
ThieAudio is a company that specializes in the research & development of audiophile in-ear monitors as well as headphones. The brand was established in 2019.
According to their statement, their goal is to serve as a creative platform by bringing together the best teams of engineers to design & manufacture high-performance, high-end audiophile products.
Their statement continues by saying that for each project, they hand-select the most innovative and renowned engineers in their respective fields to oversee product design, engineering, and manufacturing.
In a very short period of time, they managed to become a great company that designs products for every price range on the market. Today, we will look at their latest full-size headphone, the Wraith.
ThieAudio Wraith
Wraith is ThieAudio's latest headphone to date. According to ThieAudio, the company has been working on Wraith for about three years. At the heart of the Wraith is a new 97mm planar magnetic driver, which the company seemingly has high expectations for.
ThieAudio mentions the Wraith's tonal balance many times in the launch text, which is an essential technical quality for us audiophiles, so I'm very excited to review this headphone. The Wraith comes with a metal-leather hybrid design and looks fantastic. Let's dive into the details without wasting any more time.
Driver Configuration: 97mm x 76mm Planar Magnetic
Type: Open-Back
Socket: 2.5mm Mono, each side
Housing: CNC Aluminum Shell, Artisan Faceplate
Cable: 1.25mOFC Coaxial Shielded Cable, 4.4mm Balanced Plug
Impedance: 23Ω
Sensitivity: 101dB SPL/mW
Accessories & Packaging
Wraith's box comes in a classic cardboard box with ThieAudio written on it. Inside this outer protective box, Wraith's main box is housed in sleek, black packaging.
The design of the main packaging is elegant, with a glossy textured artwork of Wraith on the front. On the back of the box, we again see a drawing of the Wraith, with serial number, barcode, and company address.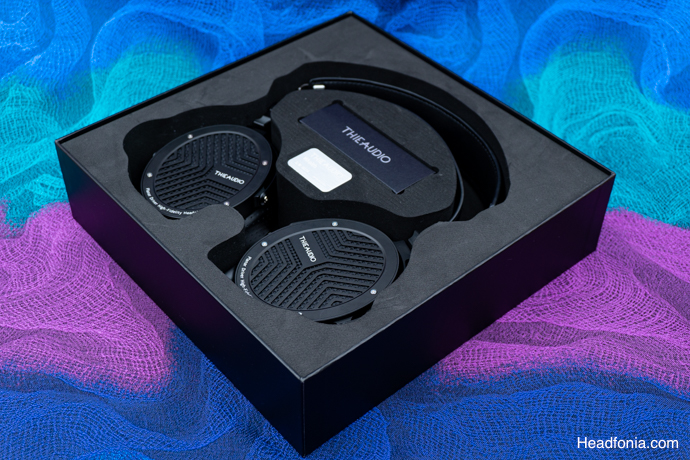 When you open the box, you see that the earphones are protected in a foam compartment. The black braided cable is located in the center compartment, and underneath is the serial number of the product laser engraved on a metal plate.
Apart from a booklet containing the technical details of the Wraith and a user manual, no accessories are included in the box.
Build Quality & Design
The Wraith features an all-metal alloy body with industrial design lines. The visible bolt heads on the cups, the professional-looking grilles with two different patterns intertwined, and the black leather used on the headband give off a professional design impression to the user.
The Wraith is a headset that feels sturdy and durable in hand, both in weight and design.
The headband has a leather stabilizer. The top headband is made of stainless steel and covered with leather. On the upward-facing side of this band, we see Thie Audio's name embroidered on the leather. It should be noted that the headband adjustment system looks stylish, but it is not very useful in terms of practicality.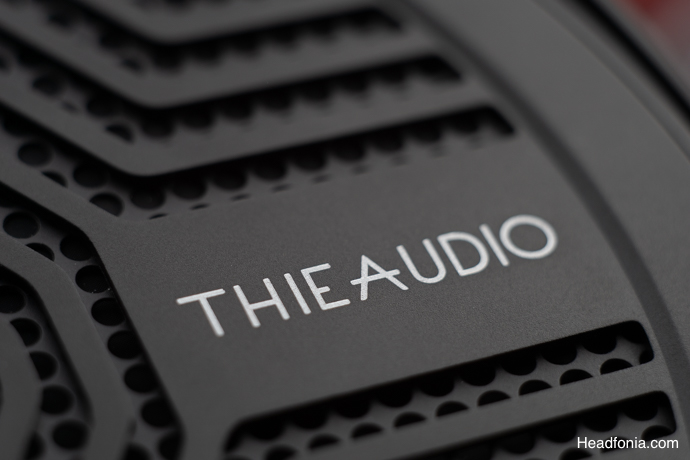 To fix the adjustment, you must tighten the clips on both sides with a screwdriver. Assuming that you won't change it once you adjust it to your head, it's not a big issue. The headphones weigh around 450 grams, which is quite normal for a headphone that is almost entirely made of metal. Although the headband supports your head well, if you have a smaller head than average, you may experience seal and fit problems.
That said, the Wraith's earpads are made of breathable foam and can be removed and put back on quite quickly, thanks to their Velcro backs.
The velcro cushions are a brilliant idea; however, this may not be the optimal solution for this particular headphone. Since the compression force of the headphones is not very strong, it's hard to say that they do an excellent job of isolating/sealing. I find it interesting that ThieAudio decided to put comfort ahead of sound performance in this regard.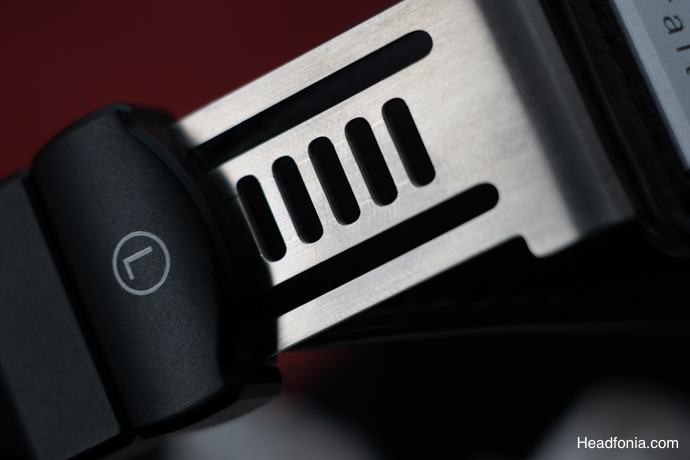 Still, I think thicker, slightly firmer, and more isolating cushions should have been used at the cost of a slight regression in comfort. Additionally, the earcups feature a rotating mechanism and can be rotated to face up or down.
This feature is handy if you tend to rest your headphones around your neck to converse with the household folk, for example.
Wraith uses a 2.5mm interchangeable cable socket on each cup. Like every other part of the Wraith, these sockets feel solid and durable. ThieAudio's new dual-band design ensures even weight distribution across the head for a more comfortable listening experience.
I've been testing the Wraith for over a month now, and despite not being a lightweight headphone, I haven't had any problems with comfort. In fact, I've had listening sessions where I've worn the Wraith for 6-7 hours without taking them off, and the Wraith has been very comfortable.
The review continues on the next page. Click here or use the jump below.
Page 1: ThieAudio, The Wraith, Packaging & Accessories , Build Quality & Design
Page 2: Sound, Technical Capability, Comparisons, Last Words
creditSource link