And just like that… we're back for season two of the controversial, yet still highly watched Sex And The City spin-off, And Just Like That. It feels like just yesterday when the premiere episode landed, but already the cast is back and filming – which means peeks at the fashion looks we can expect on screens.
In true SATC form, And Just Like That is continuing with the so-bad-they're-amazing costume picks. Carrie Bradshaw's wardrobe will include a purse that could also double as a collectible on your Nan's living room shelf, plus some gladiator heels you might remember lusting after back when the first film came out.
Let's start with those shoes. Sarah Jessica Parker posted the following behind-the-scenes look at her footwear situation on set, and there's a lot to unpack.
We have socks. We have a tiny Fendi ankle bag. We have a pigeon you might think is just a prop, but is actually a handbag. And we have the classic Dior Extreme heels, which Carrie made famous in Sex And The City: The Movie.
Carrie wore not one, but multiple colourways of the Dior heels in the film – including a pair on her wedding day, and in the famous opening scene wearing that Eugene Alexander flower dress.
So wait, does this mean gladiator sandals are coming back? They may well be, and with the 2000s already fast becoming the top fashion trend of 2022, it's only natural for us to venture back into our '08 club era as we head toward 2023.
Let's discuss that pigeon purse. It's by renowned designer JW Anderson, and many fans have pointed out that Carrie once owned a similar bird-based bag – the infamous Judith Lieber swan clutch that Mr. Big gifted her after she first said "I love you".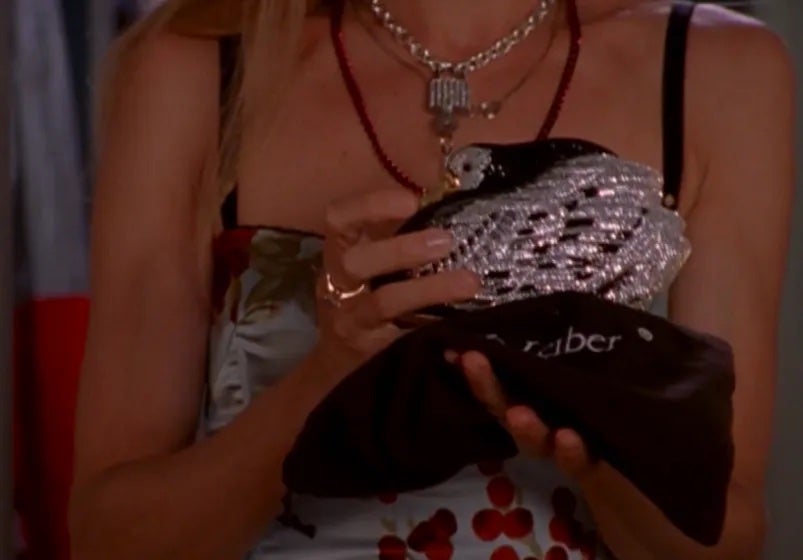 Is this a nod to Big's memory? Does it have significance, or is it just another quirky fashion choice by costume designers Molly Rogers and Daniel Santiago? I guess we'll have to see.
Finally, we need to talk about the tiny Fendi anklet. Ankle clutch? Ankle bag? We're not sure what to call it. Like a pint-sized version of the Fendi baguettes Carrie made famous in Sex And The City, the And Just Like That anklet bag might actually become a style statement.
Think about it – if we're returning to our '08 club years, we're going to need a better way to carry around our keys and phones than a clutch. Is this a glimpse at the future?
Okay, maybe that's a stretch.
The costume team also dropped this candid snap that features Charlotte in a very Charlotte-like fit.
No word on the label behind the sheer polka-dot blouse and Barbiecore-pink bow, but we do have details on Carrie's fabulous boilersuit – it's vintage 1960s Air Force K-2B flight suit, via The Converted Closet.
No word yet on when And Just Like That will be airing on screens, but given the filming schedule, outlets are predicting early 2023. As for when we'll get more of an idea as to where our favourite NYC ladies are headed (and whether Samantha will be back, as the rumours continue to swirl), we'll likely be waiting several more months.
Like what you see? How about some more R29 goodness, right here?
And Just Like That Doesn't Do Right By Black Women
The Fendi Baguette Is Back On The 'SATC' Reboot
I Wore A Bird On My Head Like Carrie Bradshaw
Mindy Is More Than The Brown Carrie Bradshaw
creditSource link