Sony's Alpha camera system has evolved significantly in the three years since Sony released its predecessor, the Alpha 7R IV. The new Alpha 7R V not only has caught up with the other cameras in the system, but it has also surpassed them.
Sony has always said that the "R" in Alpha 7R V stands for "resolution" and in previous versions of the camera, the resolution came at the expense of autofocus speed. The R series has always pushed the boundaries of full-frame sensor resolution, but the high megapixel count strained the camera's processors and consequently came with the worst autofocus performance and write speed in the lineup.
The Alpha 7R IV was the oldest camera in Sony's current lineup until the Alpha 7R V was launched. It also came before Sony's shift toward the vloggers marked by the ZV series, and before Sony's more affordable Cine lineup's FX3 and FX30.
Side note: Technically, it's written Alpha 7R V, but colloquially it's referred to as a7R V, and that's the way I will refer to it and other Sony models going forward in this review.
The a7R IV had the oldest technology at its core. It lacks the newer processors found in Sony's current lineup, has only SD cards for storage, only has a tilt screen, uses the older menu system, lacks the top-end EVF in the pro models, and has, by far, the slowest autofocus of any camera in the current lineup.
Sony has resolved all of these issues with the a7R V, bestowing it with a new artificial intelligence-driven (AI) autofocus system controlled by a new dedicated AI processor. Autofocus is the primary advancement in the a7R V and has technologies the other cameras lack. It's also brought up to speed with the best of Sony's current technology for menus, storage, video recording, body design, and more.
Here is a quick look at the best features.
AI-driven Real-Time Recognition Autofocus
"Tilty Flippy Screen.
Claimed Eight-stop image stabilization system
Multiple raw file formats, including lossless raw, compressed raw, and three raw sizes plus JPEG and HEIF
Dual CFe-A card slots
10fps capture
583 image burst depth in compressed raw, 547 in uncompressed raw, and more than 1000 images in JPEG X-Fine
9.44M dot EVF, which is best in class
Video capture is possible up to 8K 24/25p and 4K 50/60p in 4:2:2: 10-bit All-I. T
Pixel Shift capture with the ability to merge images with motion between frames
Dedicated Still/Video/S&Q mode dial
Breathing compensation support, focus mapping, and all the latest video tools Sony offers
UVC/UAC streaming over USB with the ability to record internally simultaneously
Wi-Fi 802.11 ac 2X2 MIMO
SuperSpeed USB 10Gbps over USB 3.2 Gen 2
Bluetooth connectivity allows for control and image transfer without needing a Wi-Fi connection with the camera
Focus stacking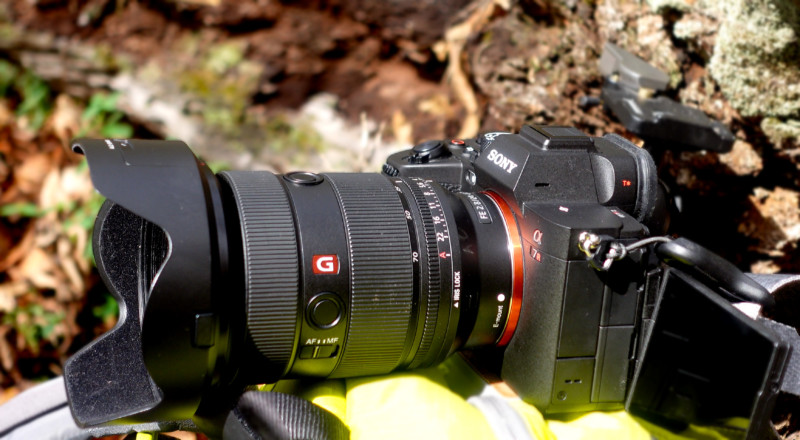 Autofocus and Performance Overview
The imaging sensor in the a7R V is the same 61-megapixel Exmor R CMOS found in the a7R IV, but the a7R V uses the newer dual BIONX XR processors found in its siblings, the a1 and a7S III. Sony says the new processor helps eek some image quality and performance out of the older sensor as well and enables the camera to capture 60MP images at 10 frames-per-second.
The new autofocus system is a major advancement in Sony's autofocus performance and it puts the a7R V — at least on paper — ahead of Sony's other cameras. Sony was the first to nail eye autofocus in full-frame mirrorless cameras with Eye AF and then RealTime Tracking and is clearly hoping this new autofocus system will be the next big leap.
The Sony a1 still beats the a7R V in pure capture speed, and the stacked CMOS sensor used in the a1 provides it with faster overall performance. The a1 also has nearly no rolling shutter, but it isn't the most accurate system in the lineup anymore.
While the 61MP a7R V doesn't have the a1's 30FPS capture rate for autofocus subject recognition and tracking, it surpasses the a1 autofocus system in almost all other ways. Most of this review will center around the autofocus performance, as this feature of the a7R V sets it apart from the other cameras and, Sony hopes, its competition.
That in itself is a bit weird. Remember, the R in a7R V stands for resolution, and the a1 comes pretty close to that resolution with its 51MP sensor. So now the R stands for what, "BetteR autofocus"?
Tilt Screen
No camera part is more hotly debated than the LCD screen. The a7R V should solve this since it features a brand-new four-axis LCD screen. The new design is both a tilt screen and a flip screen and hopefully will end the running debate. I've officially dubbed it "the tilty flippy screen." In my opinion, this should become a feature on all Sony cameras, not at least because customers will complain vehemently if it isn't on all the models going forwrd.
Autofocus
The a7R V is superior to the a7R IV in autofocus, but that's not saying much, as the a7R IV had notably poor performance in this regard. When shooting the a7R IV, I found many instances where a simple lock of hair over one of a subject's eyes was enough to prevent the autofocus from focusing on the eyes entirely.
With its brand-new AI-base autofocus and dedicated AI Processor, which Sony says was trained with deep learning techniques, the a7R V now has the best autofocus system in Sony's lineup by far. The new AI processor gives the a7R V the ability to track a much more comprehensive range of subjects and incorporates human pose recognition into its autofocus calculations.
Sony says the autofocus system can now recognize more animals' and birds' eyes, heads, and bodies. It can also track insects, and the leading edges of cars, trains, and planes. In my testing, I found these claims accurate, and the autofocus on the a7R V is vastly superior to the a7R IV and to any other Sony camera.
With 693 autofocus points and wide autofocus coverage, I saw fast autofocus even at the extreme corners of the frame and found that the new system resulted in a vastly better experience.
Birds
While shooting birds, for example, I found the autofocus amazingly accurate and astoundingly tenacious. Birds in flight against clouds are traditionally tricky to acquire, especially when the birds are moving quickly and when they are far away.
I took the camera to a raptor-watching spot and photographed a variety of hawks, kestrels, and vultures. The autofocus locked on instantly and tracked so persistently that I shocked a birdwatcher with my outburst of enthusiastic cursing. It also continued to track the birds at the extreme edge of the frame in a way that previously Sony cameras have not. Anyone who has shot birds or jets knows that they often move so quickly that you can only hold onto them at the edge of the frame, and how important tracking is at the corners.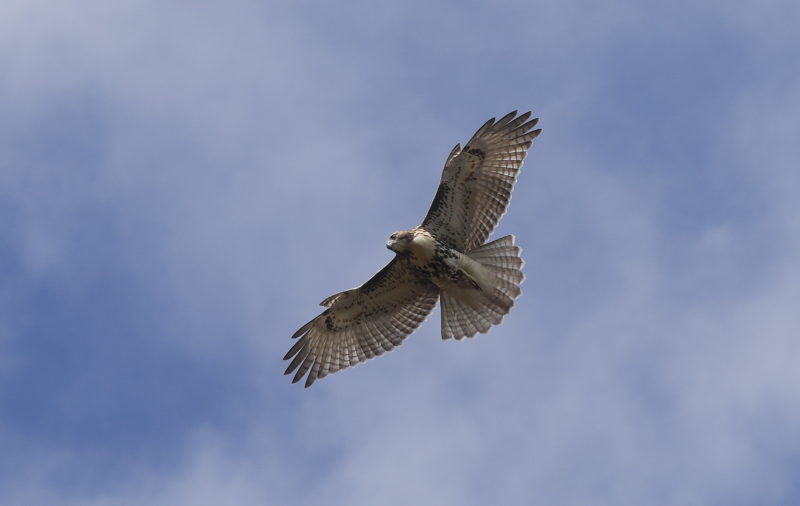 In this shot, a hawk suddenly stopped in mid-air and dove to catch a giant insect, and the tracking followed the sudden change in direction and speed without a hitch. The image itself isn't very clear, as this is a crop of a tiny bird in the distance with a lot of haze, a mediocre lens, and bad technique on my part. To be clear, this is a lousy picture, it's just a great example of how well the autofocus tracks birds even when the conditions are against it.
From a closer distance, the a7R V could nail bird's eyes consistently. This rescue owl is part of an educational raptor demonstration, and the a7R V with the Tamron 50-400mm lens got every shot of its flight in focus.
In this shoot, there were a few images where the focus jumped from the bird's eye to the tiny nostrils on its beak. I cannot say if this was due to the autofocus system, the lens, my lens holding movement, or if I didn't have AI autofocus correctly set for bird eyes — more on this in Menu Problems section below.
As a third-party lens company, Tamron doesn't have the ability to access Sony autofocus advances before they're released, and the 50-400 is an all-in-one lens and not designed to be the fastest on the market. It's also likely the lens doesn't communicate well or move as quickly as a high-end native lens might. These are all things I'll be looking at during further testing.
I didn't get a chance to photograph using the a7R V at an airshow, which is one of my favorite locations to test autofocus, but the way that the a7R V tracked birds as they flared out, climbed, or dove even at the extreme edges of the frame gives me confidence that the plane autofocus would nail fast-moving jets as well.
Animals
Animal autofocus is probably more common than bird autofocus (thanks, cats!), and recently-released Sony cameras do well with animals, especially the dogs and cats we keep as companions.
All of those animals had very high contrast between the eyeball and surrounding fur color. To test the a7R V, I photographed not only my cats (who doesn't test Animal Eye AF on their pets?) but some sheep.
Why sheep? Despite being slow-moving, sheep are tough subjects for eye focus. Herd animals have eyes farther back on the skull so that they have better peripheral vision, while predator's eyes are forward-facing and easier to see.
This combination is designed to reduce glare for the sheep, but it also makes the sides of their faces look like one solid black patch without an obvious eyeball. Sheep spend most of their time with their heads down, and their eyes are also hidden by grass much of the time.
I didn't have much hope for the a7R V autofocus to pick out the eyes, but in most of my shots where there's an eye to be found, the eye was detected even when obscured by grass.
Trains
I took the camera to photograph high-speed trains at my local train station where Amtrack lines pass through every few hours, traveling upwards of 100mph. I've never had a particular problem photographing trains; their big boxy shape makes them an easy target. However, the a7R V managed to lock onto the engine's window even as the train sped toward me, and more importantly, it did not shift focus to the people on the track nearby.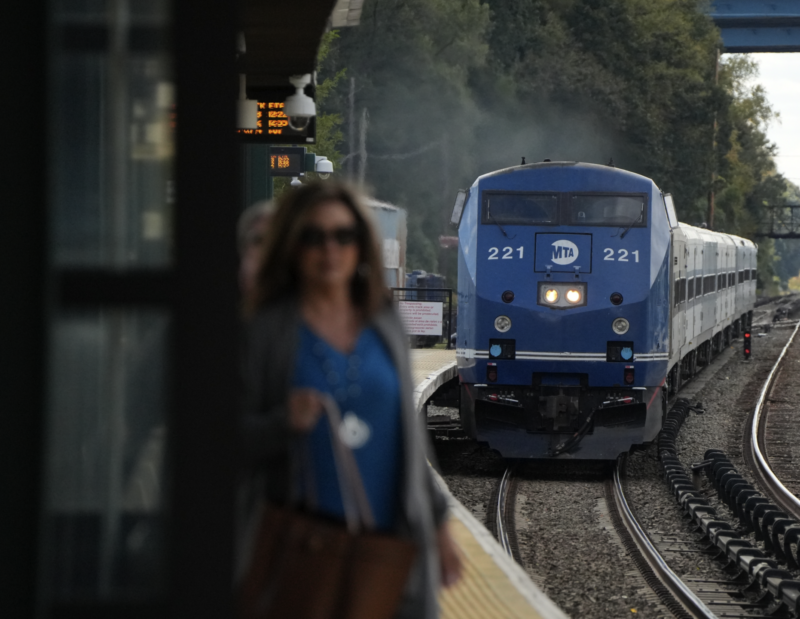 Combining this camera's capture speed and resolution comes with a price in the form of rolling shutter: rolling shutter can be pretty severe in this camera, even cropping up in portrait shoots where my subject was running.
Insects
Insect AF also worked as promised. I'm used to autofocus systems barely locking onto small, quick-moving bugs, but the a7R V system locked onto and tracked bees even as they took off and landed. I spent a long time photographing a bee trying to leverage something off of a piece of metal, and in every single shot, the camera outlined the bee, never jumping to the shiny surface it was on.
People
As a long-time photographer of bike races, I know how hard it can be to capture a shot with a cyclist's face in sharp focus. Helmets and glasses usually throw off autofocus systems, and the focus points often jump to trees or vertical objects behind the racers.
I found the a7R V locked onto the faces of cyclists consistently regardless of speed. This is most likely due to the new human pose recognition. While helmets and sunglasses are foreign to an autofocus system, a cyclist is a clear and visible display of moving body parts. Head, shoulders, arms, elbows, knees, legs, and feet are all visible. These key focus points made the autofocus system more accurate on cyclists than any system I've used.
It was so accurate I switched to doing pans at 1/40 second or slower and got spot-on focus on the face, sort of the holy grail of any bike photograph.
Portraits
Since the R in the name still stands for "resolution," the a7R V still makes a superb portrait camera. The detail of the sensor is excellent, and the color fidelity and exposure on the a7R V do seem to be more accurate. Sony said the new processors improve face exposure, even when faces are "dark" or backlit.
My favorite portrait lens in the Sony lineup is the 50mm f/1.2 GM, and I used this almost exclusively for portraits during testing. As with most high-resolution cameras, there's so much detail in the images I often had to spend a lot of time in post editing out blemishes and skin details.
Fortunately for my testing, Halloween was quickly approaching, so I spent some time with a local hobbit from a nearby shire.
One note, these images were converted using the beta version of Imaging Edge. When Lightroom and Capture One support these files, I will update them. Additionally, the beta of Imaging Edge seems to shift skin tones and overall color on export for these files.

Autofocus Issues
There were some shortcomings in the world of autofocus. Naturally, not every shot was perfect. No autofocus system gets all the shots all the time. Trying a wider range of subjects in a wider variety of conditions leads to more chances to fail as well.
But the oddest autofocus failures were the same as I found on the a7R IV: I found it still could stumble over a simple lock of hair over an eye at close distances. This limitation lessened the farther I got from a subject, where I think the autofocus system had more data to use to predict what a subject's face would look like and then at a certain point could use human recognition for its autofocus tracking.
These focus issues seemed to happen more on my test Sony 50mm f/1.2 GM than on other test lenses. This wasn't a matter of focus distance; I know the 50mm has a relatively far close focus distance. It is possible that I had a bad copy of the 50mm f/1.2 GM, or there needs to be a firmware update for the camera and lens to get the most out of the new autofocus. Or it might be that I didn't have the menus set correctly because of the issues in the next section.
Menu Problems
All of the new AI-based autofocus tools are controlled—in very typical Sony fashion– through the addition of more than a dozen new menu items. This is not an exaggeration. There are new menus with multiple options that have new sub-options for refinement of the autofocus system.
Frankly, this menu system is a mess, which is a shame as the autofocus system it controls is so strikingly powerful.
There are new selections for "Recognition Target," "Recognition Target Select," and "Recognition Part." These seem like they're conflicting, but as it turns out (as Sony representatives explained it), they're simply refining what the AI system is looking for and in what order — but you have to know what they all mean and how they relate.
Three different menu choices to control three aspects of the same choices is too much for the average user. No user manual was available when I performed this review, which might have shed some light on the menu options, but I doubt it.
As an example: If Recognition Target is set to Human, but Recognition Target Select includes Human, Animal, and Bird, the camera prioritizes looking for humans and secondarily for animals and birds. If you don't include Cars or Insects, the camera will still look for them, but not as a priority. I think. This is all very unclear.
To further complicate things, Recognition Part for living subjects includes "Eye," "Eye/Head," and "Eye/Head/Body." You'd think you'd always want the camera to look for the eye, head, and body, but the new system allows you to be even more granular. Each recognition part has sub-menus to dial in the amount of attention those get.
The point of Artificial Intelligence is to remove some burden from humans or to make a system independent of the need for human input. When my iPhone detects text in a photo or video and lets me copy that text, I don't have to tell it to look for text in English and then Spanish and then Japanese or tell it to find people before the text. It just finds the text.
I truly appreciate all of the new autofocus options in the a7R V, and I do appreciate Sony's desire to let a photographer dial in the most precise control possible. But really, I want my camera to find the subject I want to photograph in my viewfinder without giving it a checklist, or at least not giving it four checklists.
I'm sure video-based user guides will be available after the launch, and I highly recommend watching them if you plan to pick up this camera. I know that I'm personally going to spend a lot of time digging into these menus.
Until we get to the point where AI can predict what subject you are trying to capture in a photo — even with different subject types — the best we are going to get is dialing in a lot of choices to tell the AI how to do its job.
Resolution
Unsurprisingly, the a7R V has excellent resolution. The a7R IV, which uses the same sensor, also created rich, detailed images. Sony says the processor allows the a7R V to pull more resolution dynamic range out of the sensor. Without a testing laboratory, this is impossible to determine, but the resolution and image quality in the a7R IV was already great. When RAW converters are available in Lightroom and Capture One, it should be a lot easier to pixel-peep these new files.
Image Stabilization
Sony claims that due to the design of the a7R V, the granular control over the sensor shift mechanism, and better predictive operation, the camera provides "eight steps of image stabilization" at CIPA ratings. Sony reps weren't clear on why CIPA switched from "stops" to "steps," but it seems to be the new terminology for stabilization ratings.
This is something difficult to test in non-scientific shooting environments. I didn't personally notice an increase in IS capabilities, but I didn't see them being lacking, either. This is going to require some bench testing to dig into.
Video
The a7R V is also a well-rounded video camera, with video specs that make the a7R IV look archaic by comparison. It has the ability to shoot up to 8K for about 30 minutes and unlimited 4K 24p/25p.
It's not the best video camera in the lineup as it lacks any 120fps or 240fps video modes — even with a crop. The a7R V also does pixel binning in some resolutions, though Sony wouldn't directly acknowledge that when asked.
I'm curious why this camera has no high frame rate video options. If it's powerful enough to do 8K video, it's powerful enough to do 120fps or 240fps with a crop in 4K. It is already capable of capturing in Super 35, a cropped format, so these faster speeds seem more than doable.
When PetaPixel asked Sony reps about this during our briefing, Sony said it was a decision to keep the video image quality the highest possible on this camera. If it would have taken a crop to get 120fps and a customer didn't want to sacrifice the quality with a crop, wouldn't they just choose not to use that mode? The way Sony chose to go, no one gets what they want.
The "R" series has always been photography first, with videography an afterthought. In a7R V, Sony has put in enough video features to make the a7R V more than capable of handling most traditional shoots, but not enough to make it a replacement for a cinema-specific camera like the a7S III or FX3. Perhaps that is by design.
Real-Time Tracking and Wide autofocus (focus near the edges) are available in video, and video autofocus seems very responsive and accurate. I didn't have enough time to take a deep dive into video features, so I'll leave this area for later comparisons between the a7R V and the a1. Cripple Hammer or engineering issue, I'm not quite sure but the effect is that video-first creators should look at other models.
Use and Operation Speed
With a body identical to the a7 IV and a7S III — aside from the new tilty-flippy screen — the a7R V is familiar to use and will be comfortable to anyone that enjoys shooting with the a7 IV or a7S III.
The wealth of customizable buttons on Sony cameras is particularly useful on the a7R V as there are many more things to control and adjust with the new AI focusing system. Unlike the a7R IV, which would take a long time to switch modes or operations, the a7R V is remarkably fast. Shooting is fast, buffering is fast and switching modes is fast. The days of waiting seconds as the a7R IV started up are gone.
A Marriage of Performance and Resolution
Sony made enough significant usability improvements to the a7R V to make it feel like a true step up from the last generation, which is a bit more than it was able to do when it went from the a7R III to the a7R IV. With the newest autofocus system available from Sony, the a7R V will likely be the king of autofocus from the company for some time. There is not another camera in Sony's lineup with autofocus this good, making it the best all-around choice in Sony's lineup.
The menu system is atrocious though, but that — unfortunately– won't come as a surprise for anyone who has dealt with the company's cameras in the past. Software is always a bit of a sticking point for Sony and as it adds more cool stuff into cameras, its menus become more bogged down, confusing, and hard to use.
Still, the updates here are great and if the resolution is your top priority, there is a lot to like here. For example, it is an excellent choice for a studio or commercial photographer who shoots a wide variety of subjects.
Are There Alternatives?
If you're looking solely for a high-resolution camera, don't use autofocus (landscape, still life, etc.), and performance speed isn't a concern, the a7R IV is a better choice for you right now. If you want a lower-resolution camera with these new autofocus tools, wait for an a7 V (though that might mean waiting a while). If you need photo frame rates faster than 10fps, then the a1 is your choice, even though it has an overall less sophisticated autofocus system.
If you are a portrait photographer, a landscape photographer, or a product photographer, the a7R IV will still suit your needs at a lower price. There aren't similar competitor 60-megapixel cameras to choose from, but if you're willing to drop to 45 megapixels, the Canon R5 produces excellent results at a lower cost than the a7R V. If you find yourself shooting various subjects, including portraits, people in motion, wildlife, and vehicles, there isn't another camera at this price with as sophisticated an autofocus system.
Should You Buy It
Maybe. It isn't a camera that can get a blanket recommendation as, like the a7R IV, the a7R V is a niche product. That said, the autofocus improvements make it a much better all-around choice.
---
Update: Correction has been made regarding the camera's video slow motion options.
---
Disclaimer: David Schloss was formerly the media relations manager for Sony's Alpha division. While this makes him more familiar with the system, his opinions are his own, are backed by PetaPixel's editorial team, and are not swayed either for or against the company. Previous to his time with Sony, Schloss racked up more 20 years of journalistic experience and he takes his integrity seriously.
creditSource link