Today we review the $499 USD Shozy Magma In-Ear Monitors.
Disclaimer: Linsoul sent us the Shozy Magma IEM for this review, free of charge. As always, I am here to honestly convey my thoughts about the product to you. 
Shozy
Shozy's team of engineers and audio enthusiasts strive to create In-Ear Monitors that offer exceptional sound tuning and design. The brand was established back in 2019 and since then, they have created many IEMs appreciated by audiophiles around the world. The brand is based in the heart of technology, Shenzhen City, China. I have heard many Shozy products throughout my journey as an Audiophile and I believe that they are quite successful at what they specialize at. Today, we'll be looking at their latest creation, the "Magma", together!
My colleague Berkhan, recently reviewed wonderful Shozy ELSA CIEMs and you can find the rest of our Shozy reviews through this link.
Shozy Elsa Review
Shozy MAGMA Quad-Driver Tribrid In-Ear Monitors
The Magma is the latest universal in-ear monitor created by the skilled team of Shozy. The Magma retails for $499 USD. It features a tribrid configuration. For treble, the Magma uses two electrostatic drivers (EST) from Sonion. For the midrange, Shozy chose a Knowles driver and for the low reproduction, Shozy uses a custom-developed, 9.2mm dynamic driver unit that Shozy calls a "compound-molecule composite driver". Shozy states that they utilize high magnetic flux for enhanced transient response and that the driver is capable of delivering natural, agile but smoothly articulated low-end. We will be looking at the Magma from all angles and evaluating its performance. Let's get to it without further ado!
Driver Configuration: Tribrid – x1 DD, x1 BA, x2 EST
Socket: 0.78mm – 2Pin
Housing: CNC Aluminum Shell, Artisan Faceplate
Cable:1.2mSPC
Impedance: 21Ω
Sensitivity: 105dB
Packaging & Accessories
The Magma comes in a simple, black, cardboard box. The box is small, however, Shozy did include a stylish, hexagon-shaped carrying case. Apart from that, you get 6 pairs of silicone tips and a silver-plated copper cable. The cable is quite thin and does not have microphonics issues, which is welcome. I found the quality of the connectors a bit lacking and generic, I would have appreciated a thicker, better cable with a litz configuration. Other than that, the IEMs are love at first sight. Let's talk about design & aesthetics in the next chapter.
Design, Build & Fit
The shells of the Magma are completely hand-made from acrylic. Each faceplate is unique to that set of IEMs so no two sets are identical. My unit is perfect, there are no build quality issues or human error of any sort. Shozy is quite meticulous about this, even their budget IEMs have wonderful build quality. As for the aesthetics, the Magma is fabulous. It looks quite unique with its faceplates that resemble dried magma. The complexity of the faceplates is impressive. They immediately made me urge to take macro photos.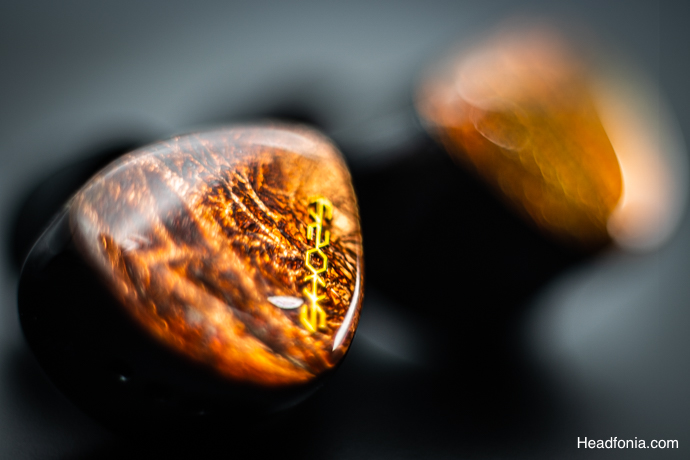 The Magma has a quad driver setup and we have seen many, physically big IEMs, especially tribrid designs but that is not the case with the Magma. Shozy's engineers found a way to squeeze a tribrid design in a very compact shell. It is most certainly impressive, form-factor-wise. The IEMs are very comfortable, even after 10 hours of non-stop use. The nozzle part is not very long so if you have large ears and ear canals, you are better off with longer tips to maximize seal and isolation. The nozzles of the Magma feature 3 holes for each major frequency band. The unibody design of the Magma feels very durable in hand. Without tips, the Magmas look identical to custom in-ear monitors. There are ventilation holes in the form of 3 dots on the back of Magma's shell. Most likely, these are for adequately feeding the dynamic driver regardless of the user's anatomy. We often see ventilation holes on IEMs that utilize dynamic drivers but this is the first time I've seen them this wide and this many! If you're wondering whether these holes affect the isolation performance, the answer is yes, by a small margin.
The nozzles of the Magma have no etching so tip-rolling is somewhat problematic. You need tips that are narrower than the regular wide tips (e.g. SpiralDots) you normally use but still won't cover the sound bores. Those are hard to come by and I've had some trouble finding aftermarket tips for it. Luckily, the included tips are quite good and I've had an absolutely fantastic time with the Magma during my testing phase. I'm just throwing you some extra information in case you decide to use the Magma as the daily driver.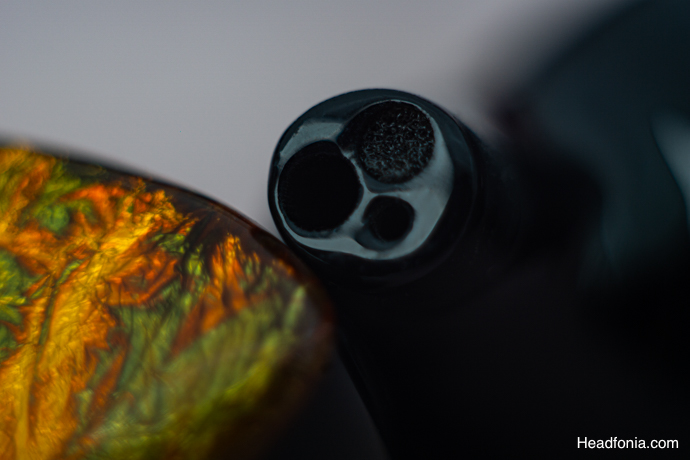 Overall, the Magma offers impressive build quality and aesthetics and it is one of the smallest tribrids on the market right now. The faceplates look amazing and the material quality is on-par with much more expensive custom in-ear monitors. Kudos to Shozy for their brilliant craftsmanship!
The review continues on Page Two, after the click HERE or by using the jump below.
Page 1: Shozy, Magma, Packaging & Accessories, Design, Build & Fit
Page 2: Sound, Low, Mid, High, Technical Capability, Comparisons, Last Words
creditSource link