Over the course of several design tweaks, Platypod has made a name for itself as one of the go-to's for portable camera support. With the new Platypod eXtreme, the company has made an even more configurable and versatile product, albeit with the same old limitations.
Familiar Design with Some Upgrades
At its outer reaches, the Platypod eXtreme measures 7.75 by 5.25 inches (19.60 by 13.34 centimeters) and is about 0.2 inches (5 millimeters) thick. In all, the aluminum plate weighs 9.6 ounces (272.2 grams), and it is compact and simple enough to slide into most sleeve-style pockets. In most cases, you'll want to use a ball head with it, so unless you want to attach and detach it often and store that separately it's going to add considerable height to what was a pretty thin support system.
Either way, the plate also comes with a carabiner clip and can be attached to the exterior of a camera bag as well. In my testing, this is how I chose to carry it around with an attached ball head.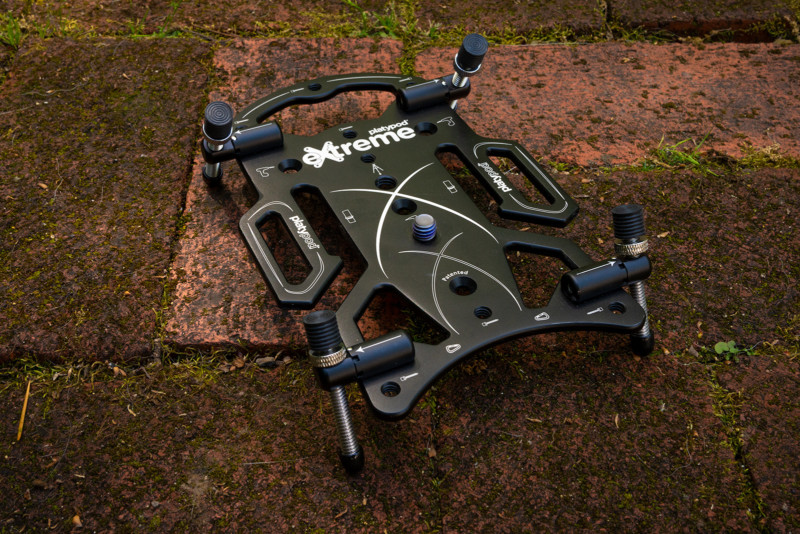 Near the center of the plate is a non-removable titanium 3/8-inch bolt to which a ball head or another accessory can be attached. Titanium is corrosion-resistant, so its use here is a good choice for assuring the longevity of something that can't be removed and switched out.
Included in the box is a 1/4-inch male-to-male adapter which can be placed in seven different spots around the Platypod. If you have an accessory that uses this size or want to try mounting your camera directly to the plate, you can use this instead of a 3/8-to-1/4-inch adapter.
At each of the four corners are independently adjustable stainless steel rubber capped legs. These legs can screw up and down the connector to make them longer or shorter, and with the Platypod eXtreme, can now be rotated at different angles. Previously, Platypod owners would have to unscrew the legs and completely remove them when it was not in use. Now, they can be rotated so that they sit parallel with the plate, keeping them attached but not getting in the way. Even though a ball head on the Platypod can compensate for non-level placement, it can only do so much before the plate is too far out of balance and it becomes overly top-heavy. I found using that not only is this new design for the legs great for storage, but they are more easily adjustable for better stability when used in combination with a ball head.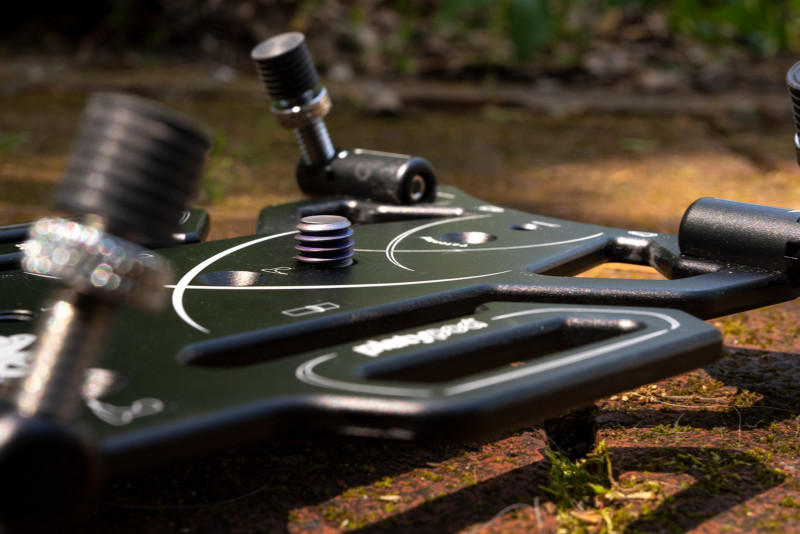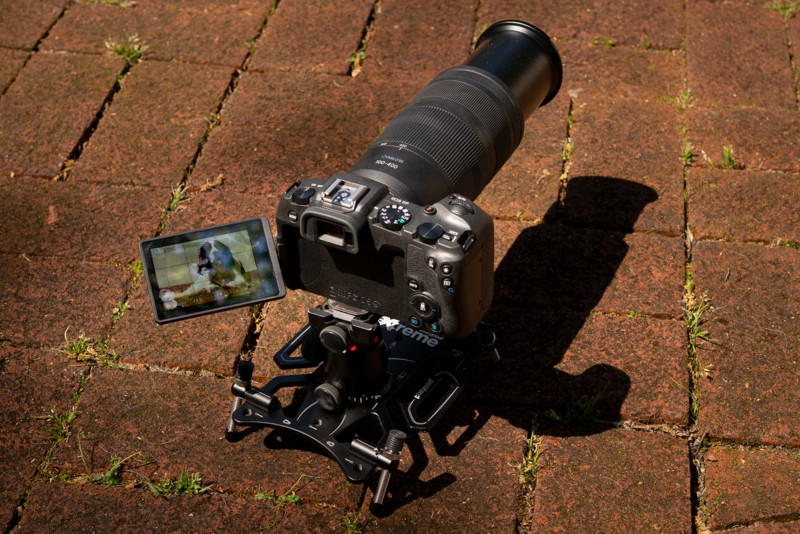 The legs come with removable rubber tips that cover spikes which can be deployed on rough surfaces, but the caps allow the Platypod eXtreme to be used on delicate surfaces. These just slide off fairly simply and while I certainly appreciate the benefit of being able to keep the legs attached on the eXtreme, I'm pretty sure I'm going to lose these caps: we've swapped one problem for another, unfortunately.
Build Quality
The Platypod is made from "aircraft-grade" aluminum and finished with a semi-matte black powder coat. In testing, that plate is quite resistant to bending: I was not able to twist or misshape it even after putting all my force into it. I even balanced the eXtreme at an angle and stood on my ball head and it did not give.
So if it's accidentally stepped or crammed into a space with other rigid objects, the plate is probably going to come out just fine. The company claims that the Platypod eXtreme can readily support camera and lens combinations of up to 22 pounds (10 kilograms), which is a lot less than what I attempted to hit it with, but Playtpod was probably factoring in the four stainless steel adjustable legs.
The black finish is susceptible to scrapes that will eat away paint to show the bare metal, and considering this is something that is in frequent contact with all sorts of surfaces, I'd expect the bottom to look pretty gnarly after just a short while. The company could have probably glued rubber padding to the bottom, but this too would eventually eat away and add weight. There's not really a simple solution, so it's more something to keep in mind: the Platypod eXtreme won't look pretty forever.
A Specialized Tool, Not a Tripod Replacement
In most situations, a tripod is going to make a lot more sense to use over the Platypod eXtreme. This fact doesn't take away from the Platypod's abilities though, because it's a different tool for a different job. Both it and a tripod can mount a ball head and a camera, but they're at their most useful in different situations. You can't bring a full tripod to use in Grand Central Station in New York City, but you can probably get away with placing a Platypod on the rounded marble guardrails. You wouldn't bring only a Platypod on a landscape photography trip, because a tripod is going to get the exact compositions you want without compromise.
In short, the Platypod eXtreme is thin and light by itself and can be easily carried around and deployed when the right opportunity presents itself, but it's not a full-on replacement for anything else.
Bear in mind that this is also a Kickstarter project, but given the company's history and the fact it expects to deliver the eXtreme pretty much immediately after the campaign ends, it appears that the Kickstarter is being treated more like a pre-order than a crowdfund. Still, be aware there are no guarantees with Kickstarters.
Are There Alternatives?
Platypod has been making iterations of its product since 2014, and the best alternative to the latest eXtreme model may be searching out one of the older versions. They are basically metal plates with a titanium 3/8-inch bolt, so it's not like they really get outdated or get less useful over time, even when the company releases new versions. The latest eXtreme model does a better job at keeping all the pieces together because the four adjustable legs are built-in, but it's kind of a niche design bonus to an already niche product.
Another alternative would be a GorillaPod 3K or GorillaPod 5K kit. These are essentially tabletop tripods with a little more flexibility, literally, in their application because of the bendy legs. They can wrap around smaller poles or tree trunks and limbs, be strapped to anything larger, and overall aren't that much bigger than a Platypod with a ball head mounted on top. I've had the 5K version since it was released and comes in handy for most of the same situations I'd use a Platypod for.
Should You Buy It?
Yes. If you need a pre-machined piece of metal with a bunch of different use cases built in, the Platypod eXtreme is the best way to go.
---
Disclaimer: Make sure you do your own research into any crowdfunding project you're considering backing. While we aim to only share legitimate and trustworthy campaigns, there's always a real chance that you can lose your money when backing any crowdfunded project.
creditSource link