The full-frame Nikon Z 400mm f/2.8 TC VR S has many long-lens photographers excited about being the last piece of glass they'll ever need to buy. With a built-in 1.4x teleconverter effectively replacing the need for a 500mm or 600mm f/4 and state-of-the-art optics from Nikon, there's potential to be something truly special.
---
For the evaluation of this lens, Nikon provided a pre-production model of the Z 400mm f/2.8 TC VR S. It is highly likely that this is not the final firmware version that will ship with the lens to paying customers and there may potentially be changes to the design at the discretion of Nikon.
As a result, what we could evaluate was limited and those who are concerned about image quality may want to hold off until Nikon is able to get production models into reviewers' hands which allows us to publish 100% crops and full-resolution RAWs. Additionally, as the lens is pre-production, this review will not include our final recommendations. We will update this story when that changes.
---
Build Quality
The Nikon Z 400mm f/2.8 TC VR S lens measures 15 inches (380 millimeters) in length and 6.1 inches (156 millimeters) in diameter at the front. In all, the lens itself weighs six pounds, eight ounces (2,936 grams). Affixing the lens hood to the Z 400mm, the length extends to 20 inches long and the weight bumps up to around seven pounds.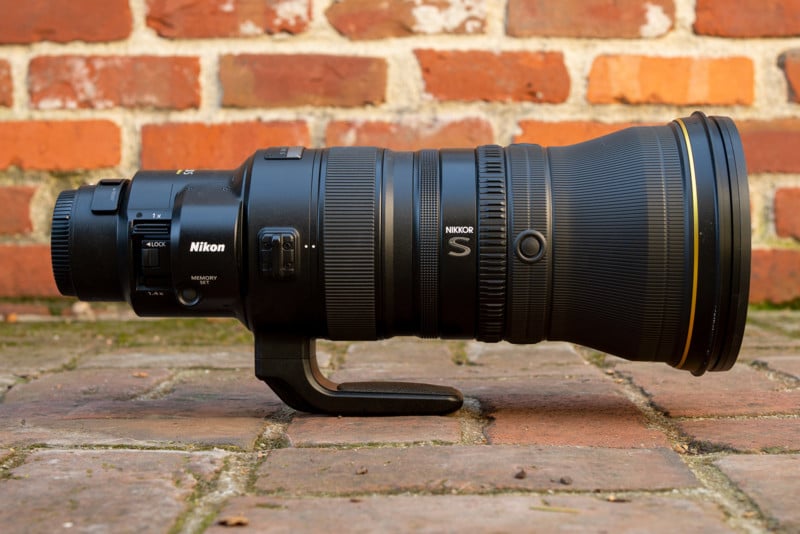 I paired the lens with Nikon's flagship mirrorless camera, the Z9. Throughout my two-week testing period, and following the way I always photograph wildlife, I only used the combination handheld. The weight and size of the kit were not a struggle for me to carry around for a few hours or hold up for as long as I needed while waiting on my shot in the viewfinder.
Regardless of your own ability to handhold this combination, it's astonishing that this lens is almost two pounds lighter than the latest F-mount Nikkor 400mm f/2.8E FL ED VR AF-S even though this one has a built-in 1.4x teleconverter added in.
That built-in 1.4x teleconverter is, of course, one of the top selling points of this lens and in terms of implementation, it couldn't be much better. Located on the rear right-hand side directly in front of the camera's handgrip is a vertical lever that very simply flips between 400mm with a maximum aperture setting of f/2.8 and 560mm with a maximum aperture setting of f/4. In contrast, the Canon EF 200-400mm f/4 lens I own has a built-in teleconverter as well but the lever is on the left side where a lot more jumping around with my lens-holding hand needs to happen to change it. With Nikon, it's an easy finger raise with my camera hand to access the lever.
On the left side of the Nikon 400mm, counter to where the teleconverter switch is, there's a very limited number of control switches to quickly change functionality. In fact, there are only two: a focus mode switch to jump between autofocus and manual focus and a focus limiter with just two options for the full range or six meters to infinity. There is no way to toggle Vibration Reduction (VR) to off, or Normal or Sport modes through the lens itself.
Disappointingly, even the four function buttons near the front of the lens and the L-Fn button near the rear can't be customized to control VR modes either; I had to go into the camera menu every time I wanted to change this. Another miss is Nikon's choice to have only a far distance focus limiter and not a close distance limit. The only upside I can think of to these design choices is fewer switches, meaning fewer points of exposure for weather sealing the lens.
Moving forward on the lens, we run into the tripod foot and collar. Candidly, I don't appreciate the shortcuts Nikon brought to this $14,000 lens when it comes to this area. I gasped when I first rotated the tripod collar to find that they did not add the grooves for perfect click-stop alignment every 90 degrees. Every other high-end super-telephoto lens has this as a way to very quickly change camera orientation without even looking and still maintain a perfect level.
The tripod collar's locking knob also has a cover on it that can be lifted out to expose a security slot for tethering with a wire. When using a shoulder strap to carry the kit around, a little bit of friction caused this cap to pop off accidentally a number of times.
The tripod foot itself is too short in length and is more uncomfortable than it needs to be for briefcase-style carrying, even with small hands. That said, it does at least have a little bit of padding on it. The underside of the foot has one 1/4-inch and one 3/8-inch screw holes, so it also lost one of the additional 1/4-inch holes in the downsizing when compared to the F-mount 400mm f/2.8. Lastly, we might as well add an extra hundred-plus dollars to the cost of the lens since it doesn't have an Arca Swiss dovetail and so once again it's up to third-party companies to make it actually work.
Moving on up, there are three rings on the lens: a focus ring, a control ring, and a focus recall ring. The rubberized focus ring has a good tactile feel and the perfect amount of tension to it allowing for precisely-glided movements with just a finger. With the Z9 camera pairing, I can refine the behavior of the focus ring in the menu and even reverse the direction so that it behaves like the Canon and Sony lenses I'm already used to.
The customizable control ring is much like the control rings on other Nikon Z lenses but since there is already a dedicated focus ring, there is no picking between that and something else. It can be assigned to control the aperture, ISO, exposure compensation, or leave disabled which is what I did to avoid accidental changes while handholding.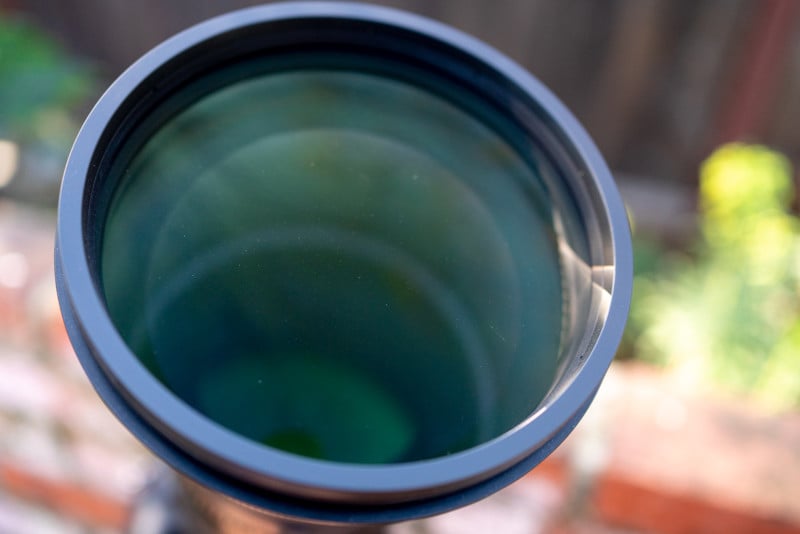 The focus recall ring will return to the focus positions that had been stored using the "memory set" button on the rear righthand side. I'm sure we can all theorize scenarios where this would be good to have, but in my case, I've never actually used this function that's been present on most super-telephoto prime lenses. The standard for fast and accurate autofocus these days has been elevated to the point where it's just easier to do a near-instant, pinpointed focus change at the moment of capture than fumbling your hand around with a separate control ring and memory button. On my Canon 200-400mm, this focus recall ring can also be used for power focus, meaning that if I lean it one way the focus smoothly sweeps out and lean it the other way the focus sweeps in. It would be nice to have Nikon also open up more uses for this control.
The front element of the lens is protected with a fluorine coating to repel dust and water as well as make it easy to clean. In my experience with the lens based on casual observation and no comparison testing whatsoever, I had to clean it more than any other big lens I've had with me. It would gather a thin layer of dust on it every day, whereas my other lenses I give a wiping to maybe once a week. A couple of the days out shooting I left the lens hood off because of the stronger winds and it would need to be wiped every half hour or so. Thankfully it was still a clean wipe to get rid of easily, but the level of attraction it seemed to have on dust particles was peculiar for a fluorine-coated lens and stuck out to me.
Image Quality
As I stated in the beginning, Nikon provided this Z 400mm f/2.8 TC VR S for evaluation, and the copy that I used is a pre-production lens. As such, there were some conditions that the company had that will limit the discussion below including not sharing full-resolution images or making final determinations on its image quality.
With that being the case, let's dive into what's going on inside the lens. In total there are 25 elements in 19 groups including two extra-low dispersion elements, one super extra-low dispersion element, two fluorite elements, and a short-wavelength refractive element. The teleconverter itself takes up seven of those elements and four groups.
Color fringing in high-contrast spots was non-existent while shooting with the lens. There's also a new "Meso Amorphous" coating and Nikon's ARNEO coating to control flaring, reflections, and ghosting. To that, I could still find some degree of flaring when shooting backlit, but not enough to overpower the photo. In all the photos shot with the lens — a little more than 4,000 after initial culling — I found just one situation that brought out internal reflections in a backlit scene.
Vignetting was quite obvious when looking over the thumbnails of my images off the memory card when the camera's vignetting compensation setting was turned to "off." There are three more levels of control including high, normal, and low, and after noticing the vignetting was a bit too strong for my taste I changed it from "off" to "normal." For most people, that's going to be the extent of thought given to vignetting with this lens. What a time to be alive.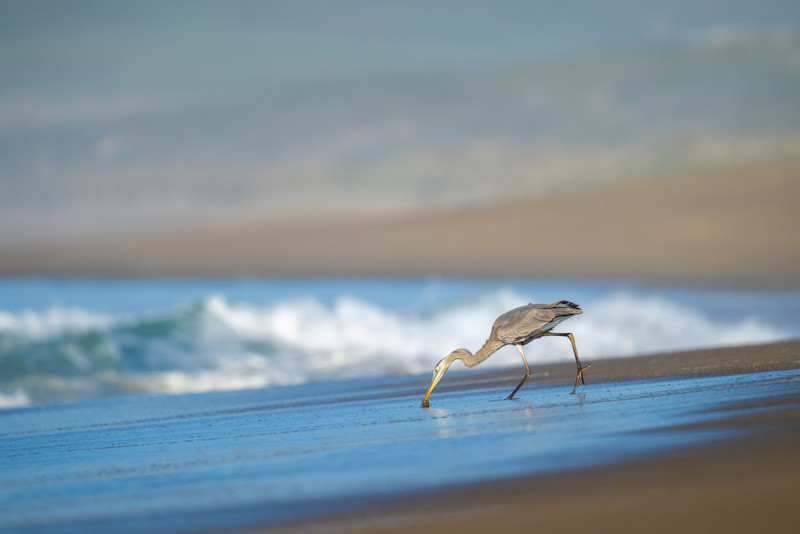 Image Stabilization
The lens features vibration reduction which works in tandem with the in-body image stabilization of the Z9 and other currently available full-frame Nikon Z bodies to achieve 5.5 stops of compensation. In my day-to-day handheld shooting, the level of compensation never felt like it was not enough at either 400mm or 560mm with the built-in 1.4x teleconverter.
There is a big issue I have with the stabilization, however, and because this is the only lens I've ever used with the Z9 I'm not sure which is to blame, the camera or the lens. Perhaps it's this specific combination, so here we go:
The problem has to do with the "normal" stabilization mode. There are three options on the lens, "normal," "sport," and "off" and "normal" is virtually unusable. The problem is that when the shutter is released, the viewfinder image jumps a great distance. Something composed in the center and not moving can shoot halfway out to the side when I snap a frame or a short burst. This means not only does the framing hop way out of where it's intended to be, but the focus points move completely off the subject as well. This is absolute chaos when trying to use the camera.
Looking at the Z9 manual, I read: "When [Normal] is selected for lenses that support vibration reduction, the image in the viewfinder may jiggle before the shutter is released, but this is a natural consequence of how vibration reduction is performed and does not indicate a malfunction. [Sport] or [Off] can be used should you find the motion distracting."
Using the word "jiggle" is far too casual for what I see and Nikon does state it happens before shutter release. I'm not convinced it's describing the same problem, but using sport mode does eliminate the jump. Then, if sport mode is the best the camera can do without getting wonky, it's probably not really giving out the full 5.5 stops of compensation as it needs to lay back and be looser for rapid action changes.
Given that the lens isn't likely running final firmware, I'll revisit this issue once we get a production copy.
Sharpness
While I can't provide a final evaluation of image quality given the pre-production nature of this lens, I'll do some light coverage of my thoughts thus far. For close-up subjects, the resolution and contrast are absolutely stellar both with and without the built-in teleconverter. I could crop an image on the computer to 100 percent and there would be no telling it's not the full-frame scaled down. The photos I got of my backyard birds that allow for approaching to the close focus distance of 8.2 feet (2.5 meters) were oozing with fine feather details, razor-sharp eyes, and creamy backgrounds.
Backing off further away and dropping down the 1.4x teleconverter, the results were less impressive. There was almost always a general softness to my images and I used Topaz Labs Sharpen AI to recover these photos far too many times in this review period than I feel comfortable with. I think I've used that software more times in the last week than I did in all of 2021. The shots with the teleconverter from further back, where it will most often be of use, were largely disappointing. Those of us who thought this was going to be a one-lens-does-all may have to lower these expectations, but I'm also using a pre-production lens that may have faults.
Autofocus
"Silky Swift VCM" is a very real name that Nikon is calling its new linear autofocus actuator present in the Z 400mm f/2.8 TC. It works in near silence and I never once actually heard it in the field.
Autofocus is another area that my kit severely struggled in, but it seems to me that was more in the brains of the operation with poor accuracy than the lens speed. Sweeping focus across the range is fairly quick, so that's a plus, although it's not quite as fast as I would have expected it to be or that I've seen with other flagship cameras and long lens combos. This may be another area that improves with the final production version.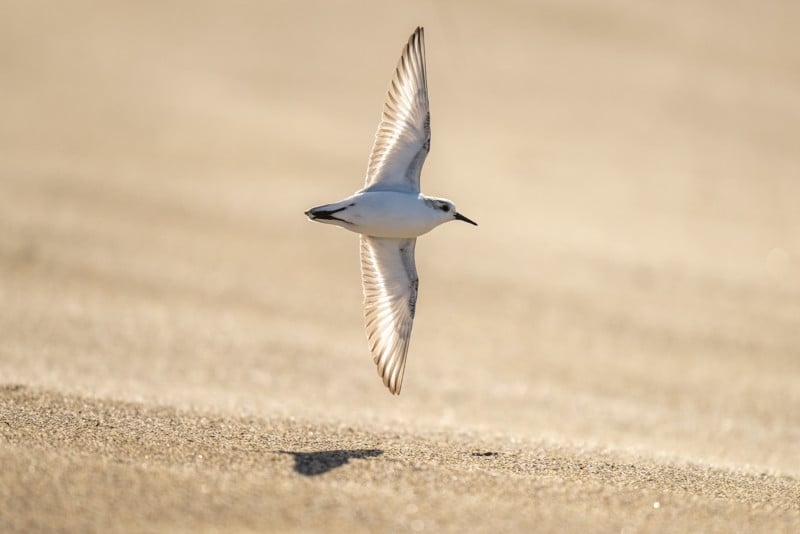 Thankfully the lens has a manual focus override that allows the focus ring to be turned even when in autofocus mode. This can be disabled in the camera, but it was constantly useful to keep my camera on track.
A New Chapter Begins for Long-Lens Photographers
The Nikon Z 400mm f/2.8 TC VR S is a wonderfully light lens with serious optical power contained within it. At 400mm, the pictures it renders near and far are tack sharp with infinite details to explore. Using 560mm at close range for tighter portraits is also excellent.
Being able to casually flip between two fast super-telephoto lens options — a 400mm f/2.8 and 560mm f/4 with the built-in teleconverter — is something I've always dreamed of as a wildlife photographer. As a pre-production lens in my hands, it inspires hope that Nikon will have it further refined when it ships for all long-lens shooters who share this dream.
creditSource link