This is the review of the Meze Audio Empyrean 2. That's right, it's finally time for the new Empyrean 2, so let's review it!
Disclaimer: The Meze Empyrean 2 was sent to me by Meze Audio directly in exchange for our honest opinion.
Meze Audio
Meze Audio has become famous and big over the last few years. Their headphones have top-quality sound, great build quality and they even offer budget-friendly gear. If you haven't heard about them then you can read their "About us" on their website, right here.
The Meze Audio headphones have won awards all over the world and that doesn't come as any surprise, as a lot of people seem to love the Meze creations. On top of that, the Meze team is always friendly, they know what they're talking about and they're just really nice people to communicate with. It's one of the nicest companies in audio for sure.
We have reviewed many of Meze's products here on Headfonia, and you can find all of those reviews here.
Introduction
It has been a well-kept secret, but there finally is a successor to the award winning Empyrean. Only a few weeks ago the Meze team got in touch and introduced us to the new Empyrean 2, a big surprise! The new Meze Audio Empyrean 2 is being announced today, November 8, and we have reviewed it for you already. If you're not familiar yet with the original Meze Audio Empyrean, we strongly advise you to read up on that headphone first. You can do so here:
No need to keep you all waiting any longer, let's dive in right away!
Meze Audio Empyrean 2
Why an Empyrean 2? Meze explains that they have been listening to the community, and it was clear that they wanted a more neutral sounding Empyrean, but with retaining the easy listening experience. Does that mean the new Empyrean 2 is more like the ELITE or something completely else? We will find out in this article.
As the Empyrean 2 is only announced today, you might not find a lot of info online about it yet. What Meze Audio has shared with us so far:
Our engineers have masterfully harnessed the Isodynamic Hybrid Array Driver's power into a new fine-tuned sound signature. Their determination has revealed new possibilities in terms of responsiveness and accuracy, amplifying the iconic qualities of the original Empyrean that have captivated people's hearts (and ears).
It's also important to know that the new Empyrean 2 will replace the existing Empyrean. Of course Meze is still working with Rinaro for their driver development. The Isodynamic Hybrid Array Driver combines individual switchback and spiral shaped voice coils in one driver, allowing sound to be targeted with more accuracy around the natural form of the ear. The Empyrean 2's full driver details can be found on Meze Audio's website here.
The Empyrean 2's full specifications can be found on the last page of this article as well.
The Box, Accessories & Price
The original Empyrean came in a larger sized beautiful aluminum carrying case. This case has been remodeled for the Empyrean 2 and it now is more compact and made from high-strength ABS plastic. The suitcase comes with a foam insert and leather handle. On the inside there's plenty of room for the headphone as well as for the second set of ear pads and at least one headphone cable. The original set of pads that was on the Empyrean 2 is a duo (hybrid) earpad, with a leather and Alcantara finish. The second set of pads is fully Alcantara and they are angled. Both set of pads are perforated on the inside. We will get back on the sonic and comfort difference later in this article.
Meze sent us the Empyrean 2 with two sets of their own premium cables: the silver plated PCUHD ($419 USD) and the copper plated PCCUHD ($349 USD), but a regular buyer will have to choose between both cables. Connector types available are Connector type: 2.5 mm, 3.5 mm (1/8 in), 4.4 mm, 6.3 mm (1/4 in), 4 pin XLR.
A part from the cable, carrying case and twin set of ear pads, there were no other accessories in the box. The retail price of the Empyrean is set at $2,999 USD / €2.999 / £2.749.
Case:
Two sets of earpads included: Duo Earpads + Angled Alcantara
Cable type: Premium Silver-plated or Copper PCUHD
Connector type: 2.5 mm, 3.5 mm (1/8 in), 4.4 mm, 6.3 mm (1/4 in), 4 pin XLR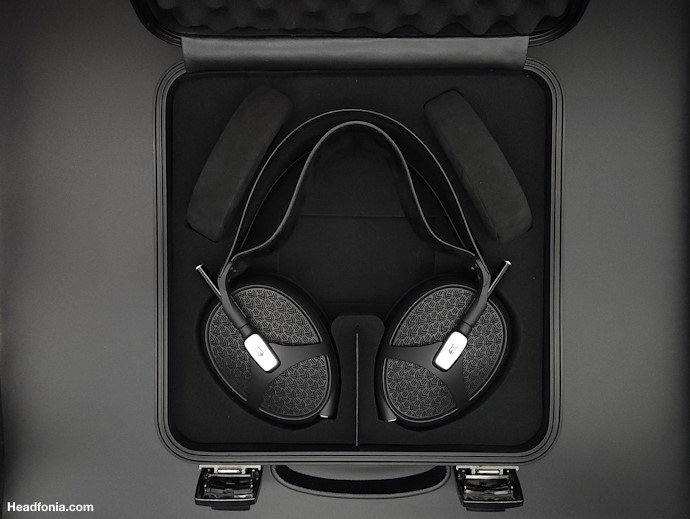 Design, Build Quality & Comfort
In terms of looks, the Empyrean 2 again is a gorgeous headphone with a lovely design, incorporating unique features. On first glance it resembles the Empyrean and ELITE headphone but there are some refined differences.
The headband system still is the same one and it has the carbon frame and leather headband. New is the mention of "II" on the headband. Where the original Empyrean had a glossy yoke and ear cup finish, the Empyrean 2 this time round has a matte black finish. The vertical rod on the head band is now in shiny black and it has a grey accent on top. The side plate on the yoke now is silver and it's showing the Meze Audio logo.
Meze Audio is famous for producing the most beautiful ear cup grills and we on this new headphone version see a variation of the typical Meze "Y" inspired by art deco artistry. On the inside of the ear pads, you no longer have a see through fabric, so it impossible to look at the drivers. On top of that Meze has now installed a thin membrane over their driver, so even if you remove the ear pads, the driver won't be visible. Do check out the pictures to spot the differences with the original Empyrean.
Build quality wise there is absolutely no difference from before and you still get the perfect high-end finish we're used to from Meze Audio. Every part of the headphone chassis can be disassembled and serviced with ease, if ever needed.
Comfort wise there also is no big difference to the original Empyrean. That means it is light (385g without earpads), with a well distributed weight on top of your head. It also means   the clamping force on the side isn't the biggest but that depends on the shape of your head as well. Both of the pad types are comfortable, and I prefer the non-angled ones most when it comes to comfort. They just sit a little better on the sides of my head.
All-in-all the Empyrean 2 is the type of headphone you can wear for hours at home without any discomfort. Isolation wise the Empyrean 2 of course still is a fully open back headphone, so take that into account when you're in a noisy environment or when there are people around you.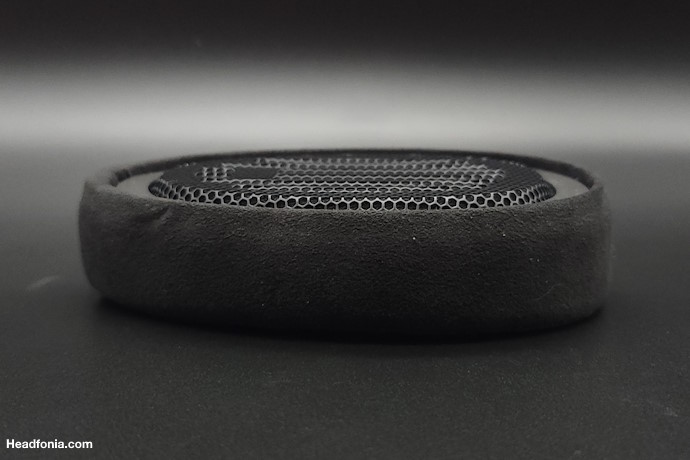 Pads
Meze Audio states that the new pads are the most advanced earpads in the Empyrean series to date.
The all-new Duo Earpads are bespoke to Empyrean II. Crafted from a precise blend of premium leather and Alcantara, they introduce a contemporary look and tone. With leather forming the base half and Alcantara covering the rest, these earpads according to Meze deliver a harmonious tonal balance that resonates across all music genres with well-sustained bass frequencies owed to the leather, with beautiful refinement and spatiality from Alcantara.
The angled Alcantara pads are made of soft foam coated with Alcantara, with a fine protective mesh on the grill. For a classic audiophile experience, the Angled Alcantara Earpads excel at rendering intricate details and nuances in your recordings. The angled shape creates more space inside the earpad, which translates to an airier sound signature, with cleaner bass and improved midrange presence.
We are diving in to the sonic differences between these pads in the next chapter.
The article continues on the second page with the part on sound. Click here or use the jumps below
Page 1: Meze Audio, Intro, Empyrean 2, Box & Accessories & Price, Design & Build Quality & Comfort, Pads
Page 2:  Sound, Sound general, Pads
Page 3: Sound: Sources & Amplification
Page 4: Sound Comparisons, Conclusion, Summary
Page 5: Full Specifications 
creditSource link