Today we share our full review of the $299 priced Kinera Hodur Universal Hybrid IEM.
Disclaimer: The Kinera Hodur was provided by Kinera. You can purchase it here.
Entry Level Hybrids
As technology becomes cheaper and more reachable each day, we see new hybrid and tribrid IEMs with relatively more affordable price levels. These IEMs offer good performance for the money. Some companies are pushing all the time to offer great value with their hybrid offerings, and Kinera is one of them. Let's see how this one performs.
About Kinera
Kinera operates in China under Yutai Electronics, which was established in 2010. This electronics company has the determination to develop a new generation of high–tech products for the consumer market.
Our goal is to bring the most valuable earphones to the market.
I have written lots of Kinera reviews. Take your pick; Idun, Odin, Nanna, Freya, Baldr 2, Norn, IDUN 2.0 and counting. Kinera loves to give the model names after mythology, and this one is no exception. Hodur represents the god of darkness in Norse mythology.
My all-time favourite IEM from the brand is the Nanna, and it's still on our  Best Universal IEMs page with its tremendous performance.
Kinera Nanna Review

About Kinera Hodur
Hodur is an entry-level tribrid monitor with 3 different drivers inside:
Kinera High Sensitivity & Low Power Electrostatic Driver
Kinera Customized K10012 BA Driver
10mm Coaxial Dual-magnetic Tesla Composite Diaphragm Dynamic Driver
Kinera claims that they've managed to create a highly sensitive electrostatic driver for the Hodur. As you know, EST drivers usually need proper power, but according to Kinera, this one doesn't.
Apart from the internals, the Hodur's shell is a "CNC 5-axis Carved Aviation Aluminum Alloy Shell", with an aluminium alloy anodising process, which makes Hodur durable and wear-resistant.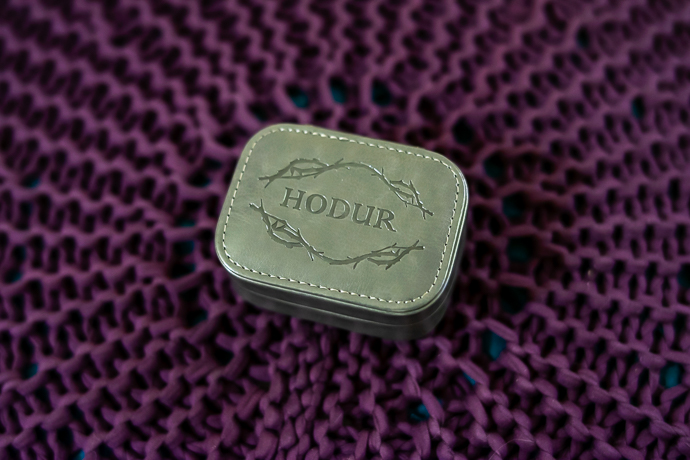 Packaging
In classic Kinera fashion, Kinera Hodur arrives with a hexagonal-shaped box. I like this continuation and as always, the box looks like a fine Swiss chocolate package at first sight. To me, the box and its content are more than satisfying for an IEM with this price tag. A truly impressive unboxing experience. I simply loved the fact that they retain this experience for every iteration including the lower-priced models like this.
You get 7 pairs of Kinera brand silicone tips. Silicon rigidity is good and they have good quality. The best thing however is that the package also includes Final Audio tips, which is now a standard among higher-end Kinera IEMs, but it's nice to see it in this 299$ offering as well.
You also have both 3.5mm and 4.4mm terminations. Kinera has a detachable jack design. So you can plug in both terminations depending on your source. A nice solution.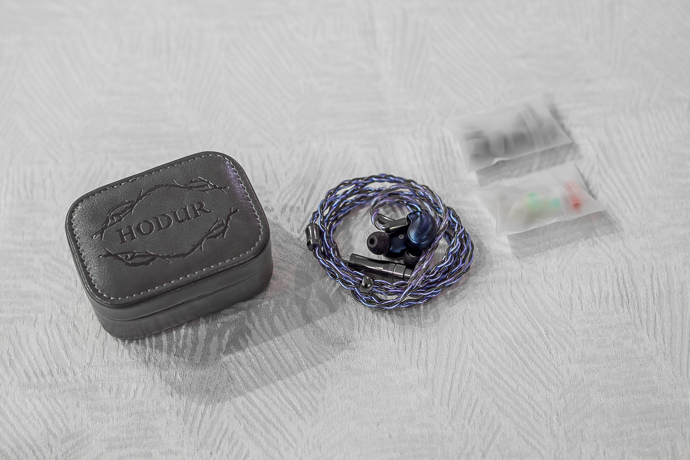 Carrying Case & Cable
The carrying case has a grey colour with a simple design. I've seen these types of cases with many IEM models, including Kinera's own. It's surely synthetic leather, but the quality is very good, and the inside is roomy enough to store the IEM.
It is just as serious-looking as the IEM itself, and it's very practical. It nicely completes this premium package; elegant and aesthetically pleasing.
The cable is a similar one that comes with other models. Yet, the cables of Freya and Nanna were a bit better to me. They had that wonderful copper wires with a lower profile structure. Yet, the blue details of this one also complete the overall design perfectly. It's good the see this attention to detail. The ergonomy is still good with a soft and flexible core, and connectors sit in slightly recessed socket areas. So build-quality wise I don't have any concerns here.
Page 2: Build, Design, Fit, Sound Quality
Page 3: Technical Performance, Comparisons, Conclusion
creditSource link