The Google Pixel smartphones enjoy a well-earned reputation as photographic tools. With the release of the Pixel 8 and 8 Pro, Google took the photo game one step further by substantially increasing the amount of light the Pixel cameras can collect. As a photographer, this excites me.
The focus of this review is going to be on the $1,000 Pixel 8 Pro model exclusively because the first thing that's obvious about the Pixel 8 phones is that photographers will want the model with the best camera system, and that's the Pro. The standard Pixel 8 does get the same benefits in regards to an improved ultra-wide and main camera but it's the 8 Pro that also gains an updated 112mm f/2.8 telephoto lens.
You also need the 8 Pro to unlock the "pro" camera tools which give you access to things like white balance, shutter speed control, ISO adjustments, and more. Perhaps most importantly though, the Pro model gives you the ability to shoot RAW and JPEG files that maintain the maximum 48 megapixels of its cameras.
This does mean that you're carrying around a phone with a 6.7″ screen, albeit a very nice-looking one. Featuring a 1344×2992 dot display with a variable frame rate from one to 120hz, the Pixel 8 Pro screen is bright and sharp with its peak brightness capable of 2400 nits. I found the touch controls to be responsive and rarely had to repeat an action or button press.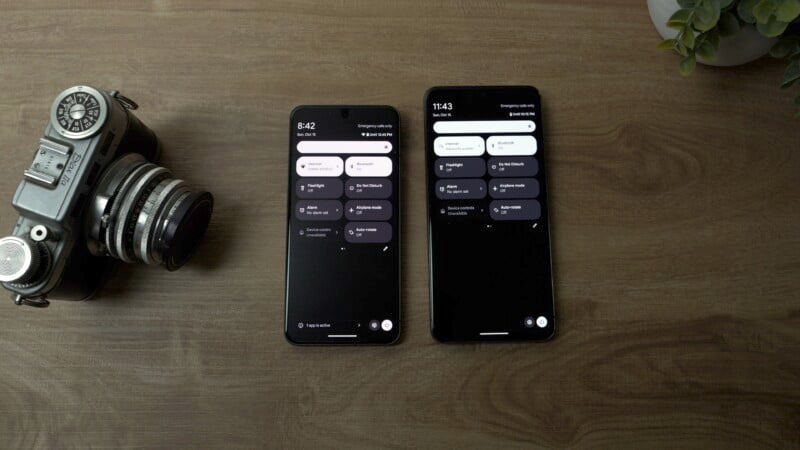 Google Pixel 8 Pro: The Cameras
Compared to the last model, everything about the three cameras on the 8 Pro has gotten either brighter or larger — or both. The ultra-wide camera has a dramatic-looking 11mm equivalent focal length. Couple that with a brighter f/1.95 maximum aperture and you get a camera that can even tackle astral photos. Compared to the Pixel 7 Pro, this ultra-wide lens is brighter, wider, and with four times the megapixels. Quite the upgrade indeed.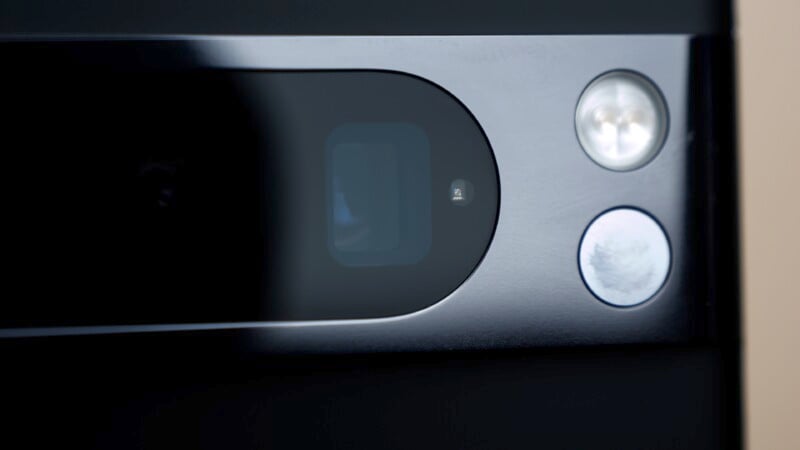 The Pixel 8 main camera is similar to its predecessor, featuring the same 50-megapixel count, and 25mm field of view, but it adds more light with a brighter f/1.68. A slightly shallower depth of field is possible and the image quality in low-light situations is improved.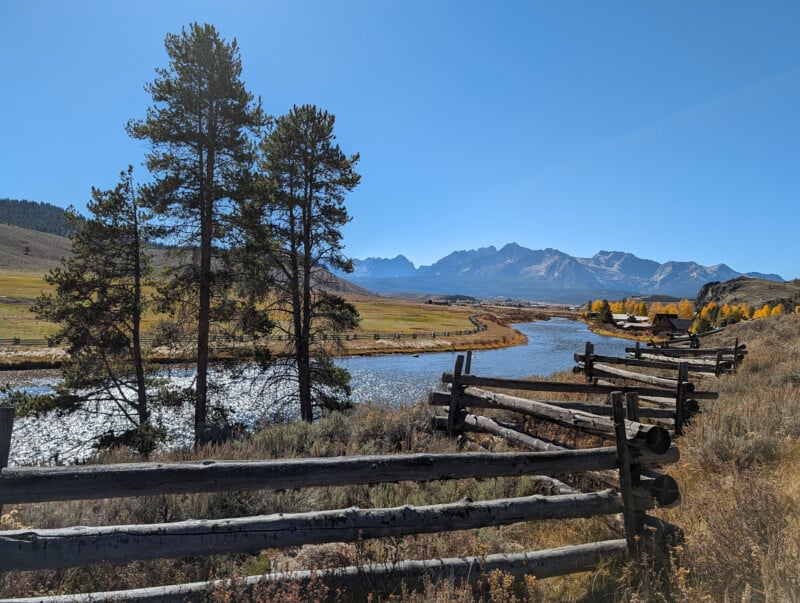 Lastly, the telephoto lens is improved with a brighter f/2.8 aperture that still pushes out excellent 48-megapixel images. I found the optical image stabilizer to be very effective while composing shots, and the image quality is substantially better than the iPhone 15 Pro Max telephoto lens.
Google Pixel 8 Pro: Ultra HDR
Google has finally entered into the HDR photo fray but does so with a new proprietary format. Files can now be shot in a P3 color space and when viewed on an appropriate display can show more dynamic range and brighter highlights than before. This couples very nicely with the improved and much brighter screen on the 8 Pro.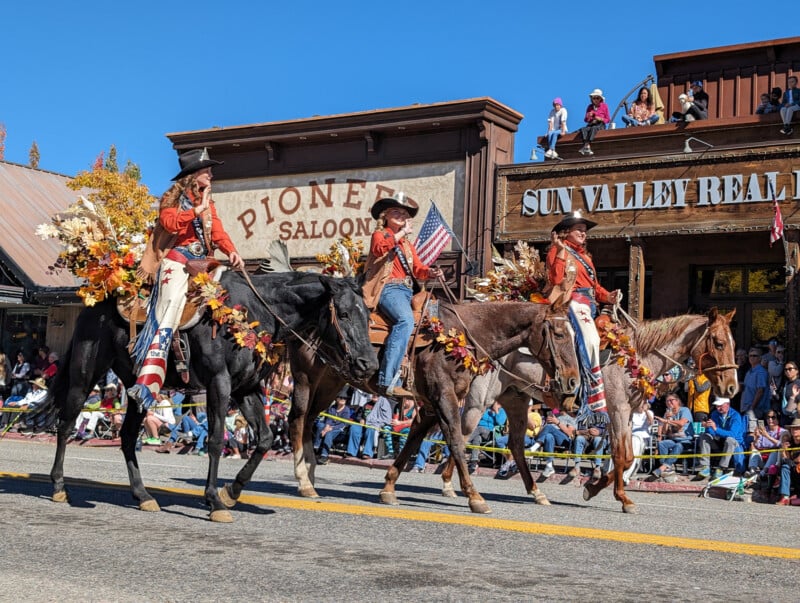 However, because we have another new HDR format that needs to be supported by the display community, it's going to take time to fully appreciate the Pixel 8 photos on various computer and TV platforms — if that ever happens. Regardless, it's time for Google to integrate HDR photography into its phones and this is a step in the right direction.
Google Pixel 8 Pro: Portrait Mode and Night Sight
Although we have faster apertures across the board, the depth of field is still going to be fairly deep regardless of which lens you use. Modern smartphones rely heavily on detecting your intended subject and then artificially blurring the background with depth maps. The level of realism has steadily improved over the years and the Pixel 8 Pro delivers the best results I've seen on a Google phone so far. Unfortunately, the portrait mode does not work with the longer 5x.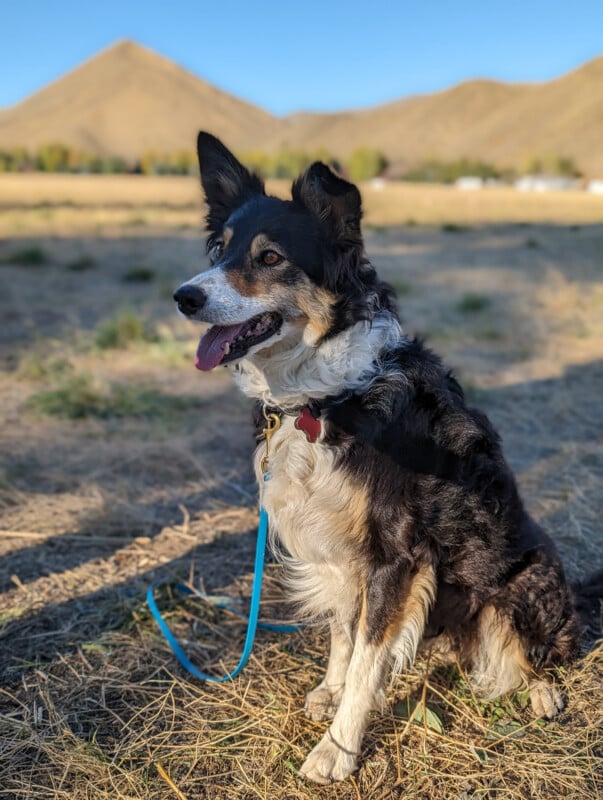 It does its best work with human portraits and delivers similar results to the latest iPhone. However, there are often some strange artifacts or parts of an image that are unrealistically cut out from the scene. In time, these bugs can be addressed but for now, the results are tainted with strange occurrences. The iPhone 15 Pro series phones do a great job with family pets but unfortunately, the Pixel 8 Pro portrait mode doesn't quite mask out the subject as nicely or as seamlessly when it comes to animals. I'd say that Google still has some work to do getting its portrait mode to meet the competition.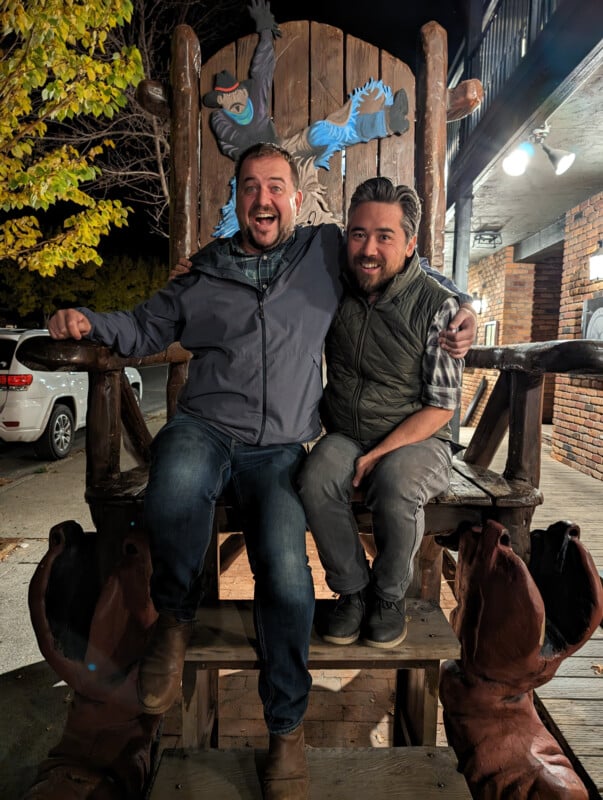 Night Sight is the answer to any of your low-light photo challenges. I've always found the Night Sight mode to be very effective at tackling darker conditions whilst still maintaining detail and good color accuracy. I love that Night Sight can be used even in bright, contrasty situations where a little more shadow detail might be desirable.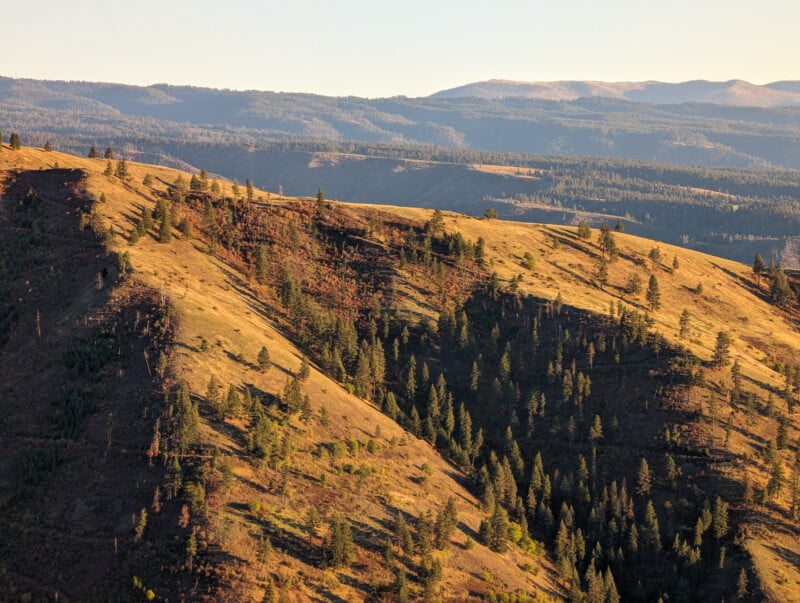 The Pixel 8 Pro in Night Sight mode can maintain the full 48 megapixels of its cameras when many other competitors' phones would drop down to 12. Night Sight shots have more detail and a more realistic look to their rendering than the competition, too.
Google Pixel 8 Pro: Video Capability
The Pixel 8 cameras have switched to a new way of recording high-quality video by recording at two different sensitivities simultaneously. This is a technology we've seen employed on high-end cinema cameras like the Panasonic GH6 and Arri cameras and provides a substantial improvement to the detail recorded in shadows and highlights. There is also HDR capture now with HLG output and the Pixel 8 Pro can now handle more dynamic range than we've seen before from Google.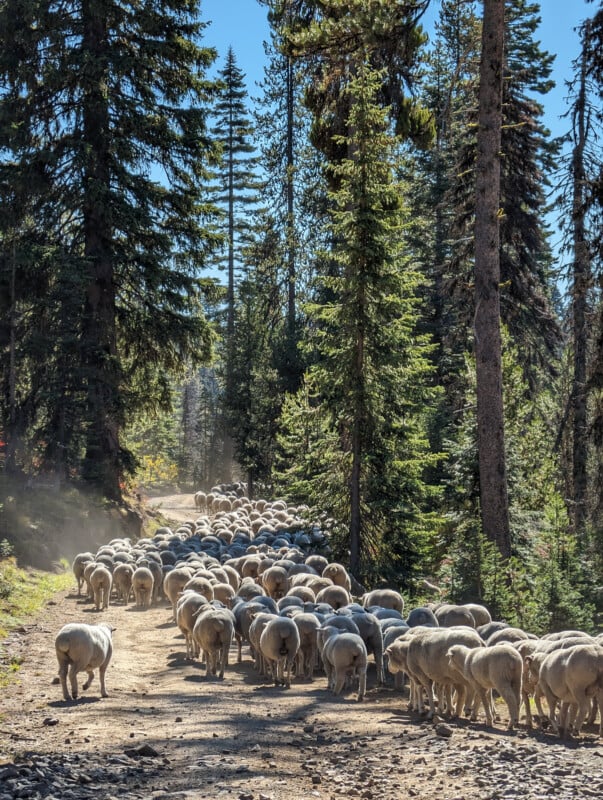 Although the video results still have that classic over-sharpened look that all phones are guilty of, the excellent skin tones and color accuracy really push the Pixel 8 phones higher. Low-light video quality also benefits from the brighter apertures now found on the Pixel cameras. Smartphones are still quite poor when it comes to low-light video quality but the Pixel 8 improvements are enough to give them a slight edge over Apple.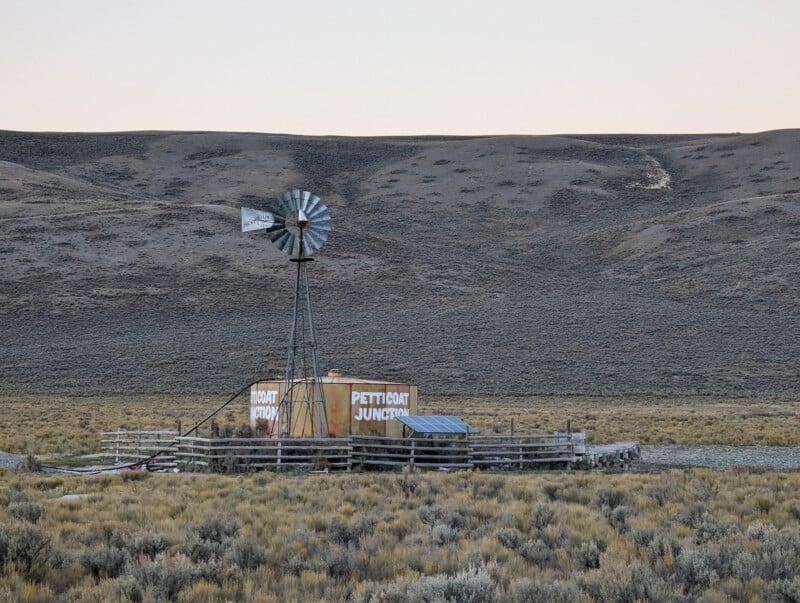 The Pixel 8 Pro can also help filter out annoying noises in your audio like machines running, or traffic noises while enhancing the vocals of whoever is talking to the camera. This is a very handy feature for situations like recording friends inside a busy restaurant or someone talking next to running water and it works very effectively.
Google Pixel 8 Pro: AI is the Future
Google is heavily pushing its AI tools as a standout feature to set itself apart from the competition. We've tested things like Magic Eraser before and although the results are pretty rough looking, it takes no skill at all and usually looks fine for social media output. But now Google is offering Magic Editor which allows you to more heavily edit images thanks to the computing power in the cloud.
You can draw around almost any object and the Magic Editor will let you move it, resize it, or delete it completely. Skies can be replaced and even people's facial expressions can be swapped for other images taken in the same burst. The results are far from instantaneous, however, and there will still be many digital artifacts remaining.
For example, backgrounds that are redrawn behind moved or deleted objects tend more towards impressionism than they do realism. People that are removed will leave their shadows behind and sometimes things like hands will remain after the processing is done. In situations where you have simple backgrounds with clearly separated subjects, the results can be pretty impressive though.
As I've said before, even if the results are not convincing upon very close inspection they are absolutely effective in the context of social media and the like. Removing an offending street sign in the background or adding more drama to a dull sky is easy to do and the results are effective. This is a powerful tool for Google because even if the results aren't perfect now, they will only improve over time.
Google Pixel 8 Pro: A Powerful Tool for Pro and Amateur Alike
The Pixel 8 Pro is a strange device in that it caters to both the photographer who wants to edit RAW files and squeeze out maximum image quality as well as the influencer who wants to easily edit and alter their images before posting to social media — true to life or not.
The new cameras and brighter lenses make a difference and as a result, the 8 Pro is the most powerful photo and video camera Google has ever made. But it doesn't stop there: the new AI tools and Magic Editor are also a useful addition to anyone's repertoire, especially if they don't have the time or the necessary Photoshop skills to go further. The image quality is the best we've seen from the Pixel line and competes favorably against the Apple iPhone 15 Pro phones in many regards. As a result, the Pixel 8 Pro is worth taking a look at if you want the best images possible from a smartphone.
Alternatives:
The iPhone 15 Pro Max will provide comparable video capabilities and a similar setup of cameras. The iPhone has excellent portrait mode results and beautiful image quality overall but the Pixel 8 cameras deliver better results. Very few users would consider changing over ecosystems, though.
For those who like to stick with Google's Android operating system, then the Samsung Galaxy S23 Ultra is probably the best bet. It didn't do a lot to separate itself from the S22 Ultra, but some well-played upgrades and additions make the Galaxy S23 Ultra hard to pass up for those who like life away from the Cupertino-based giant. Another worthwhile option is the Xioami 13 Pro, but given its lack of North American support, it's probably not on many people's radar.
Should You Buy It?
Yes. If you are an Android user and want to prioritize photographic results, the Pixel 8 Pro is the way to go.
creditSource link