Today's review is all about the Final Audio ZE8000 True Wireless Stereo In-Ear Monitor. It's selling for $349 USD.
Disclaimer: KS Distribution handed us the Final Audio ZE8000 TWS in CanJam London. All thoughts and experiences with the product are naturally my own.
Final Audio
In 1974, Kanemori Takai founded Final Audio, a company that offers a wide range of products that continue to this day. It all started with Yoshihisa Mori's cartridge design, and Final has since become popular with fans around the world, especially in Japan. You may have noticed that all of their products share a similar design language, which gives them an elegant appearance. The company places great emphasis on both aesthetics and technology and its earphone venture, which began in 2009, has led to the introduction of many excellent products in the industry.
Final Audio entered the wireless industry with two different lineups; ZE and UX series. The ZE series focuses on earbuds, while the UX series focuses on headphones. Let's see how the ZE8000 sounds and evaluate its performance together, without further ado.
Final Audio ZE8000
The Final Audio ZE8000, according to Final Audio, is aimed to set a new standard in wireless sound. For Final, the 8000 code is only reserved for its groundbreaking products, such as the A8000 and D8000. The ZE8000 is claimed to have an "8K SOUND", which sounds a bit strange but that's what they call it. Let's see how the company describes the ZE8000's sound:
"This brand new 8K SOUND technology exceeds the achievement of 'Transparency', accomplished by D8000 and A8000, and delivers an unprecedented level of clarity, with the true identity of every bit of sound revealed in its full form, promising a whole new level of music enjoyment."
For features;
Flagship True Wireless earphones featuring revolutionary 8K SOUND
Latest Bluetooth Version 5.2
Qualcomm aptX, aptX Adaptive and Snapdragon-compatible
Distortion-free active noise cancelling system
Works seamlessly with iOS and Android devices
13mm equivalent ultra-low distortion dynamic driver 
5 hours of playback per earbuds full charge, maximum 15 hours with charging case
IPX4 water resistant
Packaging & Accessories
The Final Audio ZE8000 is packaged in a sleek, black rectangular box. The overall design of the box is simple and refined, without any flashy elements. On the back of the box, the company has provided a detailed list of the earphones' features. Additionally, there is a QR code at the back that contains the earphones' serial number. 
When it comes to accessories, the ZE8000 includes Final's new Type-Q ear tips, which are specially designed for this TWS model. These ear tips come in pairs of five different sizes and provide good grip on the nozzle without causing any discomfort during use. The box also contains a few documents, a short USB-A to USB-C cable, and replaceable earwax filters.
Design & Build Quality
At Final, they believe that how their headphones look is just as important as how they sound. They strive to make earphones and headphones that are visually unique and appealing, setting them apart from others in the industry. This approach is evident in their previous designs, such as the Final Audio ZE8000 earphone. While sound quality is the top priority for audiophiles, combining it with a stylish design creates a very good experience.
ZE8000 has a sleek and durable design with a tough exterior that feels high-quality and rugged. Final Audio has named this coating "Shibo", which means "crease on paper or leather" in Japanese. The finish is similar to Sony's mirrorless cameras which adds a stylish touch. The charging case also has the same texture, making the product stand out and feel unique compared to other earphones in the same price range.
The design of the case is a unique one. The lid mechanism doesn't include a hinge. Instead, you slide the lid forward to reach the earpieces. I liked this approach which to me is intuitive, but the build quality of the case is not what I expected from this premium-ish price. It looks a bit flimsy and too simple in my opinion.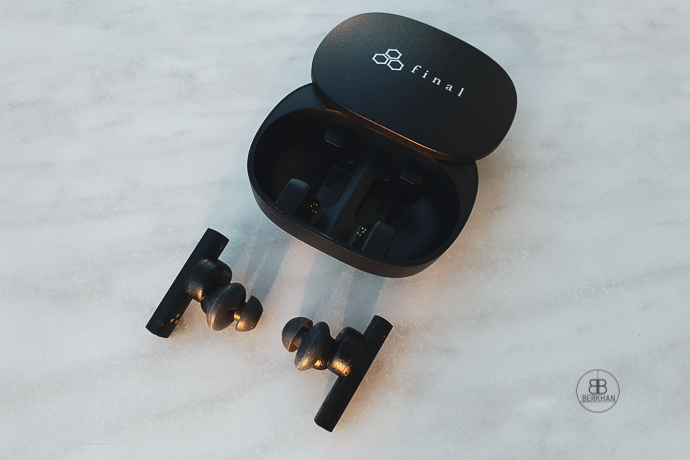 Fit
For fit, the ZE8000 is a stemmed earbud, not necessarily an In-Ear. The Q-Type tips include an outer sleeve part which is circular and you actually attach it to the body of the earphone. The nozzle of the ear tips goes into your ear. Final's philosophy here is not having any contact with the ear in terms of earphones' plastic parts. Only the ear tip contacts the ear, so it supposedly improves comfort. 
The fit of IEMs/earphones is always a personal situation and the ZE8000 might be good or bad depending on your ears. In my case, I didn't like the fit, since I can't get a seal with the ZE8000. I guess I'm not supposed to have that kind of a flush fit because the earphones' design isn't intended to be that way. So there's practically no seal with the fit. You have a noise cancellation mode that works nicely, but without that seal, you still hear some noise. In fact, some other TWS models provide better isolation because they fit snugly into my ears.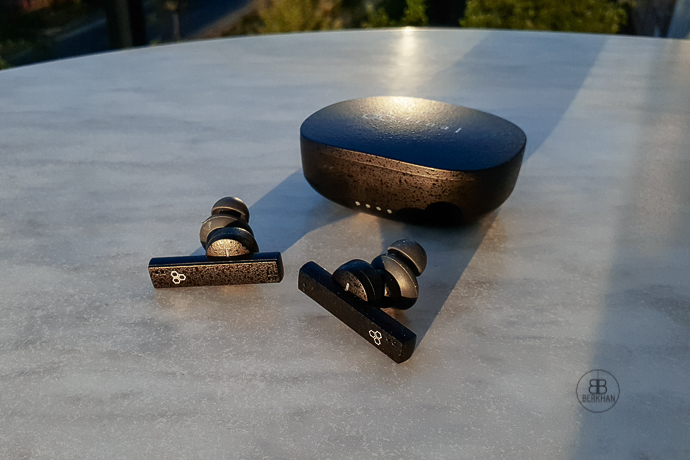 The ZE3000 had a fantastic fit experience and Final Audio in general has a great reputation in that regard with wired IEMs as well. However, for whatever reason the ZE8000 isn't a good match for my ears. 
Since the ear tips are unique for this model, you can't improve the situation with other possible tips either. The specialized design doesn't allow any other ear tip to work. These ear-tips also attract dust and the result is not so good in terms of looks, especially in sunlight. 
Build quality is great, as expected from Final. But the design choices don't work for my particular use in terms of fit. I usually use TWS products when I'm working out, particularly in running, and the fit doesn't give me a secure and flush feeling to do these activities. The unit as a whole has good battery life, build, a professional look and a great lid design though.
Page 2: Connection Stability, Controls & Layout, Call Quality, Sound
Page 3: Sound, Technical Performance, Comparisons, Conclusion
creditSource link