Today we review the Elysian Acoustic Labs DIVA 2023 IEM, which sells for $1,599 USD.
Disclaimer: Elysian Acoustic Labs is not affiliated with Headfonia in any way. The unit was sent to us in exchange for our honest opinion. We thank Effect Audio for making this happen.
Elysian Acoustic Labs
Elysian is known for its highly-regarded Annihilator IEM (and we're going to review its 2023 edition soon). They're a boutique brand from Malaysia, and the founder is Lee Quan Min. He began his DIY research, first starting refurbishing an Ultimate Ears Triple.Fi 10.
He then started providing re-shell services, then making his IEMs and receiving high acclaim. Although it's not that well-known in Europe, Elysian is more popular in the Eastern market, and I reviewed the collaborative Gaea IEM which was launched together with Effect Audio. You can check that review just below: 
DIVA 2023
The Elysian Acoustic Labs DIVA 2023 is a six-driver multi-BA IEM with a rotating bass tuning switch. Users can select from three bass levels to match music and preferences. Over the original Diva, it has an upgraded crossover, stainless steel nozzle, and internal wiring for better performance. It also has improved aesthetics. Users can choose from three levels of bass for optimal synergy with various music and listening preferences.
The drivers are evenly spread in a 2x2x2 formation, and we have a four-way frequency crossover network. With the 2023 version, this crossover is improved with adjusted drivers for more precise performance. Elysian also used a new custom UPOCC Copper and Silver Litz material internal wiring. For the cable, you get the classic Effect Audio Ares S, which is a very capable cable with good performance. 
Overall, one can say that the new DIVA 2023 isn't the most exciting IEM on paper. Nowadays we're used to seeing tribrid IEMs that have EST or Bone Conduction drivers inside. However, we know that the driver type or configuration never tells the complete story. So we'll dig deeper to find out how the DIVA 2023 performs. 
The new DIVA also boasts impressive aesthetics. Available in Red, Blue, and Black, it features a sparkling face cover and sleek design.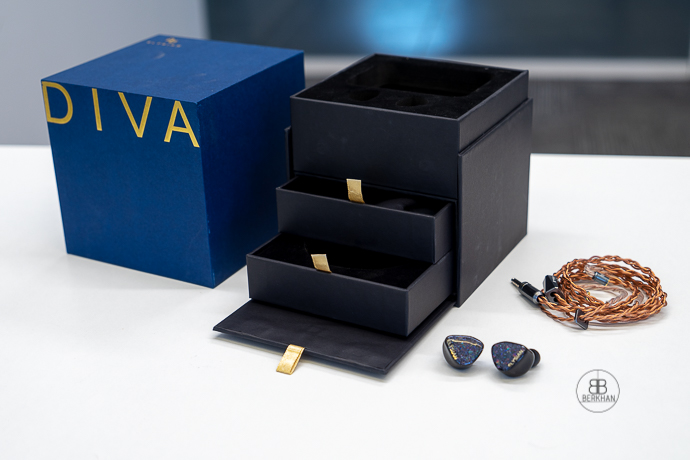 Packaging
The DIVA 2023 comes in a medium-sized box, with a luxurious and premium presentation. Once you open the box, you first see the carrying case together with the earpieces. Then you notice two compartments work like drawers. On the upper compartment, you have the Effect Audio Ares S cable, and the bottom one has the ear tips, the bass switch screwdriver, a cleaning tool and a cleaning cloth. The supplied tips are from SpinFit, which I usually like because of its great comfort.
The carrying case is a nice, soft and practical case that is hard enough to protect the monitors despite its premium/luxurious design. Good enough for an IEM with this price. Overall I found the DIVA 2023's package very nice. 
Design & Build
The DIVA 2023 has a natural and elegant design, with sparkling faceplates that give it a unique look. It comes in three color choices: "obsidian black," "lapis blue," and "ruby red." In my opinion, the blue looks fantastic in photos, but the black is also quite nice. The glossy black finish of the rest of the IEM is simple yet stylish. The cable complements the design very well, giving the DIVA a sharp, smooth, and authentic look.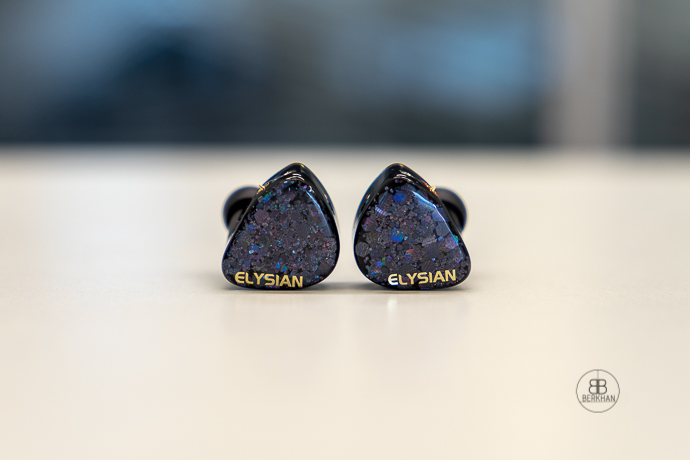 This IEM is made of high-quality materials and put together very well. The shell is durable and of excellent quality. The cable has good tensile strength and quality braiding, and it's an EA Signature Series cable, so the quality is guaranteed. Additionally, the cable connectors are ConX-supported, which means they can be changed if desired.
The DIVA 2023 uses P-Ear (Pentaconn Ear) connectors, which offer a more fixed connection with less rotation than MMCX connectors. This makes them less prone to disconnecting and easier to attach. However, the IEM socket itself looks a bit fragile with a single pin on top, so it's best to handle it with care.
Overall, the DIVA 2023 is a well-built IEM with no significant flaws in its construction.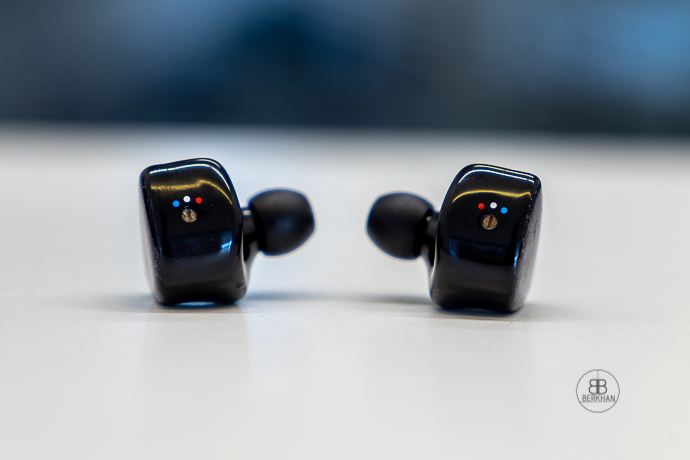 Fit
I've found that the DIVA 2023 fits me quite well. It's a bit bulky and large, so it protrudes a little from my ears, but the stock SpinFit tips make it very comfortable. I experimented with other tips, such as Spiral Dots, Final E types, and tips from other IEMs, but the SpinFit tips worked the best for me. The nozzle length is perfect for a secure and flush fit.
The isolation isn't the best in the industry, but it's better than I expected considering it has a bass port. While I appreciate the isolation, the comfort is what really stands out to me. It fits well, but this is a subjective area, so your experience may vary.
Page 2: Sound Quality
Page 3: Technical Performance, Sources, Comparisons, Conclusion
creditSource link