In this article we look at the EarMen Staccato Streamer, selling for an impressive €1,199.
Disclaimer: The EarMen Staccato was sent to us free of charge in exchange for this review.
EarMen
If EarMen doesn't ring a bell yet, then the Serbian "Auris Audio" just might. In fact, if you've been following Headfonia you will know that we're quite the Auris fans here. Their amps have won multiple of our awards, and models like the Euterpe, HA2-SF and Nirvana get praised all over the world.
A while ago Auris Audio decided to enter the portable market and to do so they came up with new brand name: EarMen. EarMen is registered in the US but all of their products are built and assembled in Europe to ensure the highest standards in production quality.
EarMen is all about delivering the best possible value for money and their new product line-up consists out of multiple models:
The EarMen Line-up
The Donald DAC – A USB-DAC only with an RCA output to hook up to your dedicated amplifier
The TR-Amp – A portable DAC/AMP solution
The Eagle – A single ended USB DAC/AMP dongle and DragonFly Cobalt competitor.
The Sparrow – A single ended and balanced USB DAC/AMP dongle.
The Tradutto – An ultra-high resolution fully balanced compact DAC with advanced BT streaming capability.
The Colibri – A dongle sized transportable DAC/AMP with volume control, lots of power and double outputs
The Angel, a fully balanced portable DAC/AMP
The CH-Amp – A mini sized fully balanced amplifier from the Tradutto range
The Staccato, a streamer from the Tradutto range
The ST-Amp, a desktop DAC/AMP that will be released soon.
We have covered almost all of EarMen's models and in this article we are taking a close look at EarMen's streamer, the Staccato! The ST-Amp has just arrived last week, so it's in the review queue.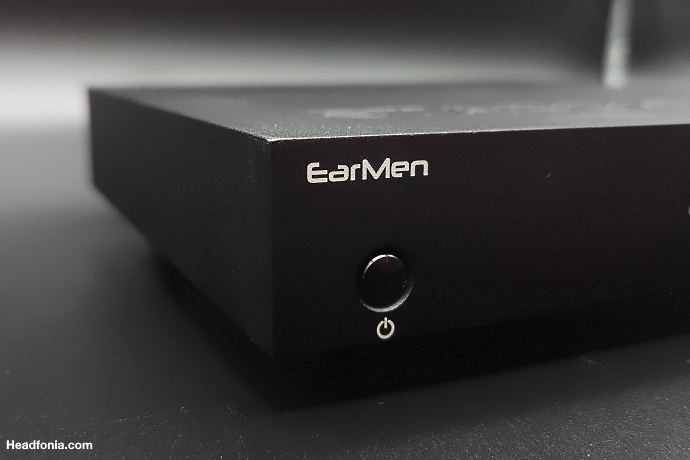 Intro
The EarMen Staccato is part of a stack, together with the CH-Amp, PSU-3 power supply and the Tradutto DAC. The combo is selling for €3.478 (Tradutto €799, CH-Amp+PSU-3 €1.480, Staccato €1.199)
The full EarMen stack has only just received our 2022 award as "Best Stack – Best value", so do take that into account when reading this review.
Streamer Market
There are many brands and options on the market if you're looking for a streamer. In the end it really depends on what exactly you want your streamer to do.
Some of the things you need to figure out for yourself are the following:
What input do I need?
What outputs do I need?
How do I want to control my streamer? (app/web)
Does it need an integrated DAC or even AMP?
Do I need a screen?
Do I need it to be ROON Ready?
Does it need Wi-Fi?
Does it need Bluetooth?
What streaming services do I need?
Does it have to connect to a drive or NAS or do DLNA/UPnP?
Depending on your list of requirements, you will find streamers in different price classes. The streamers I use most are those that offer a Spotify/Tidal direct link in combination with being ROON Ready. That way I can use my laptop with ROON, or just use my phone with the Tidal and Spotify app. I don't like complicated streamers, they just need to be easy to use and perform well.
Let's find out what the EarMen Staccato has to offer!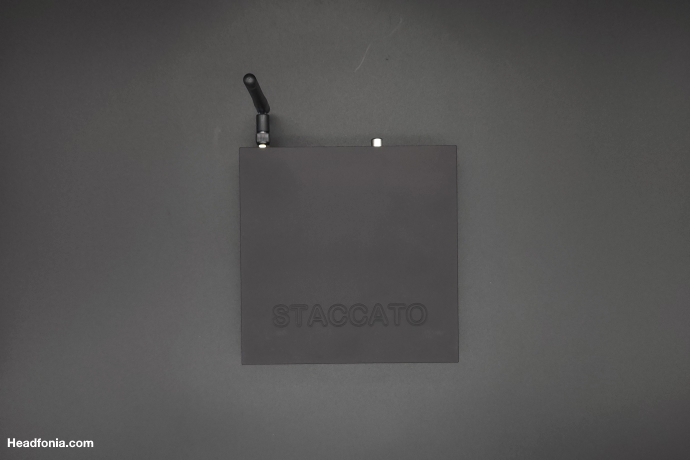 Staccato
The dedicated web page of the EarMen Staccato can be found here. You can buy the Staccato from one of EarMen's dealers, or you can order it online here.
When going over EarMen's documentation, it's easy to see that EarMen focused on sound and performance when designing this streamer. The Staccato has all the popular connections options as well including TOS Link (output), Coax (output), BT 4.2 (input) and USB 2.0 (input). Of course, the Staccato also has a LAN port (input) to hardwire the Staccato to your internet. Point of attention, you can't connect the Staccato to your Wi-Fi, you need to use a UTP-cable. The antenna is purely for BT. The EarMen engineers have ensured that you can enjoy all your digital content, up to 32bit / 384kHz and DSD 256. 
For those not very familiar with streamers and DACs, this means that you still need to use an external DAC, like the Tradutto, with the Staccato. You can connect your DAC via Coax or SPDIF. The streaming itself can be done from USB, Bluetooth, Internet Radio, Tidal, Qobuz, TuneIn, UPnP, Sirius XM, vTuner, Pandora and Airable. More on that later in the usability section.
Power-wise you can connect the Staccato directly to the power grid, or you can connect it to the PSU-3 when it's being used in the full stack.
Staccato Specifications
These specs can of course be found on EarMen's product page as well:
Input Power: AC/DC power adapter 9-12V DC / 2A
Input Connectors: 1 x LAN, 1 x USB 2.0
Output Connectors: 1 x TOS Link, 1 x RCA
Ethernet: 10/100Mbps
Bluetooth:  Bluetooth LE 4.2 (BDR/EDR)
Dimensions: L x W x H 150 x 150 x 30mm / 5.9" x 5.9" x 1.18"
Weight: 1180 gr / 2.60 lbs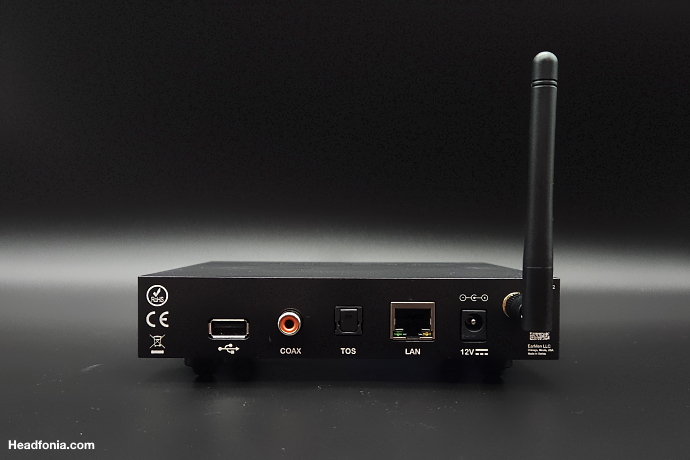 Box & Accessories
The EarMen Staccato comes in the same style box as the CH-Amp and the Tradutto. It's nice and it's all you need. On the inside of the box, you find:
Staccato streamer
BT Antenna
User manual
Power supply
Looking at the Staccato's price tag, I to be honest find the supplied accessories to be rather limited. Well, they're non-existent. For this amount of money I would expect to see a Coax, Toslink and UTP cable in the box. It's a missed opportunity to show that EarMen goes the extra mile.
The article continues on the second page. Click here or use the jumps below.
Page 1: EarMen, Line-up, Intro, Streamers, Staccato, Specifications, Box & Accessories
Page 2: Design & Build Quality, Lay-out, Usability, Screens
Page 3: Sound, Conclusion, Summary
creditSource link