Poly Savi wireless headsets
Did you ever wish you can conference phone calls with desk phone and a cell phone at the same time?  You can If you have a Poly Savi 8200 series wireless headset.  All you have to do is press two buttons on the Savi wireless headset base until the LEDs become solid green to combine the audio from any 2 devices selected using the keys, you now have a 3-way conference call.  You can also do the same if you have a computer VOIP call (like Teams).  You can pick any of the 2 sources (computer, cell phone, or desk phone) and have a party-line or 3-way conference call. This process is called mini conference call with 2 devices only.  It doesn't work with all three.
Jabra wireless headsets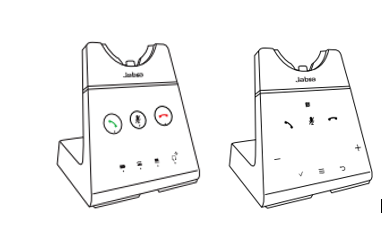 With your Engage 65 or Engage 75 wireless headset, you can have 2 active calls on the same headset at the same time, this process is called Merge calls. The process is simple and with the headset on in a current call, hold the Call button for 2 seconds on the headset or tap the

on the base to accept the incoming call. This will put the current call on the headset on hold. If you have your Engage 65 headset, press the

and hold it for 2 seconds on the base and this will merge the calls. On the Engage 75 case, you will need to tap

on the base and then on the touch screen select Yes and this will merge both calls at the same time.
EPOS wireless headsets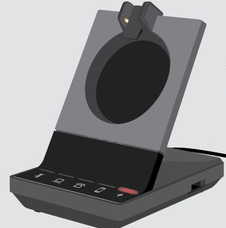 EPOS call this process merging a held call into an active call/Mini conference, this process is only possible with the EPOS SDW 50XX series wireless headsets as they support multi devices while on an active call and if a second call comes in, you need to put the active call on hold by double tapping the headset answer/end call button or you can tap one time on the base, pressing

the LED of the incoming call, this LED will be flashing depending on which device the incoming new call is coming from. After this touch the icon of the call that was put on hold for 1 second. Once both calls had been merged you will see that the both LED now are solid blue and you will hear on the headset the prompt "Call merged". To unmerge calls

you need to reverse these steps starting with the call you want to unmerge first. Once the call had been unmerged, you will hear the prompt "Call unmerged"
creditSource link