Jabra EVOLVE 40 UC Stereo USB, 3.5mm Headset
This headset by Jabra is a great headset if you're on a budget. It is a decent headset to travel with because you don't have to worry about charging it. It will connect to either a USB device or a cellphone (via 3.5mm). It's pretty light and comfortable but doesn't offer much else other that a nice noise canceling microphone. It doesn't have any noise canceling in the ears but the dual earphones will help block some background noise. It has Hi-Fi wideband sound. Comes with a 2 year manufacturer's warranty. Click here to buy now.
Plantronics Blackwire 5220 USB, 3.5mm Headset, MS Skype Cert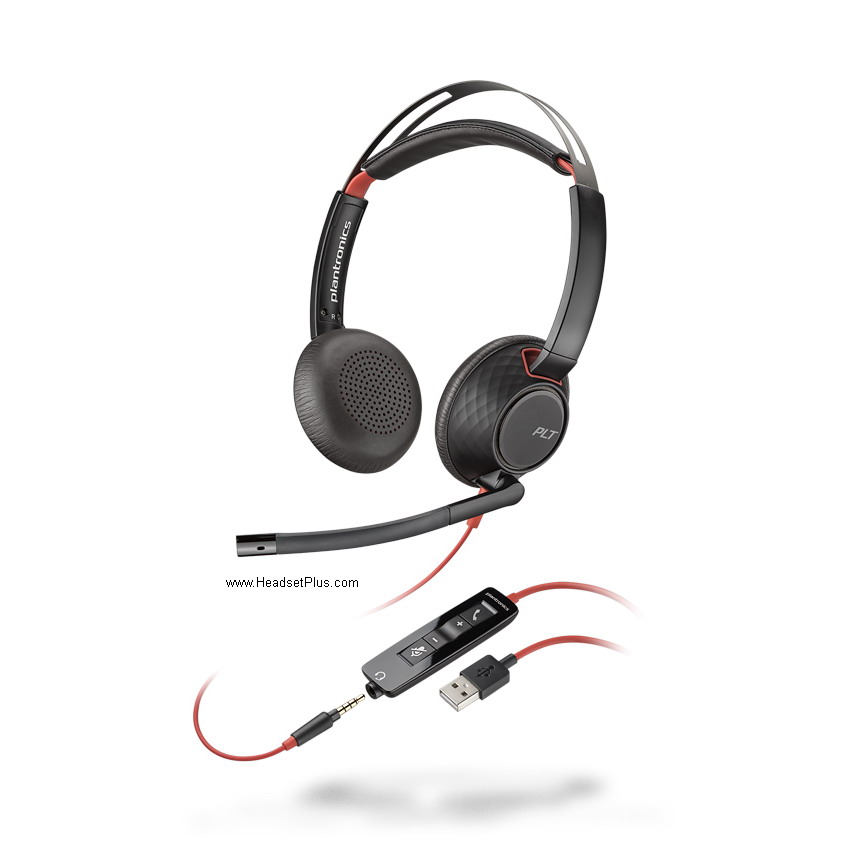 The Blackwire 5220 is a another good travel headset that you don't have to worry about charging while traveling. It goes over your head with a headband and covers both of your ears. You can use this headset with 2 devices, a USB and a device with a 3.5mm jack. It has a nice noise canceling microphone, HD audio quality, and volume controls built into the wire. It is certified for Microsoft Skype and hearing aid (telecoil) compatible. Comes with a 2 year manufacturer's warranty. Click here to buy now.
Poly Blackwire 8225 USB-A Stereo Wired Headset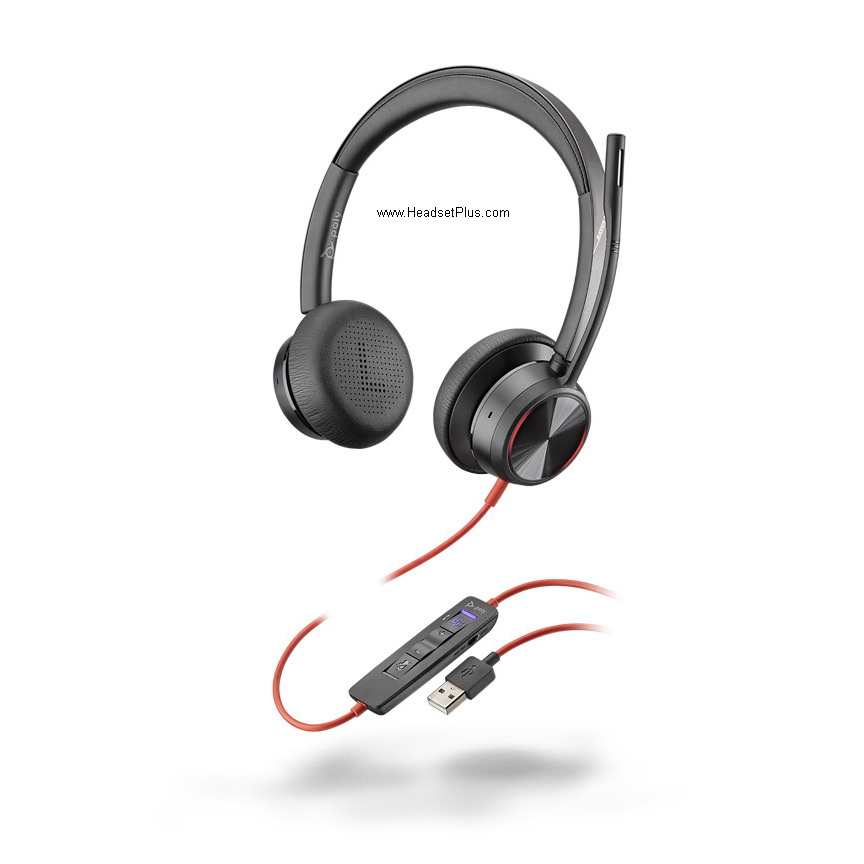 Poly offers the new Blackwire 8225 in a corded USB-A style, with the new Digital Hybrid Active Noise Canceling that lets the user to choose how much ANC can be used at a time. The new Acoustic Fence technology that has well located microphone in the boom arm with the purpose of suppressing most of the environment noise. Built in Busy light that is located in the headset and in line volume controls allowing the user to answer/end calls, mute and depending on the application to put calls on hold. Get yours HERE. 
Jabra Evolve2 65 UC Stereo Bluetooth Wireless USB-A Headset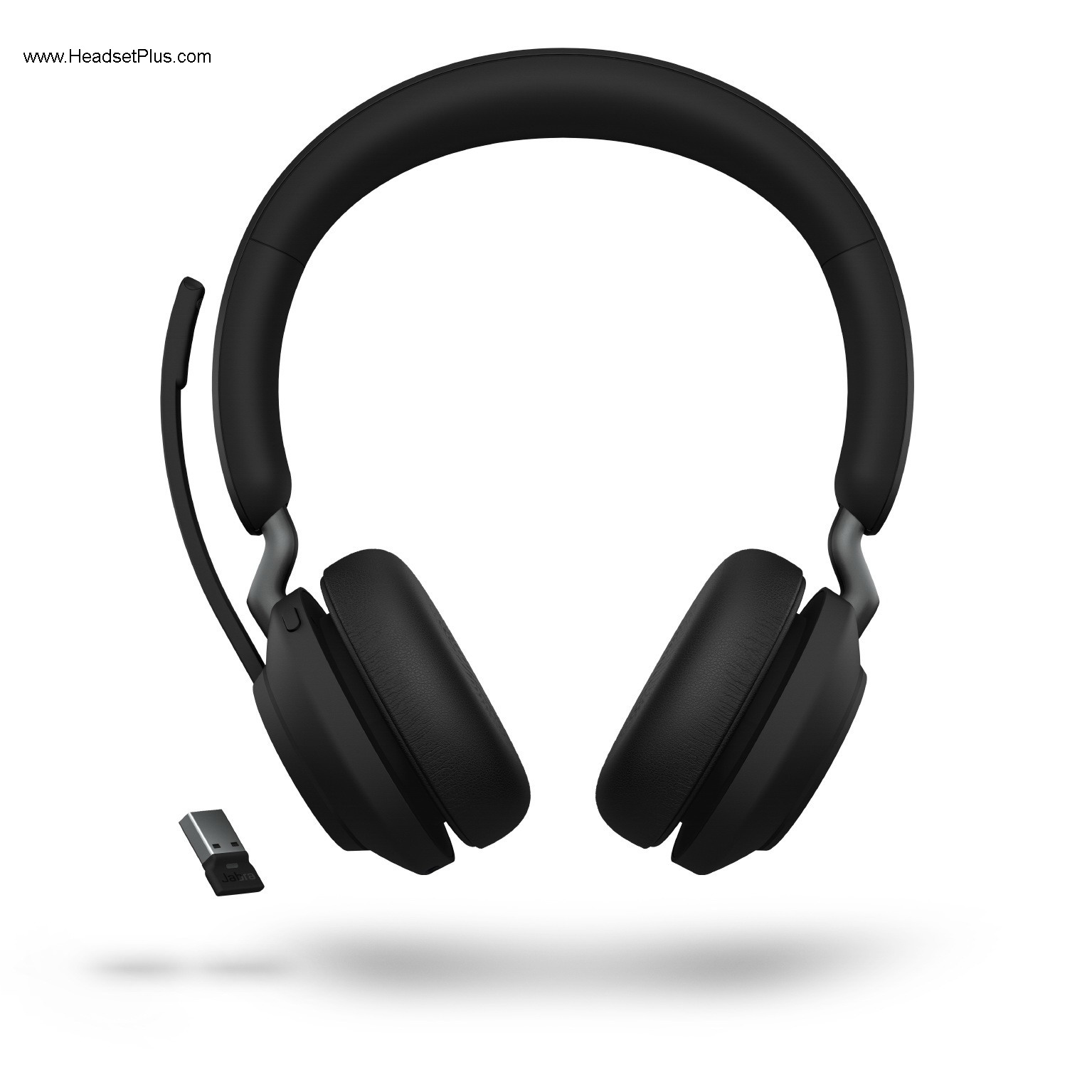 Jabra offers the second generation of the Evolve family with the Evolve2 65, this is a Bluetooth class 1 headset, allowing the user to use it with the computer using the Bluetooth dongle included and with the your smart phone at the same time. Built in busy light can be seen on both sides of the headset and with volume controls built into the cups. The Evolve2 65 offers the muting feature by bringing the boom arm up or down. Memory foam can be found in the ear cups and the headband. Talk time of up to 37 hours and with smart sensors that know when the headset is being worn or not. Get yours HERE. 
Jabra Evolve2 75 UC Stereo Bluetooth Headset USB-A w Stand=> Staff Favorite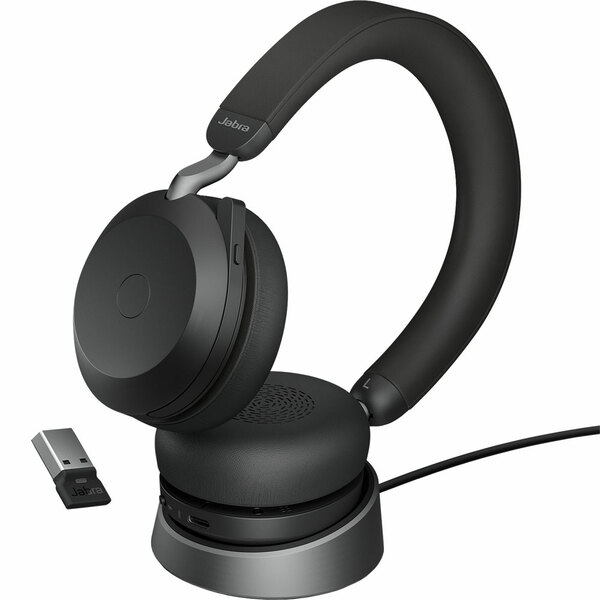 The newest addition from Jabra comes in the shape of the Evolve2 75, this headset comes with Jabra's Advanced Active Noise Canceling, allowing the user to graduate the ANC at will. The Evolve2 75 has a microphone boom arm that when not in use it gets stored away and makes the headset a more discrete headset. For the same reason the headset has 2 mode, on Performance Mode with the boom arm down has the best sound quality and meets Microsoft's Open Office requirements and on Discreet Mode with boom arm up allowing the user to use the headset as a bloomless mic headset. Brighter busy lights built into the cups can be found and the Evolve2 75 can be used as a corded headset with the provided USB cable as it has the Voice over USB technology. Order yours HERE. 
Poly Voyager 4320 UC Bluetooth Stereo USB-A Headset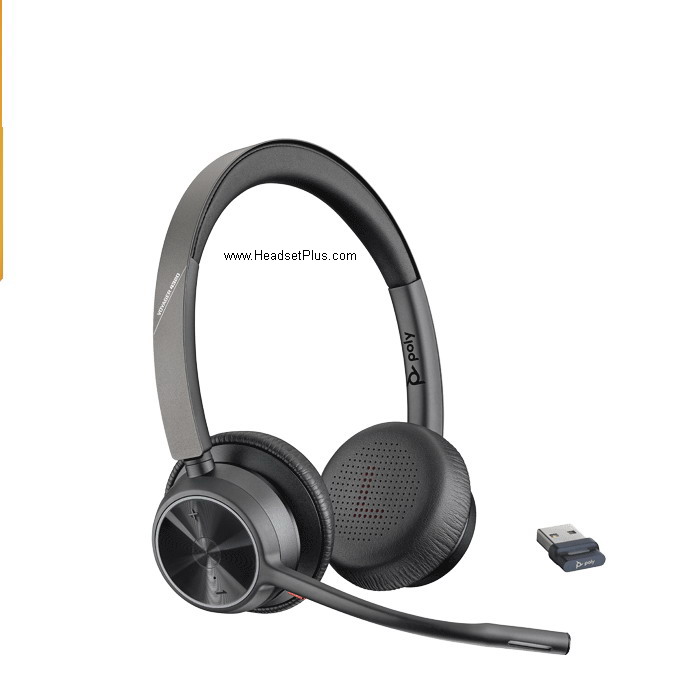 Poly offers the Voyager 4320 as the new entry level on a wireless headset, with an outstanding talk time of 47 hours on listening time or 24 hours of talk time and a standby of 50 days. The Voyager 4320 offers a range of up to 160 feet thanks to the BT700 dongle that comes with it and with its Acoustic Fence technology in its bendable microphone boom arm. Built in Busy Lights are found in the earcup where the boom arm is located as well as the volume controls, and can be used as corded headset thanks to its included cord, really useful when the BT700 stays at home or can't use Bluetooth due to policies. The Voyager 4320 comes with a 2 year manufacturer warranty, you can get yours HERE. 
Poly Voyager Focus 2 UC USB-A Bluetooth Stereo w/Charging Stand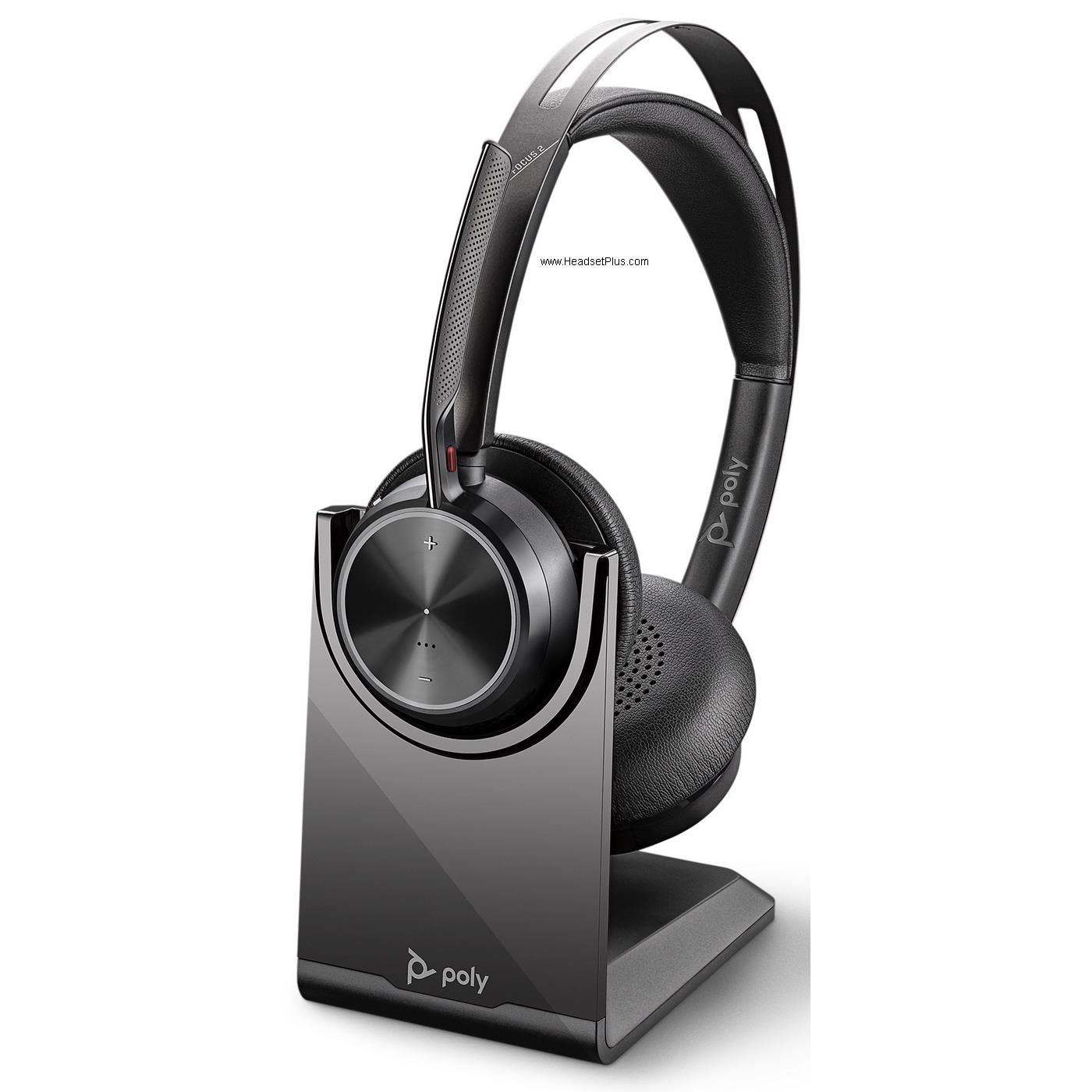 Poly Voyager Focus 2 in its second generation offers a more comfortable headband and with the well known Acoustic Fence Technology from Poly , in this headset you have 4 microphones facing the user and 3 facing the outdoors, this create what is called by Poly  the "Focus Zone", which translate in blocking most of the noises when working remotely or on the road. New Advanced Digital Hybrid Active Noise Cancling is found in this headset allowing user to adjust the ANC. The Voyager Focus 2 can be used as a corded headset as well, thanks to the Talk thru USB feature and same as the Voyager 4300s they can be used with literally any kind of desk phones by simply getting the Voyager Office base and then pairing the base to the headset. This allows the user to just use one headset for all the needs no matter the location, if its at the office, or home  or another location. Get your Focus 2 HERE. Get your Office Base HERE.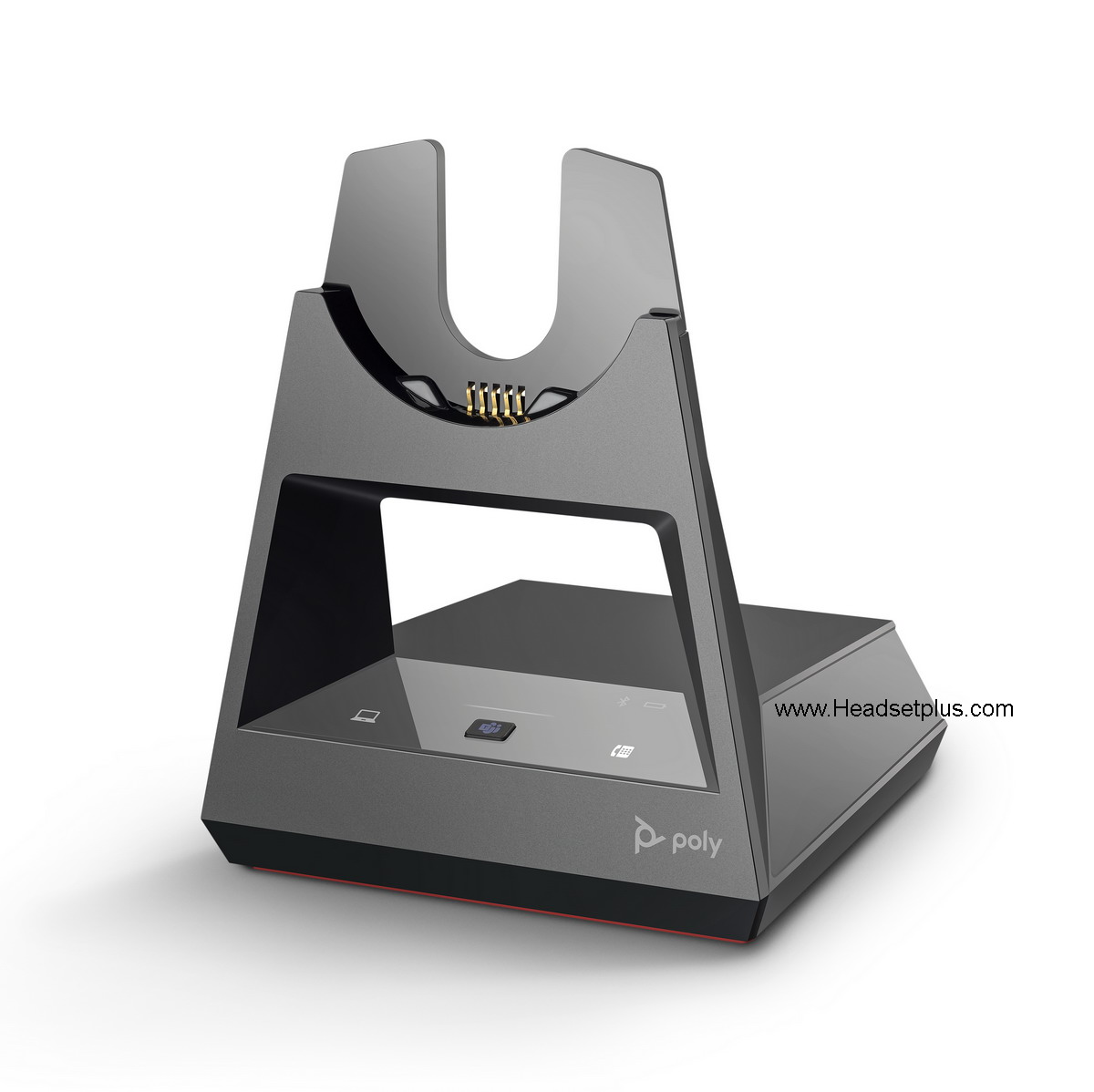 All of the headsets mentioned in this article can be used for a variety of situations. Their prices vary based on what your specific needs may be. There are also a ton of smaller features these headsets include, you can click their links and read more about them in detail. I would recommend all of these headsets for specific needs. They are all great products. If you're looking to buy one of these headsets, you can send me an email or give me a call.
jimmy@headsetplus.com
HeadsetPlus.com
877-999-3838
650-306-9768
creditSource link