Today's review is an in-depth look at the Austrian Audio Hi-X60 closed-back reference headphones for studio professionals. They are priced at $420.
Disclaimer: The Austrian Audio Hi-X60 was sent to us as samples in exchange for our honest opinion. We thank Austrian Audio for this opportunity. 
To learn more about Austrian Audio products we have previously featured on Headfonics you can click here.
Note, that this article follows our latest scoring guidelines which you can read up on here.
Austrian Audio Hi-X60 Review
I was expecting the Austrian Audio Hi-X60 to display minute improvements from the previous Hi-X55, perhaps a slightly wider soundstage with a similar tuning. Austrian Audio impressed me with how different and open these headphones sound, with a comfortable and natural tuning that is more flexible with audiophiles in mind.  
Pros
Expansive soundstage
Clear and natural highs
Exceptional Durability
Cons
Midrange lacking body
No hard case included
Despite being a relative newcomer in the headphone space, Austrian Audio is offering a wide range of products for quite a few years now. They have diversified their products to closed-back, open back, and also Bluetooth headphones for versatility. We have previously reviewed some of them such as the Hi-X55 and the Hi-X65 so make sure to check them out.
For those who are not familiar, the company was founded in 2017, made up of former AKG personnel in Vienna, and has been producing vast microphones and headphones specifically for studio use. These folks are experts, they know what they're doing when they're producing these products.
The Hi-X60 is their newest closed back to date, following the successful closed-back Hi-X55. Priced higher than the Hi-X55 at $429 it is worth having a look at the potential improvements Austrian Audio has to offer with this new set of headphones.
Tech Highlights
The Hi-X60 features a proprietary 44m high excursion driver, which has a class ring magnet, the strongest of its class, attached to the system.
The ring magnet, combined with a copper-clad aluminum coil reduces the weight of the driver and allows faster movement. This design results in a precise and fast impulse response which results in a very low THD, especially at low frequencies.
Apart from the drivers, our folks from Austrian Audio have longevity in mind. Pads are easily replaceable, whether for hygienic purposes or wear and tear. All rugged parts are made of metal, which reduces the chances of breakage.
Design
If you're familiar with Austrian Audio headphones, the Hi-X60 doesn't go far with its design. It is a single-entry compact over-ear headphone designed for studio recording and front-of-house application.
The headphone has a primarily matte black color, with subtle red accents with its logo and texts. The cups are oval-shaped, with enough room to avoid touching the ears
One thing to note is that the internal wiring from the left to the right side is exposed, in an interestingly fashionable way. The wire is twisted in a way that adds some flair to the overall look of the headphones.
All the rugged parts are made of metal- hinge bars, angles, axes. This is a durable and long-lasting product, which can also be brought to the road because it's foldable.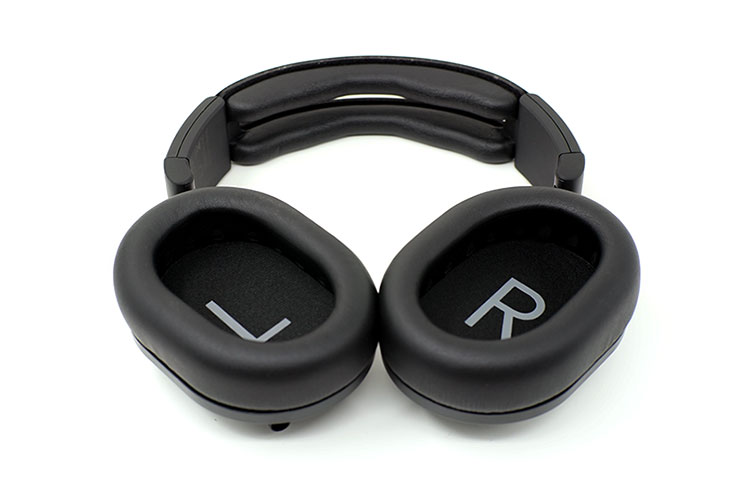 Comfort & Isolation
The Hi-X60 is a comfortable headphone, even for people with smaller heads like me. With the headband adjuster pushed to the minimum, I can get a secure fit. Even when using it for longer trips, it does not fall off even when I doze off. I tested for this as the ATH-m50x constantly slips out of my head, in my experience.
The clamping force is just right. I did not experience any discomfort even when using it for long periods. The earpads are comfortable due to slow retaining memory foams. However, I do feel it to be a bit heavy. It weighs 320g, which is, to be honest, not that heavy compared to other headphones out there but I do tend to be sensitive in this area.
Isolation with the Hi-X60 is really good. Sound does not leak on both ways – inside and outside and there is a specific purpose for that.
Since this headphone is designed for studio recording and front-of-house live recording, it is crucial that the user can properly hear the music without outside noise and that the one recording does not leak the sound from the headphones to the mic. The design and the stock earpads have a dampening effect that prevents this from happening.
Stock Cable
The package includes 2 stock cables in different lengths – 1 x 3m and 1x 1.2m. Both cables have a screwable 3.5mm (1/8 inch) to 6.2mm (1/4 inch) adapter for flexibility in use in the studio and on the go.
The other side of the cable has a 2.5mm bayonet system, similar to the ones found in other Austrian Audio headphones.
Not much can be found on the stock cables apart from their model numbers. They are HXC3 black (3m) and HXC1m2 black (1.2m). From its name, I could guess that they are HXC cables with variable lengths.
Upon visual inspection, these are durable cables with adequate thickness. They are insulated in a matte black casing, similar to other headphones on the market.
The 1.2m length cable is comfortable to use on the go. There are no microphonics or unwanted sounds when moving with them.
Packaging & Accessories
The box that the Hi-X60 came in is simple and ordinary-sized, just enough to enclose all the items inside. It's a tri-fold design, with a Velcro strap holding the box together. What's clever is that the same Velcro strap can be used as cable ties.
The inclusion of the Hi-X60 is a standard soft carrying pouch (HXB Bag), 2 cables of varying lengths (3m and 1.2m), and 1 HXA (3.5mm to ¼" adaptor), a quick start guide, and a hand-signed quality certificate.
Sound Impressions
Bass
The Hi-X60 has a transparent bass response. It also has good control, with a fast attack with minimal decay.
Bass runs deep and tight, but not too deep that it causes blooms to higher frequencies. The sub-bass has just the amount of rumble for the bass hits to be felt. The same goes with the sub-bass. There is bass when it is needed and ultimate silence before the beat drops. Notes are distinct and clear.
For instance, listening to live recordings reveals the capabilities of the Hi-X60, living up to its name as a studio monitor. Bass guitar thumps and drum hits sound very natural as if watching live.
Mids
The vocal range on the Hi-X60 is a bit recessed, wherein vocals are a bit farther behind but not too behind that it is overpowered by other elements. It still commands its presence without feeling drowned out. Although the vocals do not sit in the front, detail retrieval is still above average, with an acceptable amount of articulation of vocal textures of male and female vocals.
However, the vocals lack thickness in their overall presentation. The vocal texture is there, with just the right amount of consistency. However, it tends to be a bit thin and lacking at times. Perhaps pairing this monitor with a beefier midrange DAC would enhance its vocal presentation.
Instruments generally have a natural replication. Across different instruments, for instance, piano, guitar, violin, flute, and trumpets, the presentation is consistent and accurate. Orchestra pieces are engaging, with ease in the proper distinction of multiple instruments.
Although the midrange is not emphasized with this monitor, the Hi-X60's midrange is impressive with its natural and tamed presentation. It has a great amount of detail retrieval with a very clean presentation.
Treble
The treble is where the Hi-X60 shines. It has a good treble extension and impressive control. There were no dips felt when progressing to higher frequencies it's quite smooth and natural. Airiness is felt overall, especially with acoustic and live tracks. The overall presentation is also open with exceptional clarity.
What I especially love is how energetically tuned the treble is. Cymbal hits are naturally crisp and just the right amount of aggression. Even minute details are heard. For example, finger snaps are loud and clear, adding a subtle but appreciated accent to the track.
Staging
What can I say? The soundstage is unbelievably wide for a set of closed-back headphones. The sound is wide and open; I dare say comparable to intimate open-backed headphones!
Imaging is also impressive with the cans. This is more prominent on busy tracks where multiple instruments and multiple vocal layerings are mixed. There are enough gaps to distinguish all of the elements involved, easy to pick where everything is. Sound is multi-directional, with a good spatial projection.
Synergy
Efficiency
Having an SPL of 110dB/mW, and an impedance of just 25Ω ensures that the Hi-X60 can easily be driven. Smartphones are enough to power Hi-X60 at decent volumes.
With smartphones, the sound output does sound grainy and a bit compressed. This is further improved when pairing the Hi-X60 with a dedicated audio player or a DAC-amp combo enhances its overall sound quality.
The Hi-X60 are efficient headphones. When it's plugged into the Hiby R3 Pro, I can already listen comfortably with only 35 volume levels in low gain. The same can be said when paired with the Audio-GD R2R 11, 7 o'clock volume dial in low gain.
Pairings
The Hi-X60 is a studio monitor that has a relatively lacking midrange. I would suggest pairing the Hi-X60 with something that would thicken its midrange presentation.
Trying to pair it with a DAP, the Hiby R3 Pro did not disappoint in powering up this set. However, I find the Hiby R3 Pro highlighted Hi-X60's already elevated treble, although it was neither sharp nor peaky. It did sound well overall, apart from that tiny detail.
Moving on to a more powerful source, the Audio-GD R2R 11 supplies meaty lows on this pair. Staging and imaging are also improved compared to the Hiby R3 Pro.
I find the Hi-X60 to sound enjoyable with this pairing, although, at times, I find it still lacking with the midrange region. Nevertheless, I'm pleased with this pairing and the Hi-X60 will stay with this setup.
Select Comparisons
Austrian Audio Hi-X55
$329.99
Technical
Austrian Audio boasts that the 44mm dynamic driver is the optimal size, thus using it for their wide range of headphones including the Hi-X55.
Both headphones have the same 44mm diameter dynamic driver, although the driver on the Hi-X60 appears to be different and 5g heavier, assuming all components are the same between the two headphones.
This is perhaps to a new ring magnet with the copper-clad aluminum coil found in the Hi-X60 that results in a very low THD.
Design
If you check Austrian Audio's line of products, visually, they look very similar, except for the colors. It is the same for the Hi-X60 and Hi-X55. The Hi-X55 has a black-grey color combination for its cups and headband while the Hi-X60 is dominantly black with very minor red accents.
The build is pretty similar, with Austrian Audio's durable metal-enforced components. The package of the 2 is also similar, except that the Hi-X60 has an extra shorter 1.2m cable, apart from the 3m cable included in the Hi-X55.
Performance
I wasn't expecting much difference in terms of the performance of both monitors. Mainly because the specs and the looks are practically identical, aside from the subtle weight and color differences. I couldn't be more wrong. Both are designed for studio use but the presentation is quite different.
Both monitors have a similar bass and treble presentation. In terms of the lows, both monitors have the same amount of sub-bass rumble and mid-bass presence. The bass goes deep and tight, with a good sense of control. 
The Treble of the two monitors is also tuned similarly. Both are fairly bright, with a good amount of treble extension. Cymbal hits are splashy and crisp, with an overall airiness.
The midrange is where things start to be different. The Hi-X55 has a more traditional studio reference tuning, where it pays more attention to the midrange region. While the Hi-X60 has more fun and all arounder tuning and a more open sound.
The Hi-X55 has a more pronounced midrange, which is suited for voice recording monitoring. Vocal textures are heard more, with an emphasis on tonal accuracy. Both male and female vocals are thick and lush. The Hi-x60 also presents the vocals well, although the Hi-X55 has a more audible range. Vocal textures are more heard on the Hi-X55, although the Hi-X60 does not fall behind.
In terms of staging, the Hi-X60 is more open than the Hi-X55, whereas the Hi-X60 is marginally wider and deeper. Although the Hi-X55 has a respectable staging, listening to the two side by side made the Hi-X55 flat and constrained.
The Hi-X60 has more headspace, where instrumentals are placed with distinct layers than the Hi-X55. Imaging is also more accurate than the Hi-X55 wherein layering is more prominent and easier to decipher.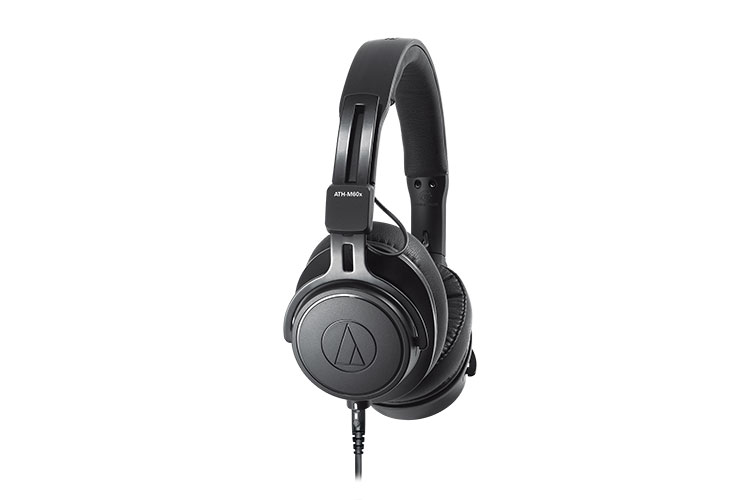 Audio-Technica ATH-M60x
$219
Technical
Both monitors are designed for professional use, thus they bring the best of what they can offer. The ATH-M60X has a 45mm large aperture, similar to the Audio-Technica headphones such as the famous ATH-M50x. Austrian Audio Hi-X60 has a proprietary 44m high excursion driver which boasts low THD, especially at low frequencies.
Design
One key difference between the two headphones is their design. The Audio-Technica ATH-M60x features an on-ear design while the Austrian Audio Hi-X60 has an over-ear design. Both headphones have a bayonet system for their cables, found on the left cup.
Visually, the ATH-M60x has a slimmer profile, with its smaller cup and thinner headband. The Hi-X60 is chunkier with its thick pads and band. Both are dominantly matte-black in color. The ATH-M60x plays with a black gloss for its accent while the Hi-X60 with a red gloss.  
Comfort is very different with these 2 headphones and it boils down to user preference and uses case. The ATH-M60x is lighter with lesser clamp force – but with an on-ear design. On-ear design in general causes pressure on the ears over time so I wouldn't recommend using it for more than 3 hours.
On the other hand, the Hi-X60 is a bit heavier and has a tighter clamp on an over-ear design. Despite greater clamp force and heavier overall, the Hi-X60 is more comfortable to use over longer periods.
Performance
The ATH-M60X and Hi-X60 are both studio monitors designed for studio mixing and both have very similar tuning, but with a big difference in overall performance.
Both monitors have adequate bass, accurately replicating how each song is meant to be heard. When a song has an expected deep bass drop, both monitors can display them properly, with no complaints whatsoever. Both have good control. There were no unexpected or unpleasant prolonged decays on both headphones.
The midrange of both monitors is also tuned similarly. Although, the midrange of the ATH-M60X is lusher, revealing multiple instruments' natural timbre. For instance, wind instruments have a bolder sound, rounder, and warmer. The same can be said with male and female vocals, although not as noticeable.  
Treble extends well on both monitors.  They are also placed similarly, with just enough retrieval without overpowering the lower frequencies. Both are on the bright side, wherein tracks have an overall sense of airiness. Cymbals have a splashy replication, without any sense of artificial timbre. 
This is where things get interesting. Having compared the bass, midrange, and treble, both monitors display a similar tuning with minor differences. The huge difference boils down to its soundstage and imaging.
The problem with the ATH-M60X is that it doesn't have a vast soundstage. Sound also tends to be "in your face" with the ATH-M60X. The Hi-X60 has a marginally larger soundstage than the ATH-M60X, with a wider space wherein different elements can be spaced out better.
Imaging and overall presentation are also superior on the Hi-X60. There is a wide space wherein instruments and vocals are further spaced apart on the Hi-X60 compared to the ATH-M60X. The Hi-X60 also has a cleaner, with almost no distortion heard across different tracks. This becomes prominent when listening in further with longer periods.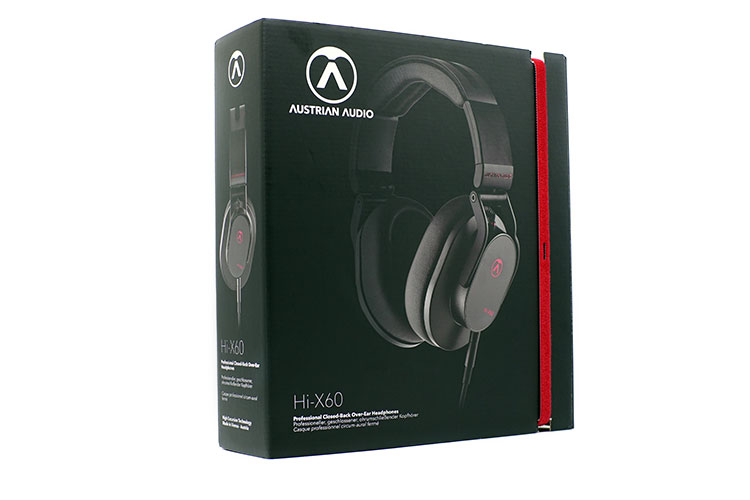 Our Verdict
I was expecting the Austrian Audio Hi-X60 to display minute improvements from the previous Hi-X55, perhaps a slightly wider soundstage with a similar tuning. Austrian Audio impressed me with how different and open these headphones sound, with a comfortable and natural tuning that is more flexible with audiophiles in mind.  
One thing's for sure, these headphones are meant to be used for a long time. The solid construction of these headphones means you can lug them around, use them between commutes, and still perform exceptionally well in the studio while being stylishly designed.
Austrian Audio knows what they're doing when they made this product. These are recommendable for professionals and audiophiles alike.
Austrian Audio Hi-X60 Technical Specifications
Frequency range: 5 Hz – 28 kHz
Sensitivity: 110 dBspl/V
THD (@ 1kHz): < 0.1%
Impedance: 25 Ω
Input Power: 150 mW
Weight (without cable):320 g
creditSource link