When you're embarking on a trip, planning what outfit to wear while in transit may very well be the last thing on your mind. Sure, it's understandable to spend all your time deliberating the coziest fall sweaters or your vacation OOTD, or scouring the internet for classic staples for your vacation capsule wardrobe, but we firmly believe that a comfy yet chic travel outfit should be higher on your priority list.
Traveling in the right clothing can make or break an experience: A long-haul flight will feel that much less dreadful if you're wearing something that keeps your body feeling ventilated yet warm and well-supported without being restrictive. If it helps you look put-together even after a bumpy flight or hours stuck in traffic? That's almost as good as getting a free upgrade.
Ahead, we have polled several well-traveled R29 editors on their go-to travel outfits. Read ahead for tried-and-tested combos to help you jet set with ease and style.
Kate Spencer, Senior Affiliate Partnerships Manager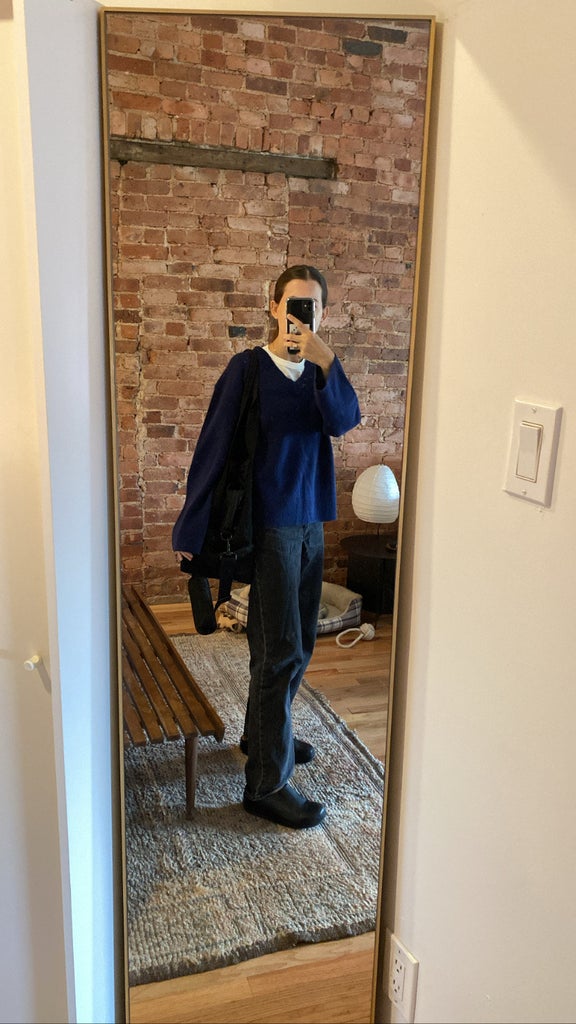 "My number one goal while traveling is comfort, and although I take this very seriously, I also don't want to look like I'm sitting on an airplane in my pajamas. First, comfortable undergarments are key. I always wear the Skims Scoop Bralette because it provides support without having clasps or wires that dig into you while you're sitting (and trying to sleep) for hours. I'll throw on a boxy crew tee from Buck Mason that's not too form fitting, a cozy sweater from Jenni Kayne (I'm always cold), Levi's baggy denim, and a shoe thats easy to slip on and off — like my FitFlop Shuv Leather Clogs."
Sarah Crow, Affiliate Director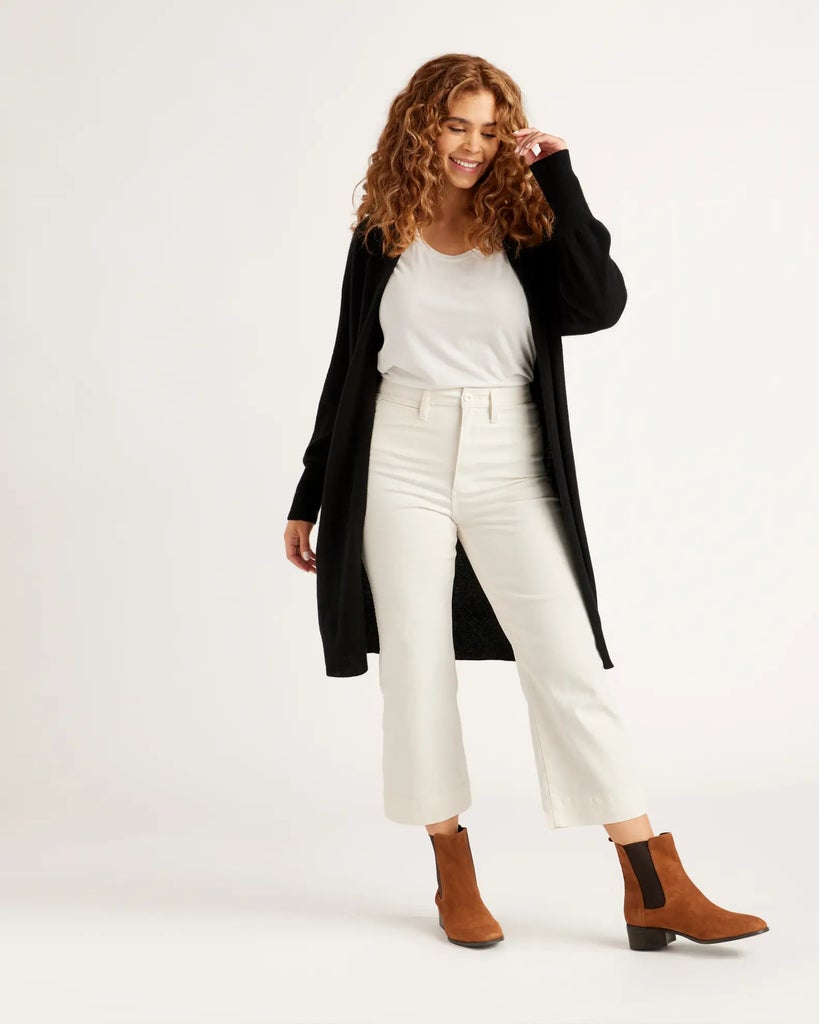 "My main goal while traveling is to look relatively presentable while remaining extremely comfortable. For me, this means one layer of relatively tight black clothing — GapFit leggings and a Honeylove Liftwear Tank that allows me to forgo a bra, specifically — with a soft layer on top. This Quince Mongolian Cashmere Duster Cardigan Sweater is the perfect outer layer for me, since it's extremely lightweight and warm but cut beautifully so that it never looks sloppy (and it's super-packable, so it's easy to toss in a bag).
"Since the TSA really isn't about to let up on the whole taking your shoes off thing anytime soon, I typically opt for no-tie styles that I can wear socks with. In the summer, that usually means a pair of Vans, and when it gets a bit colder outside, it means wearing my Aerosole Step Dance Booties, which are about as comfortable as any shoe I've ever worn but look more polished than any of my gym shoes. And since I'm never capable of picking just a few items to bring with me in the cabin, I like to pack an oversized, unstructured bag that can pack flat in my suitcase if need be. My latest obsession is this silver Kelly Tote from Marcella, which can fit my laptop, a book, my wallet, my makeup case, a pair of shoes, and probably more, if I were to push it, but weighs practically nothing. In addition to its amazing size, the bag looks and feels luxe in person, but isn't such an expensive piece that I worry about it making contact with the dirt and debris found in the bottom of your average airport security bin. The full look takes about 10 seconds to throw on, is comfortable enough to sleep in, and looks put together enough to wear to a second location if I don't have time to hit my hotel and change first."
Irina Grechko, Fashion Director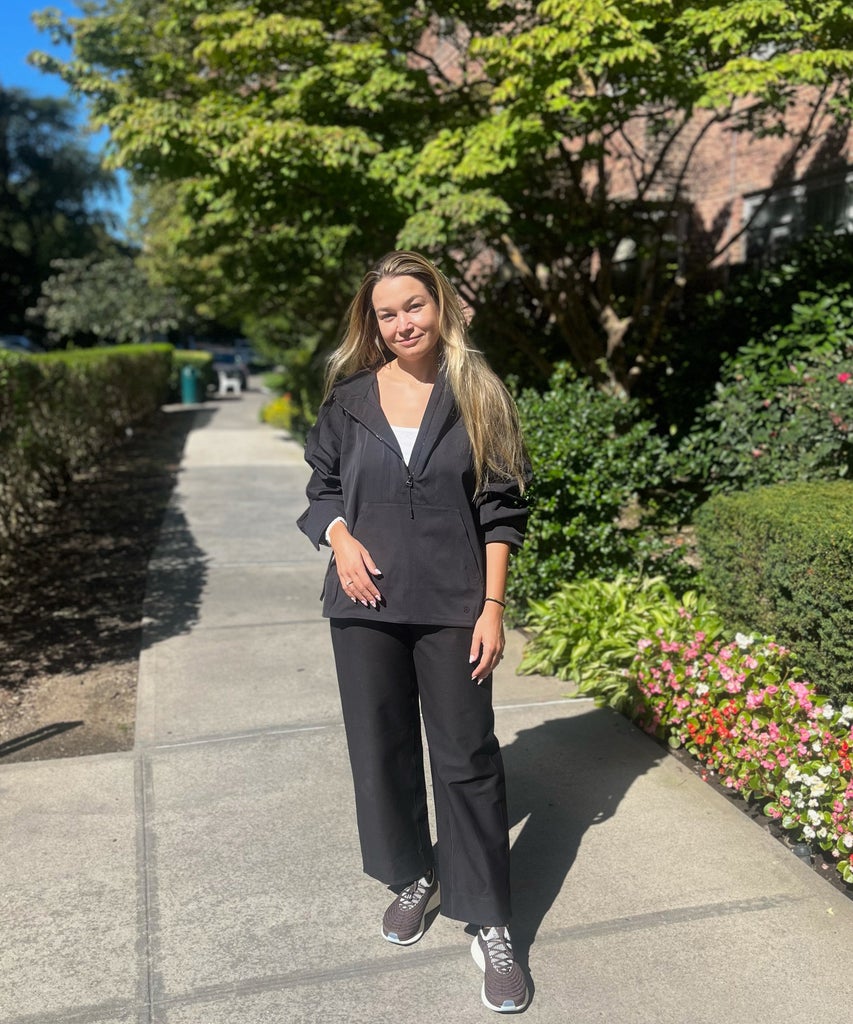 "I got gifted this outfit the night before I left for Europe for Fashion Month. As soon as I tried it on, I abandoned the travel look I had previously selected.
"I often have to go from the plane straight to a fashion show, meeting, or presentation thanks to pesky 3 pm check-in hotel rules. These Lululemon Utilitech Relaxed Trousers can easily go from plane wear to presentable thanks to their tailored fit that only looks constricting but is actually relaxed, especially when paired with a tank top and blazer, which I always carry in my carry-on after losing my luggage a few too many times. The anorak is equally fashion-forward with a cropped but loose fit that could pair just as well with a midi skirt. Bonus: The water-repellant fabric is great for rainy days.
"Now, for shoes. This my second pair of APL sneakers in this exact style (I also have them in white). I love how sleek they look for more casual outings while still serving as a true workout shoe that I can hit the hotel gym or run outside in.
Let's just say, I no longer worry about running into other fashion editors at the airport."
Charlotte Lewis, Sexual Health & Wellness Writer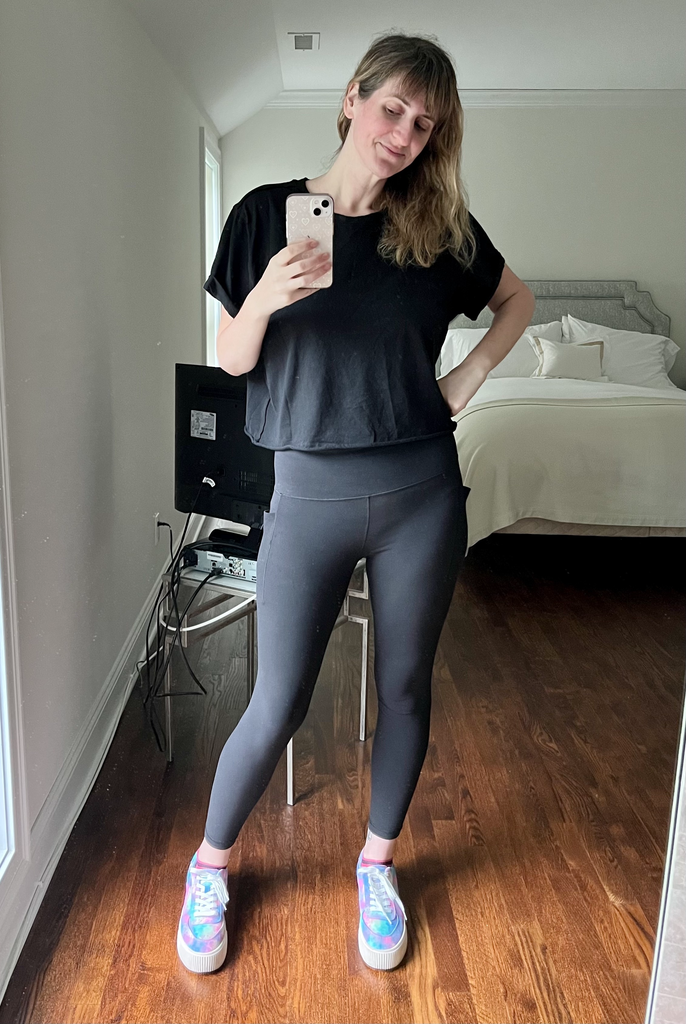 "I'm the type of person who cannot stand seams, buttons, or rough fabrics, but during travel, my existing sensory sensitivities go wild the longer I sit. But flying while wearing pajamas is less than ideal, so it's taken me literal years to perfect my go-to plane outfit: my favorite Athleta Salutation Stash 7/8 Tight ($109), the Wild Fable Short Sleeve Relaxed Fit Cropped T-Shirt ($7), and my go-to footwear, Keds' Champion Sneaker ($30).
"I've found that if I wear all black and give a pop of color to the shoes, I still look polished enough to be seen out and about, but the clothes are perfectly comfortable. These Athleta leggings are a godsend. Not only do they have pockets (essential during travel!), but they are so soft and don't feel like I'm being squished into a sausage casing. The cropped tee from Target is an affordable staple in my closet. It's perfectly oversized and not too cropped, so I don't have to worry about flashing anyone. Finishing it off with a comfy sneaker in a fun color (unfortunately, my fave sneakers are no longer avail but Keds makes a super similar one that are equally cute and comfortable), is the perfect way to balance out all the black. And, it's easily layered with a sweatshirt, sweater, or jean jacket for those who get cold on the plane."
Venus Wong, Senior Travel Writer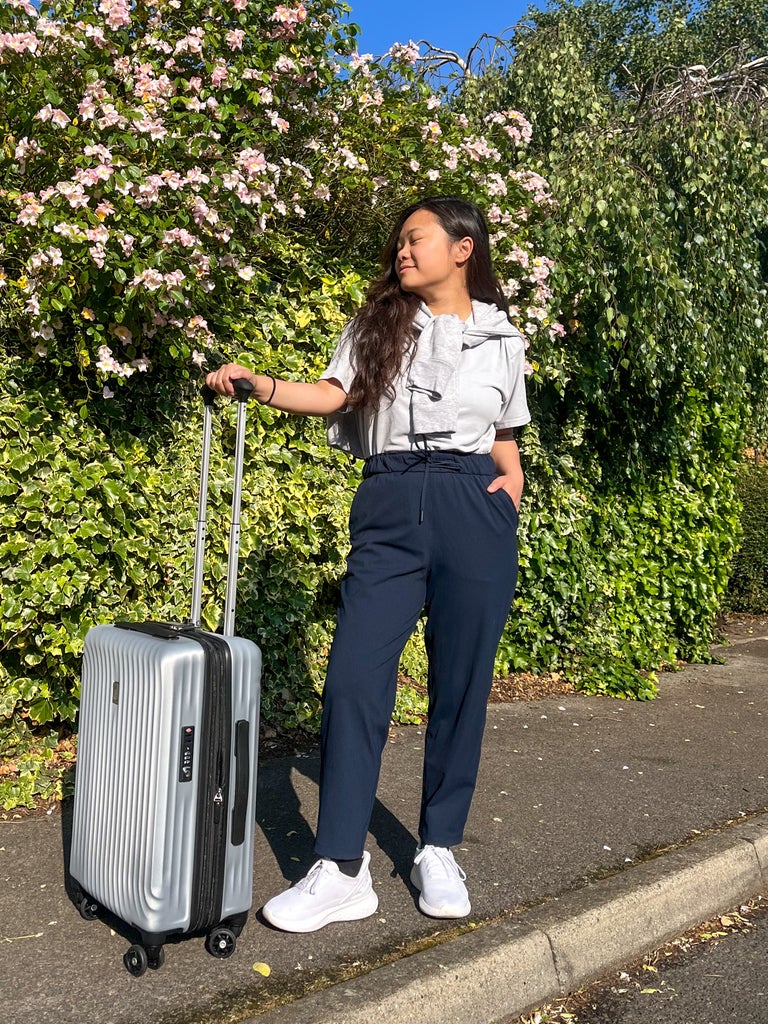 "I have the great fortune of going on frequent trips through my work as Refinery29's resident travel writer, so I have my go-to airport outfit down to a T. Here's a detailed breakdown from head to toe: When it comes to underwear while on the move, it's wireless bras for me all the way. Harper Wilde's Bliss Bralette ($45), gently supports my boobs without digging into my back and shoulders, and the buttery-soft microfiber fabric feels so good on my skin. My favorite travel top is Cozy Earth's Model Crew Neck Tee ($95, but Refinery29 readers can get 30% off with code COZYREFINERY until the end of the year). I highly rate the brand's eco-friendly modal material — it is breathable yet retains warmth, and the weave is pill-resistant and has a lovely drape.
"When it starts getting chilly on the plane after takeoff, I like to cover up with Quince's SuperSoft Fleece Crew ($34.90). Believe me when I say that this is the coziest sweatshirt ever. The fleece lining is almost cuddlier than my favorite childhood blanket. I don't like wearing leggings, so Lululemon's Stretch High-Rise Cropped Pant ($98) is the travel pant I constantly reach for when I want to feel comfy and look polished. The Luxtreme fabric is great at wicking away moisture (including any accidental drinks spillage), and I love that the elastic waistband is padded with soft fabric.
"Finally, I complete my outfit with Kizik Madrid Sneakers ($99). The bouncy heel technology allows your feet to slip in and out of the shoe without ever having to use your hands, a godsend for going through TSA. If I'm going on a flight for longer than four hours, I'll put on my SB SOX Compression Socks ($16.95) before heading for the airport. They have been amazing at improving my circulation and preventing muscle cramps."
Marshall Bright, Affiliate Editor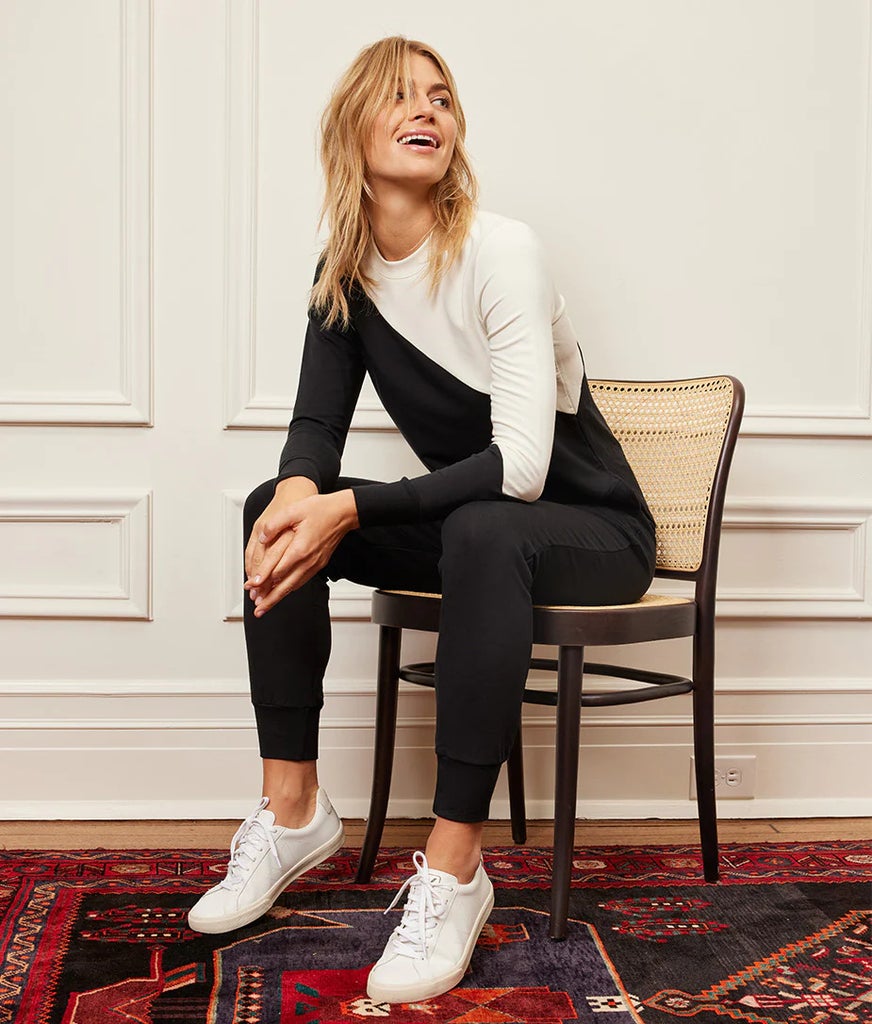 "When I say this is my favorite travel outfit, I also mean that it is my only travel outfit. I wore it on a long-haul flight to Japan. I've worn it on the two-hour drive to my parent's house. It's so soft and comfy but still flattering — Summersalt's Softest French Terry Joggers ($80, which are now on sale for $56), are just slim enough that they don't feel bulky but aren't clingy like leggings. The two-tone design on the Softest French Terry Pullover ($60 — on sale for $45.50) helps it feel a bit dresser than just a plain sweatshirt. I even wear them traveling in the summer because you never know how cold a plane will be, and while I won't lay out on a beach in the set later, it's light enough that I don't immediately want to rip it off my body when I land."
Karina Hoshikawa, Senior Writer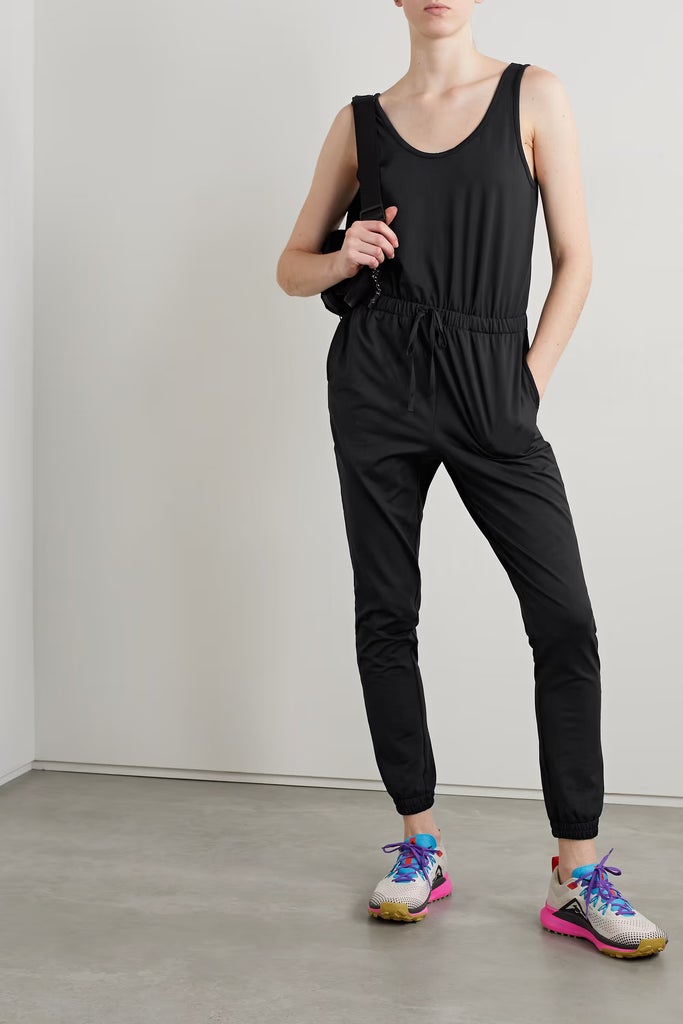 "There was a time when air travel was a veritable occasion — one that people got dressed up for in top hats and three-piece suiting. While I'm not totally saying we need to go back to that, I'm all for elevated comfort — and IMHO, I think this ensemble nails it. I love this lightweight, breathable Stretch Recycled-Jersey Jumpsuit ($100) from Girlfriend Collective because it's a one-and-done instant outfit, and because I get cold on planes, I pair it with my trusty Levi's Original Trucker Jacket ($79.99). Lastly, a pair of cool, comfortable sneakers to support your feet during your journey. (I swear by my ON Cloudmonsters ($169.95), which are also great for when you need to book it to your gate before the final boarding call.)"
Becca Sax, Affiliate Coordinator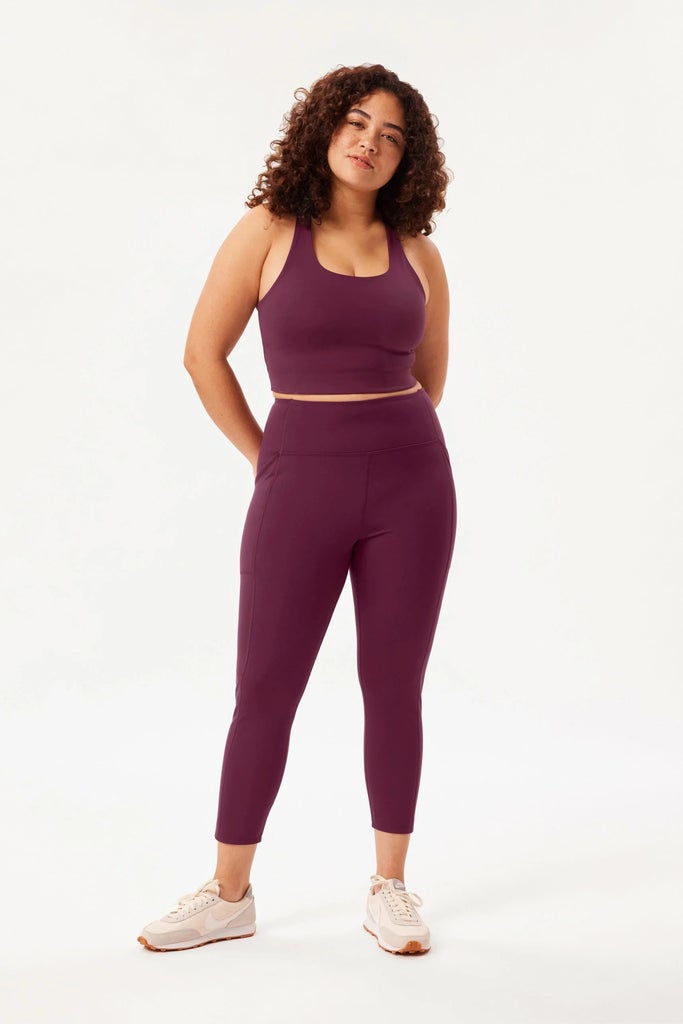 "No matter what mode of transportation, I will always fall asleep. Thus, it's essential that my travel fit is comfortable. As a day-one fan of Girlfriend Collective, I love its leggings, so naturally, a set from the brand — Paloma Racerback Bra ($46) paired with the FLOAT Ultralight Legging ($78) — is my favorite travel fit. It's layer-able and perfectly breathable for snoozing, as someone who likes to sleep naked. Nike's White Air Forces ($110) are the perfect shoe for traveling, as I can dress them up or down for any occasion and they're comfortable."
At Refinery29, we're here to help you navigate this overwhelming world of stuff. All of our market picks are independently selected and curated by the editorial team. If you buy something we link to on our site, Refinery29 may earn commission.
Like what you see? How about some more R29 goodness, right here?
The 23 Best Travel Pants That Aren't Leggings
The Best Shoes For Traveling, According To Experts
29 Rolling Suitcases That Guarantee Smooth Travels
creditSource link